By Robin Reid
For those born early enough to remember, rose-colored glasses, zoot suits and flowers in your hair are reminiscent of the "Swingin' Sixties"— a time of social revolution when dreams of peace and acts of free love dominated. This era was marked by a counterculture, and the music that emerged in this decade reminds us in a powerful way of those days—good times when you could "let it all hang out!"
A 60s Flashback Party at the Vergennes Opera House on April 16 sure brought back the memories. Featuring Mellow Yellow, the most authentic sounding sixties band imaginable, the party was enhanced by a costume contest. After the third song, the dance floor was hopping with folks in flowing dresses, bellbottoms, floppy hats and beads.
The crowd was tantalized by the convincing performance of Mellow Yellow. The songs we remember tuning in to on the radio were rendered to near perfection and band members dressed and acted the part of the stars of the sixties. The performance included a convincing multi-media and psychedelic light show that was projected on a full-size screen at the back of the stage. There were even go-go girls shaking their booties alongside the band.
Mellow Yellow was formed about two years ago under the leadership of David Cooper ("Brad DaddyO" is his Mellow Yellow name). The band underwent several transformations until the current lineup gelled just over a year ago. In its current high-energy configuration, it also includes Dusty Love (Linda Bassick), Kenny Diggit (Ken French), Flip Funk (Brad Sourdiffe) and Franco Sunshine (Frank Zammiello).
Band members not only play the part, they are dressed in the flamboyant, outrageous style of sixties entertainers: Brad DaddyO wears a red fez and gilded black velvet jacket with a ruffled lace shirt; Dusty Love is in a short, sleeveless black dress with psychedelic stockings and big hoop earrings; Diggit wears round tinted glasses and sports a military-style jacket replete with epaulettes (sewn together by his wife Barb.); Flip Funk is cool in his rose-colored glasses and leather vest and Franco Sunshine is neatly buttoned into a buff Nehru jacket.
"It's great to look into the audience and see older couples out on a date, dancing cheek to cheek," said French. "We love playing at the opera house."
Ken French (aka Kenny Diggit, who is a media consultant by trade) is responsible for creating the visual effects. Working mostly within the operating system of his Mac computer, French programs the backdrop for Mellow Yellow performances. Some of the imagery comes from public sources on the Internet; however, French also spent many hours researching how to recreate a psychedelic liquid light show using oil and water. He said, "you need specific ingredients to do it since you must find a dye that will mix with oil. It took a lot of trial and error…"
French wound up ordering bezels (large clock faces) from the Internet to use as mixing trays. He set up a lighted glass table where the bezels were placed and their various colorations swirled to get the effect. The light show compositions were then video taped from above. The video clips French shot of the light show were transferred to Quartz Composer, where real time manipulation of the video clip based on the audio clip can occur. A microphone in the drum kit activates different aspects of the light show and the visuals wind up in sync with the music.
Mellow Yellow selects its songs carefully using specific criteria. They look for compositions with strong three-part harmonies and songs that were unusual at the time of their release, but also popular – top ten hits from mainly 1967-72. Both Cooper and French are keyboard controllers using sound that comes from a computer program called Reason to enhance the authenticity of their performance with specific sound bites. Cooper is a sound engineer and mixes some of the special effects in his studio. The band has mastered over fifty songs, with more being added all the time. They accurately render the tunes of about 30 recording artists from this era including The Beatles, The Moody Blues, The Kinks, The Hollies, Jefferson Airplane and Donovan. You can see a current playlist at www.mellowyellowband.com.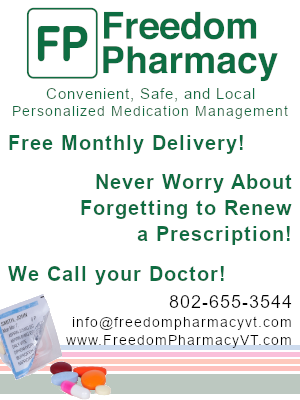 Jennifer Vyhnak of Bristol, born in 1957, was the winner of the costume contest. She and her husband are founders of the Vermont Ukulele Society. "I adore 60s music!" said Vyhnak. "It expresses so many real things from my childhood." She grew up in Florida as a military child and relishes her memories of black light posters, bellbottoms and all the music she loved as a kid.
Vergennes Opera House Director Jackson Evans was on hand taking tickets and serving popcorn. He estimated that about 150 were in attendance. Mellow Yellow and Evans are discussing another event that will take place during the summer months. Sign up at www.vergennesoperahouse.org for email updates or log on for more information.