Over the last four decades, Vermont emerged as one of the epicenters of the craft revival in America. However, the artistic, social, and economic history of the contemporary craft movement in the Green Mountain State has previously not been comprehensively researched or presented in a major museum exhibition…until now.
State of Craft is a landmark exhibition at the Bennington Museum examining the evolution of the contemporary studio craft movement in Vermont (1960-2010). On view from May 22 through October 31, State of Craft features more than 120 objects by 90 Vermont craftspeople, including master artists, emerging artists, and key individuals throughout the more than 50-year timeframe of the studio craft movement. The exhibition is the centerpiece of a statewide showcase of Vermont crafts coordinated by the Vermont Crafts Council, in celebration of its 20th anniversary, and has been designated a Cultural Heritage Event for 2010 by the Vermont Department of Tourism and Marketing.
State of Craft explores three overarching themes – Living by "Making," Communities and Connections, and Inspirations. Each includes compelling stories of Vermont's diverse craftspeople, illustrates the multifaceted nature of craft production in the state, and is interpreted in the exhibition at the museum through selected captivating pieces created by representative artists.
Living by 'Making'
Living by "Making" examines the cultural roots of the early pioneers and successive generations of craftspeople, in addition to exploring the challenges met while they try to sustain an artistic career in a small rural state.
Karen Karnes, known as the "grandmother of American ceramics," is a highly respected master artist with a 60-year history of making a living at her craft. It was in part her involvement with the ceramics program at Black Mountain College in the early 50s that helped to spark the studio ceramics movement in America. Karnes assisted in the organization of the groundbreaking ceramics symposia in 1952 and '53 that featured such ceramic icons as Marguerite Wildenhain, Bernard Leach, Shoji Hamada, Peter Voulkos, and Warren Mackenzie, who collectively set in motion the studio ceramics movement in America. Seeking "quiet and concentration," Karnes moved to the Northeast Kingdom in 1979, where she has maintained her studio for more than 30 years. Work reflective of the evolution of her artistic vision, from early pieces grounded in modernist tradition, to salt-glazed and wood-fired pots featuring a wide range of color and texture are included in Living by "Making."
Weaver Carol Crawford epitomizes those young people drawn to the Green Mountain State during the '60s and '70s back-to-the-land era. Over the past 50 years, this migration has continued, and has made Vermont a rural epicenter of the national studio craft movement. Crawford came to Vermont to study dance and theatre at Middlebury College, but found herself caught up in the spirit of the counterculture prevalent after the Kent State shootings. Along with friends, Crawford created an intentional community called Snake Mountain Commune where she had her first encounter with weaving. Self-taught on an old loom found in the attic of a barn, weaving became a part of Crawford's life that has continued for over 30 years. From her studio and home in northern Vermont, she continues to teach herself new techniques in weaving, now using a 16-harness computerized loom that allows her to design complicated twill patterns.
The time-honored tradition of mentor and apprentice is juxtaposed with the rule-breaking possibilities of a newly invented medium in the relationship and work of Celie Fago and Jennifer Kahn. Ten years ago, Kahn, a student at UVM, arranged an independent study to apprentice with Fago, an artist and skilled metalworker who was becoming a master in a "revolutionary new material," precious metal clay (PMC). Fago explored the artistic potential of this new material and developed innovative techniques to create metal jewelry and objects. Kahn, once the apprentice and now a professional jeweler, also uses this relatively new medium to create pieces that appeal to a younger generation. Journey Necklace, a piece she describes as "tribal jewelry with a modern edge," is an example. Kahn encounters issues of networking and marketing similar to those faced in the 60s and 70s, but approaches them in a modern way. Using technology to transcend the rural nature of Vermont, Kahn connects with other artists in online forums, and markets her work directly at craft fairs and online.
Communities and Connections
Communities of craftspeople have developed throughout Vermont for decades as creative individuals gravitated towards geographic regions for education, marketing, and a strong artistic culture. Creative clusters have formed near Goddard College in Plainfield, Windham College in Putney, and Marlboro College, to name a few.
Michelle and David Holzapfel's distinctive works are deeply impacted by the artists' integral connection with the Marlboro community where they have made their lives and from which they obtain their materials. Their daily interaction with people such as the local lumbermen who work the thickly wooded mountainsides and set aside burls expressly for the Holzapfels, provides significance to their inclusion in Communities and Connections. Michelle has evolved since the mid 1970s from a self-taught wood turner to a nationally acclaimed artist creating highly expressive and narrative vases, bowls, and other forms all from local hardwood. Coming to Vermont to attend Marlboro College, her discovery of woodworking came through her husband, David, himself a self-taught woodworker. The furniture pieces created by David, distinctively different from Michelle's work, also start from locally obtained burls, gnarled branches and other "eccentric" hardwood materials. Both Michelle and David are nationally respected woodworkers whose work remains deeply connected to their community of lumbermen and fellow artists.
Another artist whose life and work is representative of this theme is Judith Reilly, fabric artist and quilter. Reilly moved to Brandon in 2004 seeking a stronger sense of community. While creating award-winning quilts representing stylized rural village scenes, she helps other quilt makers recognize their innate artistic abilities, and encourages them to value and defend their own creative self-expression. The fanciful view of a rural landscape and village depicted in Edge of Town expresses both her sense of community and the inseparable relationship between man and nature.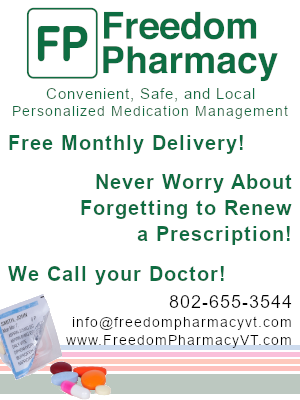 And artistic connections are well represented in the father/daughter duo of Robert and Caitlin Burch – two ends of the generational spectrum, both award-winning glassblowers. For more than 40 years, glass artists have connected through mentors and apprentices, as well as in more casual and supportive ways. The Burch's relationship exemplifies many of these. Speaking on the transmission of knowledge of glass, Caitlin says, "My father always talked to me about dancing with the glass and living with it.  I believe I finally understand what he means."
Inspirations
The interaction between traditional craft and expressive craft, along with many artistic influences found locally and globally, provide a framework for understanding the diverse nature of contemporary crafts in Vermont. Some artists are directly inspired by Vermont's pastoral and forested landscape, but for others the landscape simply provides a quiet place of refuge that allows creativity to flourish. The effects of global and ethnic influences on aesthetics and design are also recognized as sources of inspiration.
One representation of this theme is the work and life of Daniel Omondi, a furniture maker who began learning his craft at age 13 in his father's workshop in Mombasa, Kenya. Moving to Vermont from his homeland in 2001, Omondi's successful transition between the two vastly different cultures of Kenya and rural Vermont is evident in his work, as he combines native Kenyan woods such as bambakofe and mvole with Vermont cherry, maple and walnut to create genuinely unique pieces. He further incorporates traditional Swahili carving techniques with New England woods and sensibility. The use of this style of carving is included to great effect in his hallway table that is included in State of Craft.
How To Get There
The Bennington Museum is located at 75 Main Street, Bennington. Open from 10 a.m. to 5 p.m., the museum is closed on Wednesday except for September and October when it is open every day of the week. For more information on the State of Craft Exhibition and the museum's other programs, events, and exhibitions, visit www.benningtonmuseum.org or call 802-447-1571.