By Marianne Apfelbaum
A group of local women were part of a gold medal-winning team at the Montreal International Dragon Boat Race Festival that competed in late July. More than 180 crews from as far away as France and Shanghai competed in the 15th annual event.
The Dragonheart Vermont Sisters team, all breast cancer survivors, won a gold medal in the 250-meter Women's Division race. "We won by 3/100th of a second," marveled Williston resident Debra McConnell, a Williston Central School teacher.
Each team is made up of 20 paddlers, one drummer and one steer person. "Teams race along a straight course ranging from 250 to 1,000 meters," according to Dragonheart's Web site.
The Sisters team also won a silver medal in the 500-meter Survivors Challenge. "I was never competitive," said Williston resident Donna Butkus, a nurse at Fletcher Allen Health Care. "But you get competitive because you work as a team. You're so inspired!"
A Vermont team of male and female "supporters," — known as Mixed Nuts– also won two races, bringing home silver and a bronze medals, according to Butkus.
Described by both Butkus and McConnell as the second-fastest growing sport in the world (behind soccer), dragon boat racing "has been practiced in China by around 20 million people. But over the past 25 years it has spread beyond Asia … to become an international sport with a huge following," according to the Montreal festival's Web site.
Dragon boat festivals began in China about 2,500 years ago, and the" very first races were mock dragon battles staged in order to awaken the hibernating Heavenly Dragon," the Dragonheart Web site states.
In Vermont, the first dragon boat event was organized in 2004 by Linda Dyer. Butkus and O'Connell joined the team soon after. The fifth annual Lake Champlain Dragon Boat Festival was held in August on the Burlington waterfront, and raised about $300,000 for the organization and Camp Ta-Kum-Ta, McConnell said.
Dragonheart Vermont "strives to send out an inspirational message encouraging all cancer survivors to live life to the fullest after a cancer diagnosis. Dragonheart's 150-member team of breast cancer survivors and supporters paddle together for life-affirming exercise and camaraderie," according to ridethedragon.org.
The Dragonheart team practices two to four nights each week during the summer, and competes in several competitions in Canada and the U.S. "Several members are still going through chemo, radiation and surgeries, and are still paddling," Butkus says. "I didn't think we'd win a gold medal, but (Coach John Dyer, Linda's husband) challenges you in a positive way to make you feel like you can do anything!"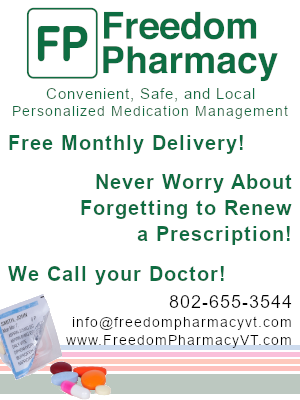 For more information, visit www.dragonheartvermont.org and ridethedragon.org.