By Clara Rose Thornton
"The key to Burlington is that people are willing to go along for the ride, because they trust the arts leaders in the community," said Natalie Neuert, new director at the University of Vermont's Lane Series. "This doesn't stop at the arts; it's a Vermont thing across the board. We can look up our politicians' numbers in the phone book and call them at home. There's still this incredibly personal reality to living here."
The idea of community leaders having a tangible, interconnected relationship with their communities is part of the state's cultural fabric. The aesthetic can most readily be seen in local politics, where town meetings are still the hallmark of democracy and candidates engage with the public everywhere from libraries to elementary schools. Yet real connections to the community are also the bedrock of our arts and cultural institutions. This awareness continues with the recent changing of hands at the executive level of two of Burlington's most prized and time-honored performance organizations, Flynn Center for the Performing Arts and the Lane Series.
Scarcely more than two months ago, at the start of the summer, John Killacky moved from San Francisco – where he'd run the arts program at The San Francisco Foundation for seven years – to sit at the helm of the Flynn as executive director, following longtime leader Andrea Rogers' retirement. On July 1, following Jane Ambrose's retirement announcement in January, Neuert took over as director of the Lane Series in a natural progression from her role as manager for 16 years.
Killacky shows a sense of humor about his new role, and an even-handed wisdom that comes from decades of successful arts management. "There's nothing broken here," he remarked about the Flynn with a laugh. "Everything's working well, so my first goal is to not screw it up."
Killacky was born on the South Side of Chicago. In the late 1980s through the early '90s, he held the position of performing arts curator at Walker Arts Center in Minneapolis, farther north. It was here that his first connections to Vermont and the Flynn were made.
"As early as 1990, Walker Arts Center and I had partnerships with the Flynn," he explained. "Richard Blither was curator, and we co-commissioned a number of great performances. In fact, when I left to work in San Francisco, Richard moved to Minneapolis to take over my job! I've had a long relationship with the Center here in Vermont."
Before heading The San Francisco Foundation's arts program, Killacky had been the director of that city's Yerba Buena Center for the Arts, also for seven years. He has worked in the philanthropic sector as arts program director for charitable organizations in Philadelphia. Throughout his career, Killacky's passion for the creative disciplines and their benefit to the community has been matchless.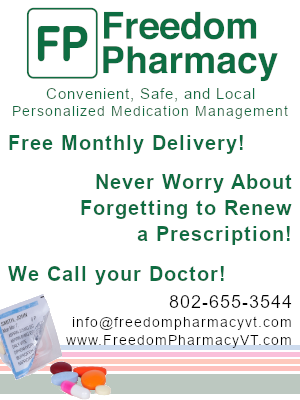 Perhaps his dedication is due to the fact that the arts bug bit early, and his involvement is not just in the paperwork, meetings and phone calls. "When I was in high school, my friends and I went to see the Alvin Ailey dance company and I thought, 'whatever that is on that stage, it's what I want to do.'" Killacky's passion led him to study dance at Harkness Ballet in New York City following high school graduation. He lived there for 14 years as a performer with Theatre Open Eye, before dancing in Winnepeg, Ontario, with a company called Contemporary Dancers.
"To this day I still have an artistic practice. I've made 15 short films. My last big project was a PBS documentary about a folk singer named Janis Ian, called 'Janis Ian: Live from Grand Center,'" he added proudly.
Because the arts' personal value was introduced to him early, Killacky considers arts education for youth "very near and dear to my heart." Forming a threefold purpose, Killacky quotes two other factors as being the most beneficial about the Flynn, and what he plans to fiercely uphold.
"The Flynn brings an excellent roster of world-class artists to this community, while being a home for local artists. That's something I've sensed during my mere two months in the area – Vermont offers a more undivided life, in many ways. I will continue this tradition."
Similarly, Neuert has always worked in the arts and began on the performance, as opposed to the administrative, side of the table, and deeply understands the needs of an art-loving public.
"Burlington is an extraordinary arts community," she mused in a telephone interview from her new office. "There have been such strong arts leaders here, and there's an incredible amount of trust in the audience. What I mean by that is the arts leaders and the different arts organizations in town have developed a close relationship with the audience through consistency and involvement, such that the audience will trust what they program. The UVM Lane series has been at the forefront of that trust-building relationship for 55 years."
"There are a lot of communities around the country where people won't turn out for a performance unless the person is a famous performer or they've seen him or her on television," Neuert continued. "In Burlington, people are willing to take more chances, and they feel they'll have a transformative or meaningful experience due to the bond formed with our organization, even if they've never heard of the artist."
Originally from New Jersey, Neuert has lived in Richmond since 1989. She earned a BFA in acting and directing for the stage, and an MFA in theater direction. She was involved in several theater pieces before teaching at universities in New Jersey and at St. Michael's College in Vermont. She then decided to move from the artistic realm to the management realm, and signed on with the Lane Series in 1994.
What made Lane special to Neuert was the space's intimate chamber music offerings, placing renowned musicians in front of a 300-patron capacity. Her goal now is expanding outreach.
"I want to reach deeper into world music, jazz and incredible folk musicians. When performers come here, I want to exploit the educational opportunities for the university and have workshops and master classes. I want to work closely with the UVM music department and connect with students. We've been expanding over the last ten years, but I want to go farther. We can remain a community series, with outreach far into this creatively rich world."