"Portraits of Conservation," a new exhibition of photographs by Bob Klein, Director of The Nature Conservancy Vermont Chapter, will be shown at the University of Vermont Davis Center through April 28. The exhibit, on display in the Mt. Mansfield Room, celebrates "Earth Art" month at the Davis Center.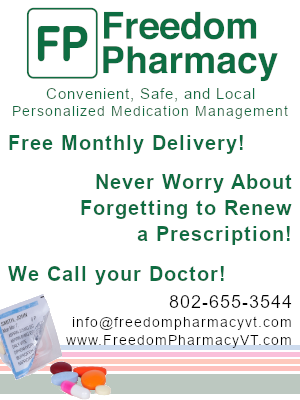 The idea for the photo show came together as part of the celebrations for the Vermont Chapter's 50th anniversary. With more than 30 years of photographs to draw on, Bob Klein, the Chapter's first state director and the longest serving state director in the Conservancy, saw an opportunity to share the people, the places and the stories behind the Vermont Chapter's work. Klein's photographs are accompanied by brief narratives, small stories that give texture, context and human scale to conservation in Vermont.
"Our mission is to conserve the land and waters on which all life depends," says Klein. "But Nature herself doesn't make conservation happen. People do. It is people that care about the place they live, who manage the land, restore the forests, discover new species, get rid of invasive plants, build trails and raise funds to secure the future of our small corner of the earth. It's people who care about nature."
Among Klein's photos is a portrait of Dr. Hubert (Hub) Vogelmann, former chair of the UVM Botany Department, the Chapter's founder and the force behind the Conservancy's early land conservation in Vermont. Hub Vogelmann's vision guided acquisition of the Conservancy's natural area at Shelburne Pond, which became one of the earliest of the organizations network of 55 natural areas around the state. Other photos portray the work of volunteers, student interns, Conservancy staff and scientists. A photo of Cathy Paris, Senior Lecturer in Plant Biology at UVM and expert in plant "systematics," tells how she used DNA analysis to confirm a rare maidenhair fern, leading to protection of this endangered plant at another Conservancy site.
Over the years, working with many partners, The Nature Conservancy has conserved nearly 200,000 acres of Vermont's natural heritage. Many of the Conservancy's natural areas are the best examples of Vermont's bog, fens, extensive forests, undisturbed ponds and pristine river shores. "Portraits of Conservation" illuminates these important Conservancy projects: from fossil rocks at Kingsland Bay to large-scale landscape protection at Victory Bog, and locally, a Conservancy "jewel in the crown," the rare old-growth clayplain forest at Williams Woods preserve in Charlotte.
"Portraits of Conservation" is a traveling exhibit and will tour the state over the next few years. Klein will speak at a reception, free and open to the public, on Thursday, April 19 from 4:30 p.m. to 6 p.m. For additional information, visit nature.org/Vermont, or on Facebook at facebook.com/TNCVT.