While city-dwellers and suburbanites swelter through a long July, nature reaches its full flush in Southern Vermont. And so does the art scene.
The Rock River Artists open their homes, gardens and studios to visitors for the 18th year on July 17 and 18. The self-guided tour begins with a group exhibit at the historic Old Schoolhouse at Dover and Augur Hole Roads in South Newfane, where visitors can also pick up a map of studios to help them plan their weekend.
For some, the phrase "art scene" recalls dry crackers and even dryer conversations washed down politely with Perrier from a paper cup. But not here. These 18 professional artists have had a lifetime's worth of solo shows and are featured in museum collections from Manhattan to Chicago to Portland and abroad. But visiting them one-on-one at your own pace in their own homes is unlike any other artistic encounter.
"This tour is unique because it's so intimate," said Roger Sandes, the tour's longtime coordinator. "Nothing could be more different from a gallery opening or a museum visit. We have successful careers as artists, but we are just regular people, living our lives and doing our work. Our visitors say that talking to the artists and watching them work really brings the art to life."
Many studios feature demonstrations — like Mystic Metallurgy, where Rich Gillis bends steel to his will, creating delicate curves, coils and tendrils in a medium not usually known for its sympathy with natural forms. Visitors can watch Richard Foye make luminous raku pots, a perfectly choreographed display of the aesthetic uses of smoke and fire. Painter Leonard Ragouzeos shows his technique of brushing India ink onto synthetic paper to create larger-than-life portraits and still life paintings.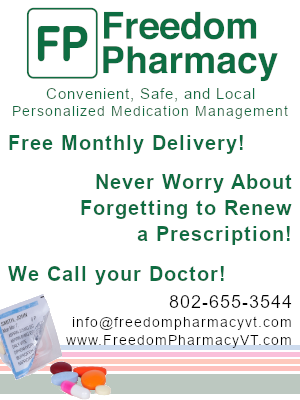 Whether you like photography, pottery, painting, fabric arts, prints, fine cabinetry, sculpture or something else altogether, the Rock River Artists Tour has something you will enjoy.
And the countryside almost rivals the art. Brooks still take their natural courses, trees still stand and  old covered bridges, grange halls, barns and churches are still very much in use. In a state where billboards are illegal and there are more miles of dirt road than paved, every route is a scenic route.
If there is one drawback to the tour, it's that even though the artists all live within a ten-mile radius, one weekend is not usually enough time to drink it all in. Most visitors return year after year to visit their favorite artists and see the work of someone new as well.
"The pace here is slower, the scenery is refreshing, and the variety of artistic styles concentrated in such a small area is quite rare," said Sandes. "Rock River is a different kind of getaway."
The Studio Tour will be held from 10a.m. to 6p.m. Saturday and Sunday, July 17 and 18. For more information including directions, maps and nearby food and accommodations, visit www.RockRiverArtists.com.