The Shelburne Players community theater will present a night of high comedy with a trio of one act plays on the Town Center stage in Shelburne. The shows are scheduled for November 12- 14 and 18- 20.
The first, "Sure Thing" by David Ives, shows what happens when two strangers get more than one chance to make a good first impression when they are "saved by the bell." Jill Barr of Burlington and Aaron Kindsvatter, also of Burlington, perform the roles of the two characters Betty and Bill.
"Caught in the Act" by Bruce Kane, featuring Bill and Mindy Bickford of Charlotte, is a tale of two lovers trapped in a one-act play who try to break free while working out their relationship in a bedroom scene that keeps getting rewritten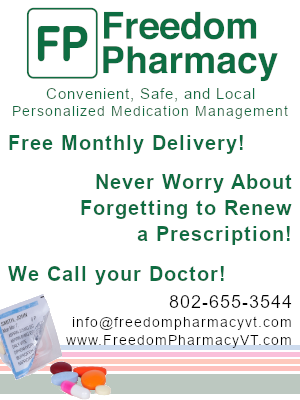 In Woody Allen's "Riverside Drive," a homeless vagrant who was once a brilliant ad copywriter stalks another writer he believes has stolen his ideas and life story for a screen play. Jill Barr, Peter Espenshade of Shelburne and David Harcourt of Charlotte round out the cast.
For more information about the upcoming fall show and Shelburne Players in general, visit www.shelburneplayers.com.