Company Name
New Balance Williston
Year Business Started
2008
Total Number of Employees
3
Company Owners
Mark and Todd McCarthy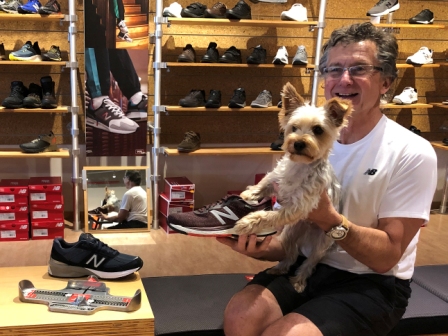 About New Balance Williston
New Balance Williston is a licensed franchise of New Balance Athletics Inc., a global leader in function and fit-oriented running, walking and other sport and lifestyle footwear. Historically Boston based, New Balance has a special Vermont tie. The current owners, Anne and Jim Davis are graduates of Middlebury College, and have given the institution over $70M for facilities, investments in faculty and financial aid for students.
New Balance Williston proudly lives and operates daily within the same brand philosophy as the parent company. Priorities include one-on-one fitting, customer service, a wide selection of high value truly functional footwear in multiple widths, with the full back up and support of New Balance global.
The range of footwear carried includes shoes for walking, running, trail running, hiking, court sports, group fitness classes, and lifestyle/athleisure models. All shoe models offer the best support in the industry.
Complementing the footwear is an extremely wide range of aftermarket upgrade footbeds. Frequently referred to as the smartest pennies spent in this store, they can enhance performance and comfort, or compliment efforts of health professionals to remedy common maladies like plantar fasciitis, posterior tibial tendonitis, anterior shin pain ('shin splints'), turf toe, hyper pronation and supination. The store also sells an assortment of technical socks and apparel.
Both New Balance Williston and the parent New Balance Athletics prioritize true function, value and service, investing in expensive challenges of product quality and design with much smaller expenditures in celebrity endorsements. With one exception: New Balance sponsors Elle Purrier of Montgomery, VT, possibly the world's fastest dairy farmer, and incidentally, a world class speedster, having recently broken the long standing 37 year old women's indoor mile record!
The New Balance Difference
New Balance Williston is the only sport or casual shoe company with a wide range of product available in multiple widths. Between both genders, they have 11 widths from 2A to 6E, in women's sizes 5-13, up to men's 18s. Larger men's sizes are available in limited models.
New Balance is the only commonly available sport shoe company making any product in the US. They made over four million pair last year at five facilities in Maine and Massachusetts.
Backing up these powerful product tools from New Balance, the Williston franchise store staff includes Manager Sara LaBarre, a board certified pedorthist. For more than a decade, she has been working with local podiatrists, physiotherapists, chiropractors and other health professionals to modify footwear and build orthotics for special needs customers. Complimenting her academic and experiential talents, she has run marathons, played and coached soccer at the college level and been in the industry for over 20 years.
Sara's forte is doing what it takes to get the fit dialed in. She can make slight or major modifications to shoes and footbeds including stretching, shimming, padding, and lacing techniques to enhance fit and comfort. Sara's skill is unique to the population of northwest Vermont and beyond. New Balance Williston services, sells and ships many pairs across the lake, to Florida, Arizona, Manhattan, Montreal and beyond.
Teaming up with Sara, Gary Richter compliments Sara's mechanical and hardware skills in modifying footwear, with software experience. Gary focuses on the customer side of the equation. He completed a diploma in fitness and performance training before moving on to a B.Sc. in Kinesiology, specializing in foot morphology; the study of size, shape, proportion and growth; and sexual dimorphism of feet and footwear.
Like Sara, Gary has an appreciation of both elements of the relationship (the shoes and the flesh), having worked in-house for a number of brands for 22 years doing sourcing and factory work and selling in 31 countries. And like Sara, he has some firsthand appreciation of the forces at work in running shoes having run marathons and many shorter races and triathlons up to the 140 mile distance.
Combined, Sara and Gary have 55 years of experience in the industry, and are whole-heartedly supported by the owners, the McCarthy family of Barre. This multi-generational Vermont business is sincerely supportive of Vermont values in their dealings with their staff and the follow through to every customer at New Balance Williston and their five community-supportive Lenny's Shoe and Apparel locations.
Contact Information
New Balance Williston
28 Walnut Street Suite 150
Williston VT 05495
Phone – 802-288-9090
grichter@nbwilliston.com
NBWilliston.com
Related Articles & Free Subscription
10 Things Medicare Doesn't Cover
Exercisers in Their 40s and 50s Should Agercise Their Workouts