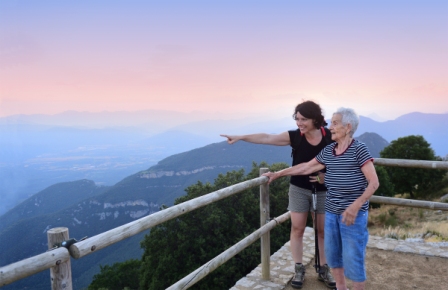 Company Name
Silver Leaf In-home Care and Accompanied Travel
Year Business Started
1998
Total Number of Employees
40
Company Owner
Patty Bergeron
About Silver In-Home Care
Silver Leaf In-Home Care provides professional, non-medical in-home care and support for the elderly and for adults with disabilities throughout Chittenden County and northern Vermont.
Since 1996, the dedicated staff of Silver Leaf In-Home Care has been meeting the needs of Vermont's seniors and adults with disabilities. Owner Patty Bergeron has a deep commitment to each of her clients and their well-being. She is especially adept at matching experienced caregivers to each particular client situation.
Our in-home care clients turn to Silver Leaf because we have the resources and expertise to deliver an unparalleled level of support. Our caregivers are carefully screened for character as well as experience. This ensures they will provide high-quality personal care and genuine compassion and consideration, which has been our hallmark for decades.
About Silver Leaf Accompanied Travel
We also offer experienced travel companionship to those who'd like to have someone help organize their trip and travel with them. This new service is unique in Vermont – no other company in the state offers this comprehensive full-service travel companion opportunity. Whether planning a day trip, a weekend getaway, a family gathering, or bucket-list vacation, Silver Leaf will get you where you want to go.
We can help:
Organize trips for individuals, families, or groups.
Arrange travel, accommodations, and activities.
Navigate airports and cities including helping with luggage and transportation.
Travel to and from your seasonal home.
Attend family gatherings.
Handling emergencies and issues that may arise while traveling.
Provide companionship on your trip.
Why Silver Leaf is Different
Our ability to tailor in-home caregiving and accompanied travel experiences to meet the goals and needs of each individual client is one of the many aspects of Silver Leaf that sets apart – and above – other in-home care companies.
For families that prefer not to place their family members in a nursing home, and who may want help providing care for them, our wide range of services offer a way to achieve that goal. For families who have a loved one living in a nursing home, we can also provide supplemental companionship and care in the nursing home, as well. Vermonters have been looking to us to provide caring, compassionate, professional care and companionship for their loved ones for decades now. We are proud to continue to serve our Vermont neighbors!
Contact Information
Silver Leaf In-home Care
88 Old Stage Road
Essex Junction VT 05452
Phone – 802-355-3790
SilverLeafHomecare.com  
Related Articles & Free Subscription
Caregivers Can Help Keep Loved Ones Safe During Outbreaks
Tips for Long-Distance Caregivers