Upward Mobility sells and rents mobility equipment to help customers live independently, comfortably, and safely at home. Equipment includes Stair lifts, Lift recliner chairs, Mobility scooters, Wheelchairs, Ramps, Fall Prevention Devices, Bedrails, and more.
Visit our cheerful retail Showroom where you can shop for mobility equipment. We stock lift chair recliners, mobility scooters, power wheelchairs, stair lifts (curved and straight), hospital beds, wheelchairs, rollators, knee scooters, and portable ramps. We sell, rent, deliver, install, and service these items.
We offer Golden Technologies power lift recliners, Golden Tech mobility scooters, Compass Health Brands wheelchairs, rollators, and hospital beds, EZ Access and National ramps, Harmar and Handicare stair lifts, Stander bedrails, Chair and bed tables, EZ Fold-N-Go walkers, and fall prevention devices.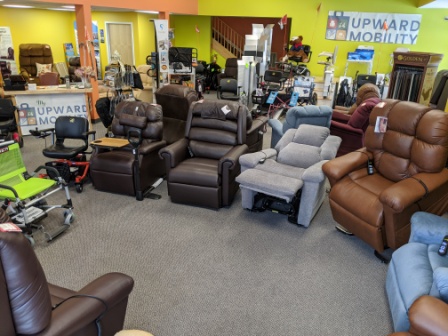 Upward Mobility offers the best in highest quality Power Lift Recliners for your home or assisted living. Buy or Rent a lift chair or hospital bed at Upward Mobility. These power recliners lift you gently and place your weight onto your feet to help you to stand up. These are the most comfortable and easy to use power recliners ever made. Everyone can enjoy these fine recliners!
For your home accessibility, you may buy or rent portable EZ Access Suitcase Ramps. Harmar's Pinnacle Stair Lift from Upward Mobility is easy to use to get upstairs and down. Our factory certified technician is ready to install the right stair lift for your home for you.
Stander Bedrails, Grab Poles, and Fall Prevention devices are available for purchase at Upward Mobility. Stander EZ Fold-N-Go Rollators and Stander EZ Fold-N-Go Walkers are the lightest and easiest to fold yet have unmatched strength. These walkers weigh just 8 lbs. and support up to 400 lbs.
For your outdoor enjoyment and getting around at home and shopping, Upward Mobility sells and rents Golden Technologies BuzzAround Mobility Scooters and GoldenTech Envy Power Wheelchairs. We offer sales and rentals of lightweight high strength Probasics Wheelchairs and Rolling Walkers.
The Zoomability Zoom ATV is an all electric All Terrain Vehicle designed for outdoor use with the ability to climb a step and go everywhere. Try a Zoom demo at Upward Mobility! For Vermont it's ideal since Zoom handles snow, ice, mud, and sand! We deliver locally or ship Nationwide. Drive on beaches, forest trails, through mud, sand, and snow. Zoom will change your life by getting you back into nature!
We personally deliver purchases to your home and install them exactly where you need them. Upward Mobility ships nationwide in the 48 contiguous states and offers white glove delivery on lift chairs, scooters and power wheelchairs. This special service includes bringing your purchase inside and demonstrating how it works.
We assist you with easy financing options. Visit our website to review our products which include Lift Chair Recliners, Mobility Scooters and Power Wheelchairs, Zinger Mobility Chair, Zoom USA products, Stair Lifts and much more.
Contact Information
Upward Mobility
340 Dorset Street, Suite 1
South Burlington VT 05403
Phone – 802-495-0817
MyUpwardMobility.com
Related Articles & Free Subscription
Elevated Gardens Add Space & Beauty
How to Choose a Good Home Stair Lift
How Transportation Issues Change as Drivers Age