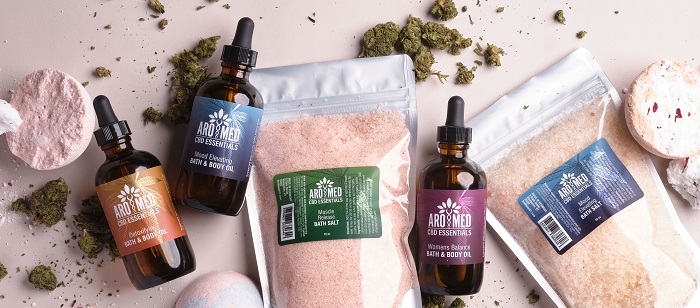 Lauren Andrews discovered aromatherapy through her job as a psychiatric nurse, working with acutely ill clients. She subsequently changed careers to become a Clinical Aromatherapist and completed the coursework to get certified by UVM in Cannabis Science and Medicine. In 2013 she opened AroMed Essentials (then known as AroMed Aromatherapy) on State Street in Montpelier. Andrews had worked as a charge nurse at the Inpatient Psychiatry Unit at Central Vermont Medical Center in Berlin and at the Vermont State Hospital and she credited those positions with increasing her desire to expand complementary options for addressing both physical and mental disease.
Andrews describes her business as one that "supports the health and well-being of people and the planet by providing offerings that reduce stress and discomfort to mind and body while helping customers achieve the highest quality of life possible." AroMed is owned by a woman and the team is committed to the company's culture of compassionate care and its mission to "embrace the power of organic and wild-harvested plants to support the well-being of customers, employees, community, and the earth". Andrews said each member of AroMed's team has their own holistic health and wellness practice which she believes complements the company's culture and mission. "Together," she said "AroMed staff strive to ensure the integrity of relationships across the supply chain by sustainably and ethically sourcing products, supplies, and services."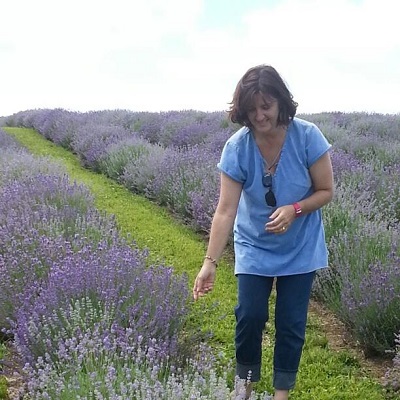 AroMed ships its products across the US with free shipping for orders over $100. They sell organic Vermont-grown CBD and certified organic, ethically wild-harvested essential oils. All of AroMed's hemp comes from two certified organic Vermont farms: Wilson's Herb Farm in Greensboro and Quintessential Farm in Cabot. Andrews praised Brenden, Lindsay and Lilly Beer of Wilson's Herb Farm for working to promote health and well-being through alternative and plant-based remedies. The farm provides all the hemp which is used in AroMed's CBD tinctures. Quintessential Farm is the source for AroMed's topical hemp products. Sarah and Quint Welters vow to grow no more than three acres of hemp a year. "Their boutique hemp flowers are hand-picked from selected hemp varieties that are known for their unique flavors," Andrews said. "They use natural, sustainable farming practices."
Andrews explained that the hemp plant's aromatic compounds known as terpenes and its active medicinal ingredient known as cannabidiol or CBD are removed via a certified organic extraction process at Cattis Scientific in Hardwick to create the product sold as Full Spectrum CBD. Andrews said that Eric Kawka, the founder of Cattis Scientific, has focused on developing and implementing cannabis extraction standards and processes with an emphasis on establishing scalable methods for a new class of medical cannabis-derived products that meet pharmaceutical standards. Kawka has a master's in organic chemistry and performs all the extractions for AroMed's CBD tinctures.
AroMed's other products include a variety of essential oils including lavender which is described as calming, basil which is said to help focus, and carrot seed which Andrews said encourages regeneration of skin cells. The oils are sold individually or as compounds. Andrews said it is the mission of AroMed to bring these natural agents to the public. "Before modern medicine," she said, "people relied on the plants in their environment to heal, protect, and support their bodies. From chamomile to white willow bark, decades of trial and error led to high reliance on the natural world for a litany of ailments. While modern medicine has its advantages, these natural agents still exist, are still valuable, and are still capable of delivering those age-old benefits."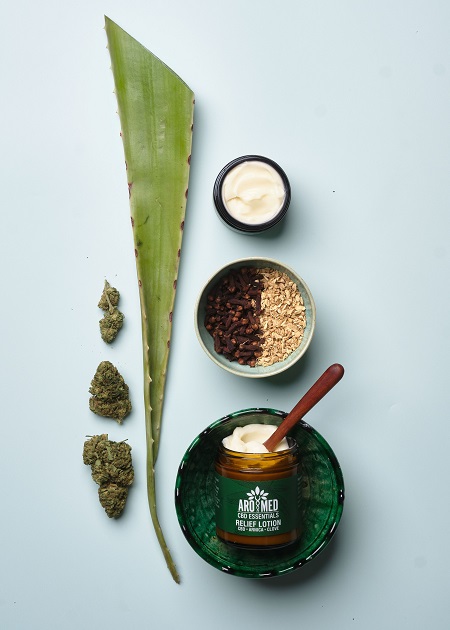 At first, Andrews was skeptical of the efficacy of CBD. "I was initially wary, wondering if it was just a fad," she said. "Then I learned about the human endocannabinoid system (ECS). When I discovered how CBD is utilized in the body through the ECS and reviewed the mountains of research that support its efficacy, I was all in. It was clear to me that I was working with a powerful, medicinal plant. Any bias I had fell away. AroMed's CBD has helped decrease pain and anxiety for thousands of our in-person and on-line customers."
Andrews said that the purer the source of essential oils, the better their performance. "The best organic, essential oils are free of contaminants and agents that can negate the true advantages of the oil itself," she said. "All of AroMed's essential oil, oil blend, carrier oil, and CBD-infused products are carefully curated from well-sourced plants and created through delicate extraction processes to retain the integrity of the ingredients. In addition, we complete third-party lab-testing to determine the purity of our products." Andrews cautioned potential customers to be wary of CBD from untested sources since the product is not regulated. "Customers come to AroMed," she said "because they know they will get accurate, scientifically-based information, and personalized service that supports their health and improves their quality of life."
Andrews believes seniors can benefit from her products. "Seniors' quality of life can suffer when dealing with chronic pain, anxiety or insomnia," she said. "Many find AroMed's CBD lotions and tinctures can be very helpful in allowing them to enjoy life more; travel, play with their grandchildren, work in their gardens, and enjoy sports and physical activity without feeling left out or isolated." Andrews recalled one man who called her to say that he had just done his own errands for the first time in months. He had been unable to drive because pain prevented him from turning his head from side to side, but after using AroMed's Relief Lotion three times daily for a few days, he regained his ability to turn his head, allowing him to drive again. Andrews hopes more people will try her products to improve their quality of life. "That's the biggest motivator for my customers," she said.
A combination of personal experience and her reading of the scientific evidence compelled Andrews to start her business. "I felt called," she said, "to introduce and educate my community about plant-based health options that support a higher quality of life, along with providing affordable, effective, evidence-based, organic essential oil and CBD remedies." For more information call 802-505-1405 or visit AromedEssentials.com.
Related Articles & Free Vermont Maturity Subscription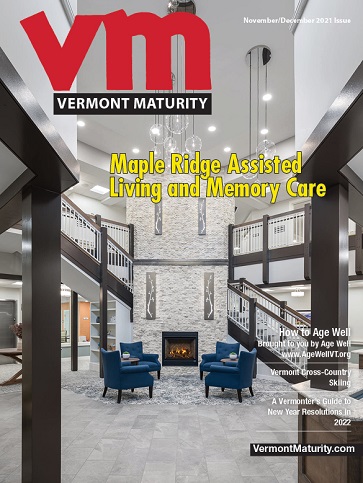 How Vermont's Unique History Created an Idyllic Place to Live
Little Known Treasures in Central Vermont
The Vermont Republic – The Story of When Vermont was an Independent Country