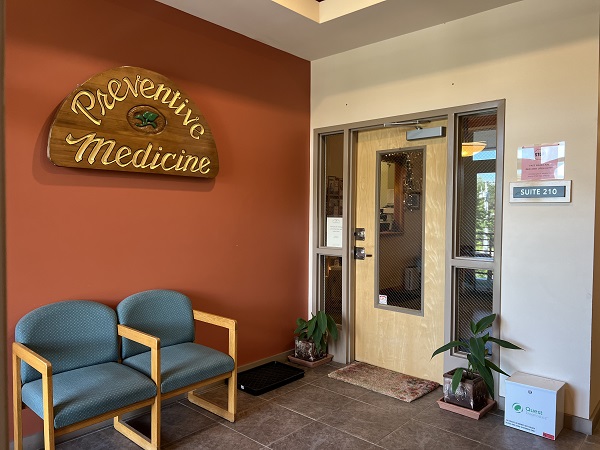 Whole Body Health at Preventive Medicine Vermont
As the global pandemic began to wane in 2020, Dr. Hobie Fuerstman purchased the Preventive Medicine Vermont practice, an established integrative care clinic that was founded in Colchester over three decades ago. The heart of the clinic is neuromuscular medicine and integrative wellness. However, as a founding member of the Psychedelic Society of Vermont, Dr. Hobie supports what he sees as a growing need for and interest in ketamine-assisted therapy as an avenue of hope for people suffering from treatment-resistant depression and anxiety. Dr. Hobie describes his approach to health care as whole-person-centered and believes that this focus helps his patients become empowered to trust and lead their way to preventing and reversing chronic conditions.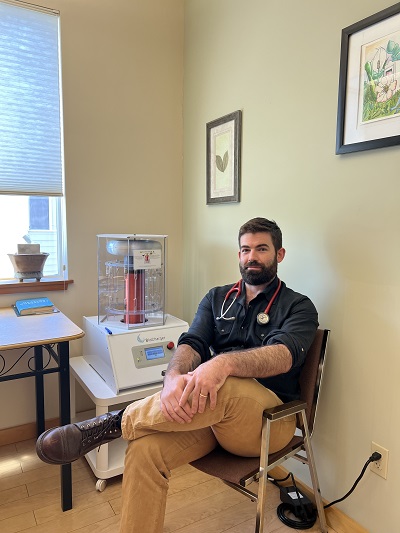 Dr. Hobie is looking forward to bringing new ideas to the Preventive Medicine practice. Dr. John Anderson founded the clinic in the early 1990's with the goal of bringing greater perspective and care to the community. The practice grew and Dr. Carol Gardner took over, transforming the physical space and adding a focus on those with Lyme disease. Covid took a toll on the clinic which allowed Dr. Hobie the opportunity to purchase the business. "Since that time," he said, "we've found ways to have an even greater impact and provide wider offerings to an even larger number of people."
Preventive Medicine accepts all insurance and bills on a sliding scale as much as possible. "We focus," Dr. Hobie said "on bio-individual health and balance of life stages from birth through last days." Dr. Hobie said the clinic space has been custom designed to promote a naturally healing environment. "We maximize access to natural light using non-toxic, recycled wood and low VOC materials" he said, "as well as a hypoallergenic therapy dog named Moonpie who brings joy and reduces stress for patients at the clinic."
Dr. Hobie believes mental health is the key to overall physical well-being. He is a board-certified osteopath but notes that because of the pandemic, the practice is turning to a wider array of offerings with mental health at the center. "If you don't feel well in your mind," Dr. Hobie said, "you won't feel well in your body."
Dr. Hobie grew up in Georgia in a family of healers and spiritual seekers. He studied applied bioethics at Vassar College before heading to the Philadelphia College of Osteopathic Medicine. The three years he spent in a partnered integrative primary care clinic in California helped him develop his approach to medicine which includes nutrition, mindfulness-based stress reduction, integrative healthcare, and ketamine-assisted therapy for mental health.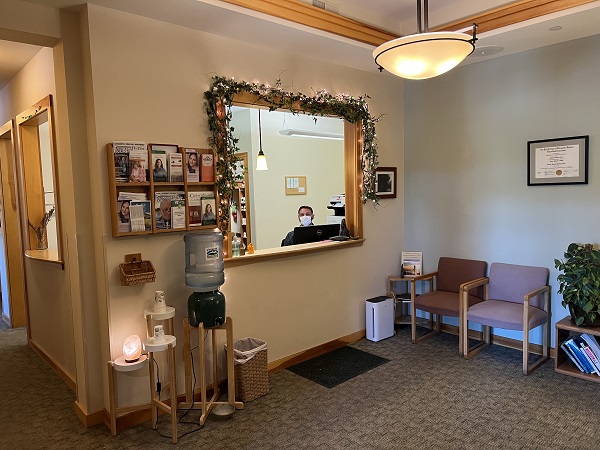 Preventive Medicine is an osteopathic and primary care clinic, but the emphasis is on what Dr. Hobie calls "consciousness medicine" which is described as "the awareness of the interrelationship between body and mind." Dr. Hobie works with therapeutic practices which are designed to optimize restorative health. "Our approach to health care is to care, and to connect all of the dots from symptoms, underlying causes, mental health, and neuromuscular balance," he said.
Preventive Medicine services include BioCharger, ketamine-assisted therapy, natural hormone therapies, B12 vitamin injections, vitamin/mineral and glutathione IVs, specialty blood work, annual physicals including PAPs, EKGs and blood tests, and assistance with healthy weight loss and digestive health issues. "We practice bio-individual care," Dr. Hobie said. "It's hard to describe because integrated medicine is so personalized."
Of all the Preventive Medicine services, the one that may be least understood is ketamine-assisted therapy. Dr. Hobie notes that intravenous ketamine infusions have been used as a sedative for medical procedures since the 1960's. "Its effect of creating an experience of separating the body from the mind, as well as its safety and ease of use has found its place for decades in high doses in emergency rooms across the globe," he said. "After further research, intravenous ketamine therapy in sub-anesthetic doses, has emerged as a promising treatment option for depression, anxiety, post-traumatic stress disorder, and even certain pain disorders."
Dr. Hobie explained that at lower doses, ketamine infusions produce psychedelic, therapeutic, and sometimes euphoric experiences and when administered properly, they can create novel neural pathways in the brain which can lead to new ways of thinking and relating. "Some patients achieve long-term relief after a series of single infusions and complementary therapy," he said. "Others find that ketamine infusions enhance their oral medication routine. In a safely monitored and controlled environment, it is not addictive." Ketamine can be administered intranasally or in a lozenge, as well as intravenously or in intramuscular or subcutaneous injections.
Dr. Hobie noted that his practice is also known for its orthomolecular nutrient therapy. "It's primarily a European model of supportive care that essentially focuses on ensuring proper nutrient distribution across all systems of the body," Dr. Hobie said. "It helps with better healing and homeostasis and is used to treat a variety of conditions from asthma to chronic pain."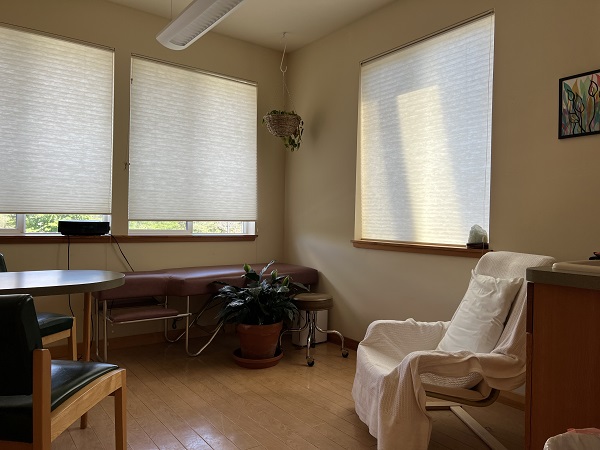 Dr. Hobie reports that many clients say their visit to Preventive Medicine marked the first time they really felt heard. One testimonial on the website reports that "[Dr. Hobie's] expertise will put you immediately at ease and his kindness will warm your heart. I have lived all over the world and had physicians from all types of backgrounds and Dr. Hobie is among the very best. His compassion is unparalleled and his advice clear and sane. You'll leave your appointment feeling heard, cared for, and invigorated for the future."
"Integrative primary care is at the core of Preventive Medicine," Dr. Hobie said. "It can be a bit tricky to define because it's tailored to each, and every patient based on their needs. Sometimes it just a regular checkup, other times it's a nutritional and lifestyle overhaul, and others it's medications to help our patients live healthier, longer, and more fulfilling lives."
"When I got into medicine, I had studied philosophy in college and I came to it from a bio-ethics point of view," Dr. Hobie said. "I thought the most good I could do was helping people have an essential baseline health to pursue their happiness. I felt very called to help people in their pursuit of their calling and joy."
Preventive Medicine is located at 905 Roosevelt Hwy, Ste 210, Colchester, VT 05446. For more information call 802-879-6544, Email PreventiveMedicineVT@gmail.com or visit Preventivemedicinevt.com.
Related Articles & Free Vermont Maturity Magazine Subscription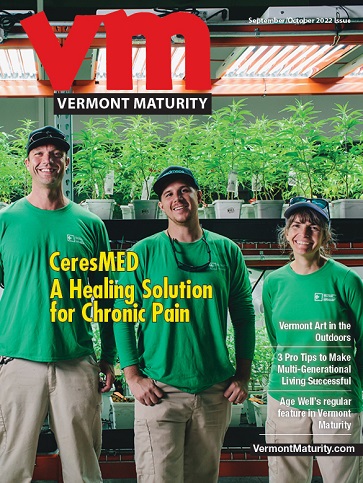 10 Things Medicare Doesn't Cover
Flu Vaccines That Are Recommended for Older Adults
Protecting Your Lungs Starts With Early Screening