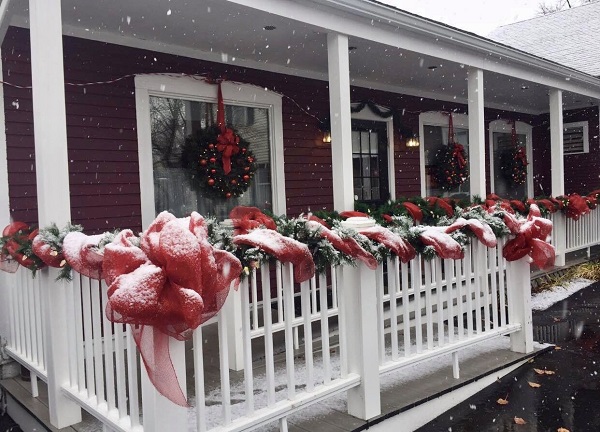 It's All About Family with Vermont Candy Maker
For almost 30 years, Vermonters with a sweet tooth have known exactly where to go to satisfy their cravings. In the shadow of Mt. Mansfield, in an unassuming storefront on Route 15 in Jericho, the Pollak family has been creating delicious chocolate treats since September of 1986.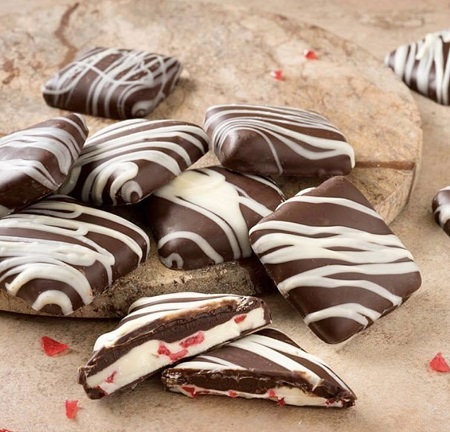 Robert Pollak's father had been a confectioner, but Bob's first career was in banking. In his spare time, he used his father's recipe to make peanut brittle and other concoctions. His daughter Sharon was attending UVM, and the aspiring entrepreneur brought samples and an order form to school. As more and more people devoured the delicious sweets, Snowflake Chocolate was born. The business is named after Wilson "Snowflake" Bentley, a Jericho native who was the first man to photograph a snowflake.
The family gives September 20, 1986, as their opening date but that isn't entirely accurate. The truth is that Bob was installing linoleum that day in preparation for the opening when his daughter Betsy went into labor. Bob asked her to hold on and Betsy was able to keep her contractions to 20-minute intervals until the floor was completed and she could be driven to the hospital. Her son Derek was born shortly afterwards so his birthday is the one celebrated as the store's anniversary.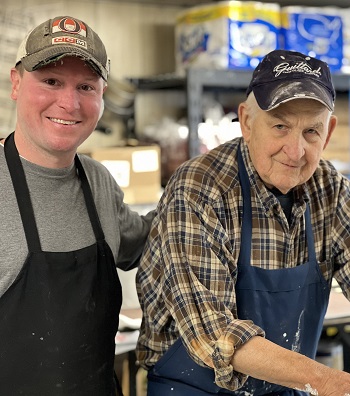 Bob's wife Martha left her job to run the business, but Bob continued working as a banker until 1988. Snowflake Chocolate soon became a family affair, which is only natural since the store is attached to the Pollak home. Martha has stepped back from the business, but Bob is still in the kitchen and daughters Sharon, Betsy, and Shelly are full-time staff members with another daughter, Diane, helping over the holidays. Sharon's son Alex, now 35, is the chief candymaker, making Snowflake Chocolate a three-generation affair. The business has expanded to include a satellite location in the Blue Mall in South Burlington, but all the chocolates are made in the Jericho kitchen.
The Pollak clan is close, both literally and figuratively. Shelly lives across the street from the store and the other three sisters all live in Jericho. Even though Martha considers herself retired, the daughters still bring her to the packing room during the Christmas rush. "We give her a change of scenery and she'll bag chocolate-covered Oreos," Sharon said.
"I don't think people truly appreciate how a family business operates unless you have one," Sharon said. "We're in each other's pockets whether we like it or not." The family feeling extends to all the employees. "Anyone can walk out at any time if they have something they need to attend to," Sharon said. "We always have each other's backs."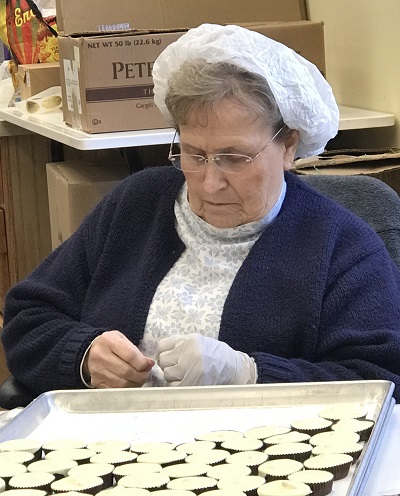 Working in close proximity with family members can have its challenges. "We've been fighting about the colors and patterns of ribbons for 35 years," Sharon admitted. "We're a bunch of strong-minded women. I'm the sensitive one and if I don't like something they ask me if I'm going to go cry to mom."
The busiest time of year begins when leaf-peepers head through Jericho in September and things continue to build through Christmas. Easter is the second most popular holiday with traditional molded chocolate bunnies and cream-filled chocolate eggs being the biggest sellers.
The sisters – all in their 50's or 60's – continue to put in long hours before the December holidays. "We're not as young as we used to be and we can't pull those really late hours," Sharon said "but during the busy season we still work seven days a week. We're grateful we've gotten to the age where we can focus on what's important."
Bob has always called himself a candymaker rather than a chocolatier and the family won't use the word "artisan" to describe their product. "We don't want to sound snobby," Sharon said.
The sisters are trying hard to minimize price increases from inflation and to track down ingredients which have gotten difficult to find like cocoa butter. Most of their gift items have gone up from the $15-20 range to $20-30 but there are always less expensive options for stocking stuffers. "We're conscious of putting out a quality product with nice packaging that doesn't cost much," Sharon said.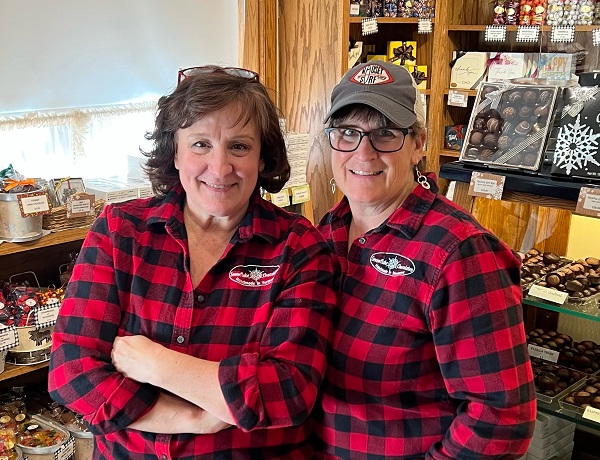 While some parts of the business have changed over the years, others have not. Truffles, almond butter crunch, and caramel and pecan-filled chocolates called turtles were three of the first products to be made and they continue to be best sellers. This year, the family is kicking around the idea of a non-nut-based turtle using puffed quinoa as a crunchy alternative. "We generally go back to traditional things because it's what people look for," Sharon said. "That's what sets us apart from other chocolate makers in Vermont. Part of our trademark is family and tradition. We value the old. We're not afraid of trying new things but we're not going to jump on the bandwagon of some of the newer, avant-garde flavors."
Snowflake Chocolates are hand-made and hand-wrapped, using local ingredients whenever possible. Their caramels are made with heavy cream from Monument Farm and the maple in their fudges and chocolates comes from local sugar makers. Most of their packaging is American made.
Sharon vividly remembers the day they had to shut down the business because of Covid. Bob's experience as a banker led to his being fiscally conservative and Sharon believes that's one of the things that saved them. They were able to stay open because they were food manufacturers and they continued to receive orders via their website and locals who were willing to pick up their goodies at the front door. "The community really supported us," Sharon said.
Recently, some cousins who continue to run Bob's father's shop in Pennsylvania, came for a visit. "Dad and Alex made candy with them," Sharon said. "It was such a poignant moment of what is left of that generation. It's that family cohesiveness that brought my grandparents through the depression."
With all the challenges, Sharon still enjoys the work. "This is still fun," she said. "I wouldn't come here every day if I wasn't still having fun but that's not why I come to work. I come for the memory of my grandparents, out of love and respect for my dad, and for the future for my son.
You can visit Snowflake Chocolates factory store at 81 VT-15 in Jericho, visit their retail store at The Blue Mall, 150 Dorset Street, in South Burlington or visit their website at SnowFlakeChocolate.com.
Phyl Newbeck has written for a wide variety of Vermont newspapers and magazines. She is the author of Virginia Hasn't Always Been for Lovers: Interracial Marriage Bans and the Case of Richard and Mildred Loving.
Related Articles & Free Vermont Maturity Magazine Subscription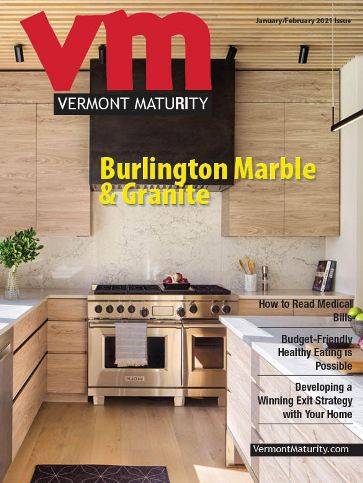 Houses of Worship Keeping History Alive in Vermont
Vermont's Covered Bridges are Where History and Beauty Converge