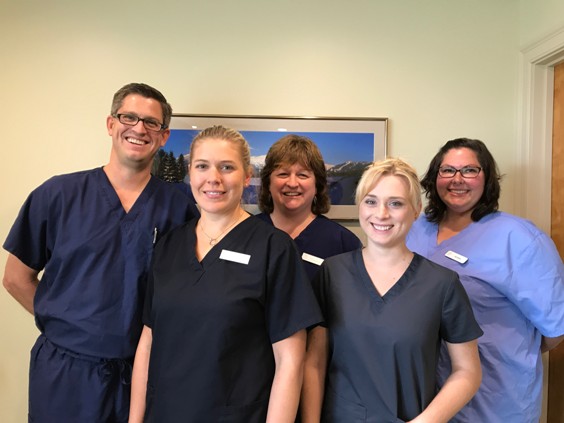 Proper oral health and hygiene go a long way toward good quality of life. Perhaps the best way to ensure healthy teeth and gums is to visit a dentist who not only understands the importance of preventative dentistry, but also understands a patient's personal goals and desired results. Ryan D. Goslin Dentistry and Implantology, located in Williston, VT, has a straightforward mission: to make sure its patients have a fun and enjoyable dental experience. This is accomplished by providing excellent clinical care, while taking the time to get to know the patients on a personal level.
According to registered dental hygienist (RDH) Meghan Obuchowski, "We take the time to get to know our patients and to understand their concerns and what their desired outcomes are. We provide individualized treatment for each patient."
This "personal touch", combined with the latest in technology, innovative treatments, and time-tested therapies, allow Dr. Goslin and his expert team to provide the ultimate in dental care. Dr. Goslin and his team are always humbled by the positive feedback they receive from patients. Here are what a couple of patients had to say about their experiences with Dr. Goslin:
"My experience with Dr. Goslin and his staff was wonderful! I came in as a new patient and it was obvious that Dr. Goslin actually reviewed my records BEFORE he saw me – my experience with past doctors is that they come in and quickly scan my records in front of me, asking questions as they go along. I also appreciated the fact that he wasn't trying to "up-sell" services (teeth whitening, braces, etc.) as that was a common theme at my old dentist and one of the reasons why I left that practice. My first appointment was excellent and I am so glad I made the switch!"
"It is hard to imagine that a day at the dentist could be a delightful day. I felt cared for and relaxed that I was receiving state-of-art dental care. Amazingly, I felt no pain throughout the procedure! This team of professionals also created a culture of calm, efficient, friendly interactions. We even managed some laughs and interesting conversations! Thank you!"
Dr. Goslin and his staff strive to go above and beyond their patient's expectations, creating another reason to smile. It is not uncommon for a new patient to leave the office thinking or saying, "I can't believe going to the dentist can be this much fun".
About Dr. Goslin
Dr. Goslin improves his skills and knowledge-base through continued education. He earned his Fellowship with the Academy of General Dentistry (AGD) in 2006. A Fellowship in the Academy of General Dentistry (FAGD) is one of the highest awards a dentist can receive. In fact, only about 6% of general dentists are awarded the distinction of Fellows. In the years since, he has more than 1,000 hours of continued his education, which puts him within reach of a Mastership with the AGD. In 2014, Dr. Goslin was inducted as a Fellow of the International Congress of Oral Implantologists. Dr. Goslin has also given lectures on implants, nutrition, and oral health at the Yankee Dental Congress in Boston, MA, the largest dental conference in New England.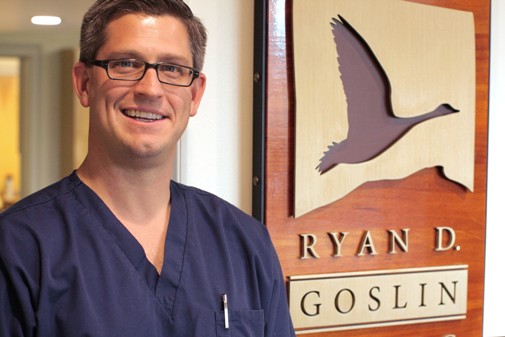 Attending courses that focus on techniques and procedures, investigating new materials and technologies, and employing new insights into patient relations help Dr. Goslin and his team stay up to date and relevant. They believe this is the key to delivering the best and most reliable care to their patients. Every step of each procedure has been researched and evaluated. As Dr. Goslin often says, "I don't do anything on any patient that I wouldn't feel right about doing on my own family". Every concern and question raised by patients is treated with respect and answered as fully and as often as needed. His experience, combined with his education in multiple facets of dentistry, allow Dr. Goslin and his team to offer a wide range of treatments.
From fillings to tooth whitening, crowns to dentures, tooth removal to implant placement, cleanings, gum procedures, Invisalign orthodontics, and smile makeovers, Dr. Goslin and his qualified team provide all this under one roof. The following are just some of the treatments and/or procedures a patient can receive at Ryan D. Goslin Dentistry and Implantology:
Preventative Dentistry
As the old saying goes, "an ounce of prevention is worth a pound of cure". This saying couldn't be truer when discussing oral health. Virtually all dental problems can be successfully prevented in their early stages with the help of diligent oral hygiene, regular checkups and cleanings, and other important preventive care.
Periodontal Care Services
Periodontal care helps stop disease progressions and maintains the health of your mouth. Dr. Goslin offers a few different periodontal care services, including:
Laser Periodontal Therapy
The laser energy is focused in the periodontal pocket and kills the destructive bacteria that causes gum disease.
Perio Protect Trays
Perio Protect Trays are a non-surgical treatment for periodontal disease. These trays are custom made for each patient and are designed to deliver medication under the gum-line in the area that brushing and flossing cannot reach.
Arestin Therapy
Arestin is a tetracycline-based antibiotic that is placed below the gum-line into a periodontal pocket. The reduction of the bacteria enables your body to start to heal itself.
Fluoride Treatment and Remineralization Techniques
Years of dedicated research have demonstrated a clear link between safe exposure to fluoride (a naturally occurring mineral) and healthier, stronger teeth that are less prone to decay.
SMART Technique for Kids and the Elderly
A technique that halts decay and seals teeth using two products: silver diamond fluoride (SDF) and glass ionomer cement (GIC) sealant/restoration in a single appointment, without numbness or drilling.
Restorative Services
"Restorative dentistry" is a term dental professionals use to explain how they replace missing or damaged teeth. Fillings, crowns (aka caps), bridges, and implants are common restorative options. Restorative services help bring back a natural smile and prevent future oral health issues.
Indirect Gold Fillings
There is a reason it is called the gold standard. Nothing lasts longer or is more biocompatible in the mouth than gold. Many dental professionals turn to Dr. Goslin to perform their gold restorations as they know of his proficiency in this area and appreciate the longevity of gold.
Prosthetic Dentistry
Prosthetic dentistry provides a variety of lifelike replacement teeth so you can once again enjoy a beautiful, youthful smile after suffering from tooth loss.
Technological Advances
Dr. Ryan Goslin applies the latest dental technology to improve every aspect of a patient's dental experience. Some of the most recent advancements in dental technologies used by Dr. Goslin include: digital x-rays, Intra-Oral Cameras, 3D Cone Beam Imaging, and powerful laser treatments.
Dental Implants
In addition to his other services, Dr. Goslin performs dental implants in-house. Dental implants are typically used to replace missing teeth. They work by placing a socket in the jawbone where a rod can be attached to support a fabricated tooth or bridge. Implants can restore your oral function and fill in missing gaps where teeth were lost.
Cosmetic Dentistry
Cosmetic dentistry can range from whitening, realigning teeth, or gum tissue re-contouring to bondings and veneers. The mode of treatment depends on the patient's needs and expectations, as well as the dentist's expertise and recommendations.
Financial Options
As a courtesy to his patients with dental insurance, Dr. Goslin and his team process all necessary paperwork to file claims on the patient's behalf to maximize his or her benefits. For all patients, regardless of insurance status, Dr. Goslin and his team will do everything they can to help a patient afford the treatment he or she needs and/or wants.
Many of us put off dental work because of our busy schedules or we feel like our teeth are too far gone to save. Some of us are just too embarrassed to have someone look at our teeth, but Dr. Goslin and his team can help achieve a healthier and more confident smile. A healthier mouth and a confident smile equate to a better quality of life. For patients who are tired of feeling like a number, or who like being able to stay at one office for most of their treatments, or who want personalized treatment options, a completely different dental experience awaits at Ryan D. Goslin Dentistry and Implantology.
For more information or to set up a consultation on the status of your oral health, call 802-662-5966 or visit DrGoosevt.com.
Related Articles & Free Subscription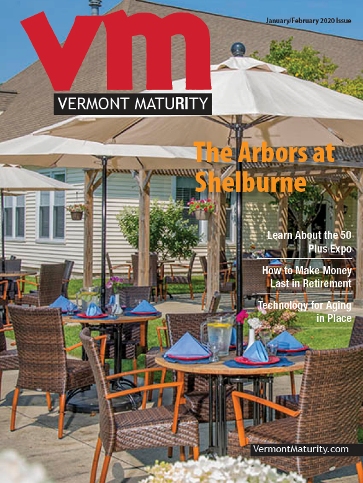 Does Medicare Cover Dental Care?
Older Americans Who Neglect Oral Care Put Overall Health At Risk
Sedation Dentistry Helps Calm Fears