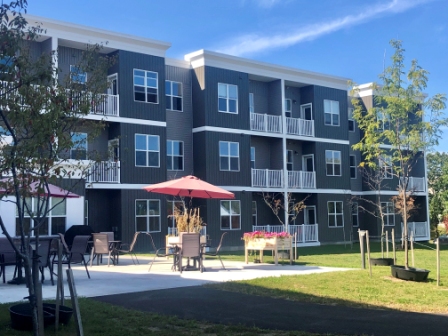 Just over a year ago, Williston Place became Vermont's first locally owned and managed independent 55-plus living community. This newly constructed independent living community features a relaxing courtyard and patio, well-manicured gardens and easily accessible walking areas. Convenient to all of the amenities that Williston has to offer, it is an ideal choice for older adults who seek a community lifestyle where maintenance free living, social connections and peace of mind are woven into the fabric of daily life. Williston Place is committed to clean, renewable energy, with over 500 rooftop solar panels that support 72 apartment style homes. The Williston Place mission is simple: provide unparalleled senior living services designed to complement active and independent lifestyles. Unlike other communities which combine independent living and assisted living on one campus, Williston Place offers a truly unique, all-independent option.
Apartments
Residents can choose from six well-designed apartment floor plans that include studios, one bedroom, one bedroom with a den, and two-bedroom options. Designed for comfort and function, every apartment, standard and ADA accessible, comes with a fully applianced kitchen with dishwasher, microwave, stove and refrigerator, high efficiency washer and dryer, walk-in shower, individually controlled central air conditioning and heat, private balcony, and spacious in-apartment storage closet. Decorated with a palette of appealing tones to compliment your decor, each apartment offers nine-foot ceilings and large, bright windows. Williston Place offers market rate rentals that bundle all utilities, Xfinity cable TV, secure wireless internet, weekly housekeeping and trash removal, secure underground parking, shuttle van service, a chef prepared daily meal, 24 hour on-site concierge service and security into one monthly rental package price. Williston Place is a pet friendly community.
Community Amenities
Williston Place offers a variety of spacious and comfortable community spaces for socializing and life enrichment activities. Neighborly gatherings occur at the daily social hour in the pub and lounge area that even features a dance floor. Community members enjoy the outdoor patio area with tables, chairs and umbrellas, a BBQ grill and raised garden beds to grow your own vegetables, herbs and flowers. In the cooler months, community members enjoy gathering around the two-way fireplace. Whether you enjoy playing cards with a group of friends or quietly reading a book in the library, Williston Place offers the best of both worlds – the privacy of your own home, along with a full palette of amenities and services to support your independent lifestyle. Other community amenities include a large private dining room to encourage you to entertain family and friends, a group movement studio with organized exercise classes, a fitness room with exercise equipment, and a creative art studio,
Dining Options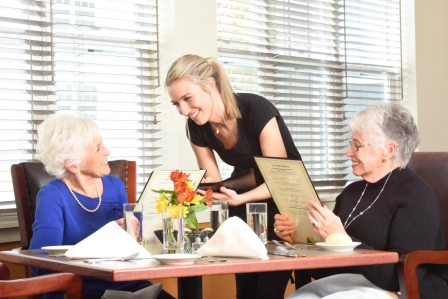 Williston Place community members enjoy a three-course chef prepared evening meal served in a tastefully appointed dining room Monday thru Saturday with brunch served each Sunday. Evening meals feature a full restaurant-style menu of standard fare options with daily specials including homemade soup, salad or appetizer, main entree with accompanying sides, dessert, and a beverage. Sunday brunch offers a variety of entree specials served with coffee, tea or juice. Community members appreciate the attentive and courteous waitstaff as well as the flexibility of dining in a way that accommodates their schedules.
Social Engagements and Activities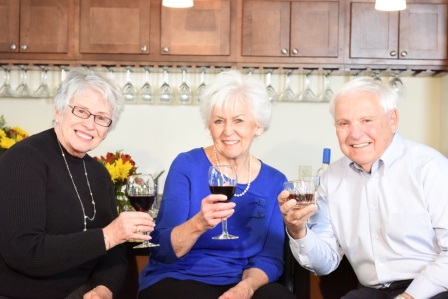 Life is a journey and, regardless of age, we are always learning. Independent studies have shown that seniors who are fully engaged in life are healthier and happier. That is why Williston Place places a special emphasis on life enrichment by offering a wide variety of activities, social events, outings, and educational opportunities to support varied interests. The staff recognizes that each community member is truly unique and independent. This is why the staff organizes group outings and provides transportation to such a wide variety of cultural, educational, and health-oriented opportunities to stay connected with the local community. Located close to Burlington and within the rich heritage of the Champlain Valley, there is never a shortage of places to visit. Williston Place community members have the opportunity to shop locally and take advantage of the Flynn Center for the Performing Arts, St. Michael's Playhouse, Shelburne Museum, Lake Champlain tours, and local art galleries. Whatever the adventure, there is always something interesting on the horizon and it is a mainstay of the culturally enriched lifestyle enjoyed by the community members of Williston Place.
Planning for the Future
Most people find that when it is time to plan for the next chapter of their lives, it is essential to be informed on the choices available. Williston Place suggests visiting a variety of communities to best understand your options. Senior living communities have changed substantially over the years to become more reflective of active, healthier lifestyles. Once you discover your preferences, Williston Place strongly suggests that you enroll on a waitlist (or two) for when the time is right. At Williston Place, you maintain your waitlist position regardless of your timeframe for moving. In other words, you'll never "drop to the bottom" of the list because you weren't ready to move quite yet. This allows Williston Place "wait listers" to have the very best choice of available apartments when the time is right. As an added benefit, community members are granted priority access to Mansfield Place Assisted Living and Memory Care, located on Carmichael Street in Essex Junction, should additional supports be desired in the future. Both properties are managed locally by Vermont native, Cathy Williams.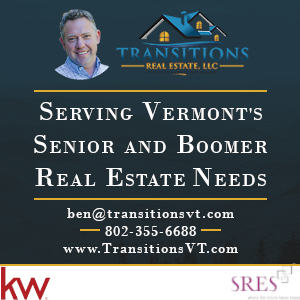 For more information, visit WillistonPlace.com or contact Jennifer Olson at 802-871-5409 or Jolson@WillistonPlace.com.
Related Articles & Free Subscription
10 Reasons It's Worth Every Penny to Retire in Vermont
Steps to Stay Independent When You Live Alone
Vermont Maturity March/April Cover Story – Transitions Real Estate
Free Subscription to Vermont Maturity Magazine