By Susan Green
On her family's Idaho dairy farm, Geniel Fife grew up with a relatively wholesome albeit conventional meat-and-potatoes outlook.
"My mom was very health-oriented," she recalls. "But we could have done better. I found a new and better way."
After leaving home as a young adult, it would be four decades and eight children with a fellow Mormon later when Fife began to radically change her culinary paradigm. She became a raw vegan, someone whose diet consists of only uncooked live plant products.
By that time, the late 1990s, Geniel and husband Lynn Fife — an agricultural economist teaching at the University of Vermont — were ensconced with their brood in a five-bedroom house on ten South Burlington acres. That's where she now operates Geni's Raw Vegan Foods, offering classes and preparing packaged snacks, crackers and granolas. Her wares are sold at local stores and farmer's markets or via mail order.
The slogan for Fife's enterprise: "Nutrition you need. Tastes you love."
One bite of her Maple Slivered Almonds, enhanced with a smidgeon of sea salt and chili powder, and a skeptic might echo that assessment. They're delicious but, just as important, most nuts and grains she works with are sprouted to capture the inherent enzymes. So the four-ounce bag contains protein molecules necessary for an optimum flow of the body's digestive process.
This is the kind of lingo that Lynn Fife, more of a latecomer to the raw vegan lifestyle than his wife, surely understands. As a man devoted to science and therefore requiring solid proof that the switch made sense, initially he was a doubter.
"Lynn thought I was absolutely crazy," Geni, a septuagenarian, says of his reaction to her altering the menu. It was a choice, however, compelled by circumstances.
"In the mid-1980s, I felt fatigue and lack of mental clarity," she notes, enumerating symptoms often associated with menopause. "Even a little bit of heart arrhythmia."
Geni took a correspondence course in medicinal herbs at a Utah school that required some in-person visits. As a mother tending an empty nest, the experience meant more to her than a mere education. "I felt like I had nothing that was mine," she explains. "It was a challenge that I loved, learning about the natural things of the Earth."
Her doctor had suggested taking pharmaceutical estrogen, which Geni opposed. "It didn't seem right to me. We eat wrong with the standard American diet, which is lousy. Chemicals are added to increase the shelf life. And these products are in cute little boxes, so we want to buy them."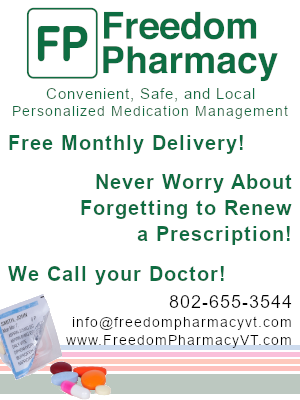 She became a vegan in 2000 and wanted to go raw, but didn't quite know how. Moreover, Geni cooked separate dishes for Lynn, then still in a carnivorous mode. They did take a big step forward by grazing their own cow in Newport for grass-fed beef.
Geni — whose health improved significantly — received training at the Chicago branch of the California-based Living Light Culinary Art Institute. She also was influenced by reading "Recipes for Life from God's Garden" by Rhonda J. Malkmus, whose Christian health ministry is located in North Carolina.
It was another book, "The China Study" by nutritional biochemist Colin Campbell, that prompted Lynn to embrace the concept of veganism in 2001.
"I always drank more milk than water," he recounts, remembering his formative years on an Idaho dairy farm not far from Geni's parents. "With my research in dairy at UVM, I was trying to get people to eat more cheese and butter while my wife was focusing on all these goofy things. I thought, 'What does she know? I'm the professional.' But Geni was strong and skinny. I was fat and caught every bug that came down the pike."
The Campbell tome documents his research with rats. According to Lynn Fife, rodents subjected to a standard Western diet developed pre-cancerous growths after six months. When given only grass and seeds for the remainder of a year, their diseases went into remission, their coats became shinier and they demonstrated more vigor. The growths returned soon after the plant-based food was again replaced by animal proteins.
"For me, this was like finding the Holy Grail," Lynn says of his vegan conversion. "I was thinking, 'My gosh, that's got to be true.' So, I went cold turkey, so to speak."
He lost weight, his high blood pressure dropped to acceptable levels and the polyps previously spotted in his large intestine were diagnosed, during a subsequent colonoscopy, as benign scars.
But a raw vegan regimen is not just for the sick, Geni points out. "Each meal should be 80 percent greens and vegetables and 20 percent anything else, such as fruit."
This is almost a mantra at the six-week courses she conducts four or five times a year with a co-instructor, vegan chef Joshua Pfeil of Burlington. In addition, Geni also leads two "summer camps," one reserved for youths and the other for adults who come from out of the area.
The Fifes took a break from 2005 to 2007 for a Mormon humanitarian mission to Serbia. In "a country that lives on pork," Lynn says they were able to eat vegan but not raw. The couple have since resumed their normal alimentary practices.
In her spacious kitchen with a view of Mount Brunelle in the distance, Geni stirs the ingredients for a Chocolate Superfood Bar — chia seeds, raw cacao powder, pecans, walnuts, almond butter and raw cacao oil — before pouring the mixture into a shallow stainless steel pan lined with lecithin. It's then frozen, not heated.
She soaks and sprouts the organic grain for her Cinnamon Raisin Buckwheat Granola, adds raisins, dates and walnuts, dehydrates and packages the concoction. Not Tuna Pate, Geni's faux fish dish, contains parsley, celery, onion, sunflower seeds, almonds and lemon.
"I like to make recipes such as Spicy Raw Vegan Mustard and later decide whether to market them," she says. "I try these things out on Lynn and on the people in my classes."
Experimentation is key. On a brisk December day, Geni proffers an as-yet-unnamed dessert with cacao, flax and super-foods (items such as sprouts that are high-fiber and low-calorie, as well as rich in omega-3 fatty acids, vitamins and minerals). Lynn takes a few bites and suggests the treat isn't sweet enough, so it's back to the drawing board.
While acknowledging that she's something of a workaholic, Geni muses that, "life is so precious and there's so much good you can do."
Geni's Raw Vegan Foods: www.geniraw.com or 658-9500.