Busy Chef's Cindy McKinstrie Cooks Up Unique Food Delivery Business
By Phyl Newbeck
So you want a home cooked meal but you don't really want to cook it yourself. You can't eat out every night and ordering take-out food can be a questionable proposition. Besides, you'd like to do some of the work yourself; just not all that prepping. That's where Cindy McKinstrie's Busy Chef Kitchen comes in.
McKinstrie's operation isn't a typical catering business. Sure, she prepares and delivers food from her Jericho home, but her customers still get the option of taking part in the creative process and inhaling the aroma of the dishes as they simmer in the pot or cook in the oven. The difference between McKinstrie's offerings and a typical delivered meal is that her meat is still raw because cooking and reheating meat can reduce the protein value. Additionally, this gives her customers the ability to decide whether they want their dinner rare, medium or well-done. McKinstrie's meals come in sealed containers or plastic wrap with instructions for preparation.
Generally, all that is required is the mixing of some ingredients and then some time in the oven or on the range. "It's no more than 20 minutes of 'physical time,'" is how McKinstrie describes it.
Every Sunday night, McKinstrie develops a menu for the week which includes three main courses and three salads. She also keeps a well-stocked freezer with some of her customers' favorites including about 20 entrees, and a variety of soups, side dishes, and desserts. McKinstrie's offerings range from "comfort food" like chicken pot pie to ethnic cuisine like Lamb Tagine (a Moroccan dish) and Thai Coconut Saffron Scallops.
When McKinstrie started her business, she expected her primary customers to be families where both spouses worked outside the home. That has not turned out to be the case; instead, empty nesters are some of McKinstrie's best customers. She theorizes that many have cooked for their entire lives and the thrill is gone from that activity. They want to try new foods without going out to dinner every night. McKinstrie also has quite a following among seniors who are caring for a sick spouse. "They are exhausted from being caregivers," she said, "and happy for the help." Although McKinstrie's meals are designed to feed two to three people, she noted that seniors can sometimes eat off one meal for four nights.
All of McKinstrie's food is made from scratch with very few unnecessary ingredients like sodium. Because her operation is small-scale, she is able to make alterations to her menu to accommodate those with dietary or religious constraints or food allergies. Virtually all her ingredients are purchased locally including chicken from Misty Knoll, beef from the LaPlatte Farm and vegetables from Paul Mazza. By keeping her menu seasonal, she is able to make use of these local suppliers.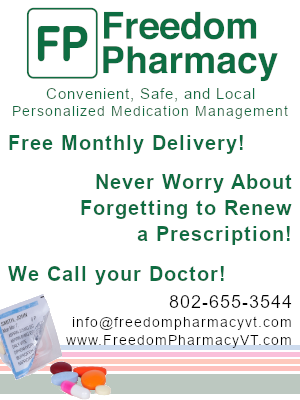 Although McKinstrie is the guiding force behind the business, she does have some help. Two sons provide assistance one or two days a week even though they hold full-time jobs, and McKinstrie's friend, Beth Garland, is the creative force behind the menu. McKinstrie confesses that while she is fully capable of following a recipe, she needs Garland's expertise to come up with new dishes. The two have worked together on and off for the last five years. "She's so amazing," McKinstrie said.
Most of McKinstrie's clients buy several meals at once which she delivers at a set time each week. Her delivery area reaches almost completely across Chittenden County, with the charge dependent on the distance she drives. McKinstrie estimates that 85 percent of her business is from repeat customers. She delivers three to four meals a week to one couple whose work schedule keeps them at their respective offices until 6:00 or 7:00 at night; if they had to start a meal from scratch, they might not eat until 9:00 p.m. Another regular is a personal trainer whose metabolism necessitates eating six meals a day. McKinstrie said his wife drew the line at three, so she provides him with regular deliveries. She has recently begun a weekly delivery to a Williston day care center to help busy parents.
McKinstrie noted wryly that the economy plummeted right after she started her business, but she does not believe she has been adversely affected. "People still need to eat," she said. Additionally, McKinstrie found that some clients who used to go out to dinner are now relying on her for their meals. "I'm that 'in-between,'" she said. McKinstrie also does conventional catering, in addition to her Busy Chef work.
Despite all the extra cooking, McKinstrie's kitchen doesn't look like a commercial establishment. The only alterations are a large double door freezer and her insistence (in accordance with the Health Department's mandate) that the family cat stay outdoors when meals are being prepared. The beauty of working at home is that McKinstrie can chat with her granddaughter, work with her sons, and then, sit down to a home-cooked meal, just like her customers.
See http://www.vtbusychef.com for more information.