Vermont seniors will have a new option for Medicare supplemental insurance coverage beginning January, 2011.
Blue Cross and Blue Shield of Vermont announced a new, competitively-priced plan designed to provide coverage for Medicare deductibles, coinsurance and other out-of-pocket costs to newly-retired Medicare recipients.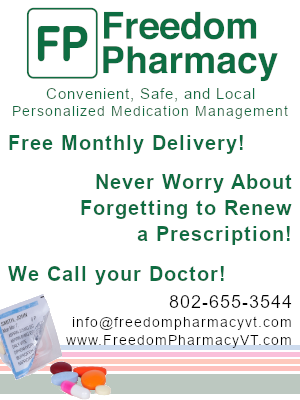 The new Vermont Medigap Blue plan will be offered through Blue Cross and Blue Shield of Vermont's affiliate, The Vermont Health Plan.
"This product offers attractive rates, discounts on health, travel and other supplies and services through Blue 365 and the peace of mind that comes with membership in Blue Cross and Blue Shield," explained Dana Houlihan, product manager at Blue Cross and Blue Shield of Vermont's individual products department. "We want more Vermonters to make the best out of retirement, without worrying about health care costs."
To spread the word about Vermont Medigap Blue to future retirees, BCBSVT has invited Vermonters who have just turned 65 or will do so in the next year to a series of free Retirement and Lifestyle events that combine informational sessions with fun, interactive workshops on topics related to planning for retirement and retirement living.
"Informational sessions will cover everything from Medicare to memoir writing," Houlihan explains. "We'll also give folks a chance to try some new activities that they might continue during their retirement. Attendees will also be invited to indulge in a culinary lesson from a gourmet chef or challenge themselves to a dance sampler of Zumba and Balletone. A travel agent will give tips on making the most of a vacation or 'stay-cation' and representatives from local companies will provide information, give-aways and door prizes," he notes.
The events are free of charge, but BCBSVT asks that you register for one or more of the events online or by phone.
For more information or to register, visit www.vermontmedigapblue.com, or call Jill McDermott at 802.371.3299.