By Phyl Newbeck
Debra Dulac had spent her entire career at Dartmouth Hitchcock Medical Center when she decided it was time for a change.
Fletcher Allen Health Care is the lucky beneficiary of her desire to try her hand at a new location. Dulac joined FAHC at the start of the year as their new director for PRISM, the hospital's electronic health record system. Dulac was excited to make the move to Fletcher Allen. "This is an academic medical center that is very focused on patients and their families," she said. "I wanted to work for another organization that really cared about their population. This job allows me to use my clinical expertise, but also my IT side."
PRISM stands for Patient Record and Information Systems Management. The system predates Dulac's arrival, having been implemented three years ago. What interested Dulac in the project was that the system was already in place, but she would be given the opportunity to move it to the next phase and, in her words, "optimize it so it can be more efficient and provide greater value to those who are using it."
Dulac sees her job as learning how patients and staff are utilizing the system, getting them more engaged in the process and then helping them use it more efficiently. "Just because a system is in place," she said "doesn't mean you know everything about it."
Dulac has a BS in nursing and MBA certification in Nursing Informatics (a program devoted to the study of modern technology in the nursing field), as well as being a Certified Professional Health Information Technologist. The 51-year-old started at Dartmouth Hitchcock as a staff nurse and within a year was promoted to a leadership role. She found her "true love and niche" in clinical and technological support, joining the team that created the electronic record system at Dartmouth. When the hospital decided to move the system to an external vendor, she led the vendor selection process and then helped with the transition.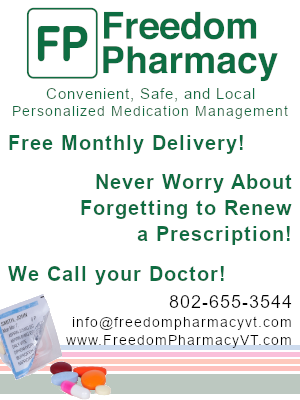 Dulac realizes that even though the PRISM system is already in place, it can still be improved upon. "Viewing something electronically is a different way of capturing information," she said. "You're shifting how someone works. Now that the system is in place there is time to rethink how it's done and make it better."
Options include adding more data sets or changing the order in which the information is provided. "It's a pretty powerful tool," said Dulac, noting that electronic record keeping is crucial because patients may be treated at several different locations. "This is better for patients as well as for the care delivery system," she said.
Through PRISM, patients have the opportunity to look at their records in the comfort of their homes, although Dulac stressed this does not take the place of physician/patient visits. "This has been created from an efficiency perspective," she said "not to replace conversations with doctors."
Dulac noted that the system has built-in redundancies and down time procedures which create a safety network in case of power outages. There are also a variety of security measures to prevent anyone from hacking into the system.
Dulac is the mother of four sons, one of whom is a first year student at St. Michael's College. For now, she continues to live in the Upper Valley and commutes to FAHC because her second son is a junior who plays on his school's football team. He has been playing varsity since his first year of high school and college scouts have been attending his games, so she is unwilling to uproot him until graduation, even though various friends and neighbors have offered to house him in the interim. After he graduates, Dulac intends to move the rest of her family closer to Fletcher Allen.
The commute is a tough one, made more difficult by the fact that Dulac is determined to attend all her children's sporting events, but the New Hampshire born woman considers herself very strong willed. "If there's something worth doing, you do it," she said, noting that eighteen months of commuting will help her decide exactly where in Chittenden County she would like to put down roots. "I really feel like I was given a gift to work here," she said. "I don't think I could have created a better situation for myself."
Dulac is excited about the opportunity to help improve the PRISM system. "The hard work has been done," she said "but now it's gaining momentum and getting people excited. Putting it in was only the beginning. This is a living breathing tool that we need to take care of." Dulac views her job as one that involves listening skills which will help her foster a better environment for patients and staff and create a partnership between them. "This was a significant investment," she said. "That's the exciting part. We're truly making a difference. If I can't make things better and move it forward I won't be successful. My job is to change things for the better."