Survivorship NOW programs help people continue on with their lives
By Phyl Newbeck
The building is ready and the calendar is full. Now all the Survivorship NOW program needs is people to take advantage of its classes. Linda Dyer, founder of Dragonheart Vermont and Director of the Lake Champlain Dragon Boat Festival, is thrilled her organization has been able to create an array of programs for cancer survivors to take part in after their treatment has ended. "We have a full calendar of terrific events led by area professionals," said Dyer "but we need to get the word out because many people don't know about it."
The goal of Survivorship NOW is to give cancer survivors a focus once they have finished their treatment. "It's about finding the new normal," Dyer explained. "After a cancer diagnosis, patients are so busy the first year going from treatment to treatment to treatment. Someone takes care of you every step of the way and then you're let go and there's a feeling of losing the support you had and wondering what's next."
Dyer hopes the programs of Survivorship NOW can serve as a lifeline to help people continue on with their lives. "The new normal can be even better than the old one," she said.
Although it also conveys a positive vibe, NOW is actually an acronym for Network on Wellness. The program is a series of free workshops and training sessions designed to engage and encourage cancer survivors after they have finished their treatment regimen. Survivorship NOW programs include practical guides on using social media and estate planning, cooking and nutrition classes, nature walks and a wide variety of exercise programs. The exercise programs range from qigong which has been described as the gentlest martial art, ai chi (water-based exercise), Zumba Gold (which involves a chair), and several different kinds of yoga classes, all free of charge. The program partners with Synergy Fitness and PT 360 and is based in the White Cap Business Park on Industrial Avenue in Williston. It is open to all kinds of cancer survivors; not just breast cancer, and both men and women are welcome.
Thea Knight of Burlington is a 10-year breast cancer survivor who has rowed with the Dragonheart Sisters for nine years. "It has been a challenging and joyful journey paddling," she said. "Survivorship NOW is our gift to cancer survivors for both mental and physical support." Knight has attended Survivorship NOW classes in qui gong, cooking with grains at Healthy Living, water aerobics and yoga, and plans to attend more in the future. "We hope the classes are filled to capacity," she said.
Dyer believes Survivorship NOW is important because advances in medicine and early detection mean cancer patients are living longer lives. There are almost 30,000 adult cancer survivors living in Vermont with another 3,500 diagnosed annually. Many of the Survivorship NOW programs are designed to help survivors continue their recovery by fostering healthy habits, some of which may be new to them. Members of Dragonheart Vermont raised money for the programs through the annual Dragon Boat Festival but they also volunteer their time to mentor and provide moral support to those who are entering a new phase of life. Dyer hopes the example of the Dragonheart Sisters will help other survivors to lead healthier lives.
Dr. James Wallace, a radiation oncologist at Fletcher Allen Medical Center, sees Survivorship NOW as part of the continued evolution of cancer treatment. "We used to perform surgery and hope for the best," he said. "Our first goal was to cure which evolved into curing with continued function, and has now evolved into curing and trying to ensure a good quality of life afterwards."
Wallace said some patients feel abandoned after they stop coming to his office for chemotherapy or radiation. He hopes that after taking part in Survivorship NOW programs, survivors will take the next step in their recovery, perhaps by joining a health club to continue the disciplines they've learned there. "This helps with the transition," he said. "We're getting people pointed in the right direction, which hopefully they'll continue."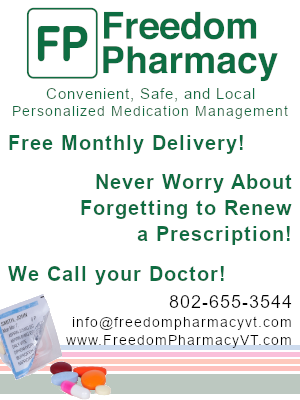 "Surviving cancer is a lifelong effort and it takes support," said Dyer. "Luckily, in our area, people have given us money and time to create a network for wellness." Dyer noted that for many cancer survivors, fatigue is a big factor and although she knows it sounds counter-intuitive, she believes being active will help. "The answer to fatigue is getting active; engaged in both mind and body," she said.
For more information and a calendar of classes, go to www.survivorshipnowvt.org.