By Phyl Newbeck
Nancy Condit admits she never gave much thought to brain cancer until her business partner and best friend, Wendy Pierson, was stricken. The two women were co-owners of the Women's Source for Sports and Personal Fitness Interiors, two South Burlington business establishments. Pierson was diagnosed in December 2007 with glioblastoma, a form of brain cancer. She passed away in June 2009.
Condit stayed with her friend throughout the process. "Going through that with her and watching all the faces in the doctors' offices and treatment centers told me I had to do something," Condit said. "I couldn't lose my partner and just walk away from it. I couldn't not try to have something positive come out of it."
Condit believes that research for brain cancer is underfunded. She said only one new drug has been approved by the FDA in the last 25 years and the survival rate hasn't changed in over a century. "You have a better chance of surviving breast cancer than a benign brain tumor," Condit said. "It's overtaken leukemia as the number one cancer killer for those under the age of 20."
In order to increase funding for research, Condit founded Gray Matters, also known as the Wendy J. Pierson Foundation for Brain Cancer Research. Her first foray into fundraising was the Vermont City Marathon through which she raised over $18,000. When Pierson was alive, the two women put together a team from their combined businesses with Condit running the first leg and Pierson the second. Condit was also teaching at the time. When she retired from teaching, she vowed to run the last leg, but Pierson's cancer took her out of the marathon that year. This year, Condit ran the last leg as they had planned before Pierson took ill as part of Wendy's Team, which included Wendy's niece and Condit's niece. A second team, Wendy's Team Too, was comprised of employees of Condit's businesses.
In addition to the marathon, Condit has organized the first annual Wendy J. Pierson Memorial Golf Tournament, scheduled for Aug. 2 at the Rocky Ridge Golf Club in St. George. The scramble format tournament is open to male, female and mixed teams. The entry fee of $75 includes access to a golf cart, a post-tournament fundraiser, prizes and a raffle. Other fundraising events may follow. Condit continues to run her two businesses, but she devotes as much time to Gray Matters as possible. "It's what gets me out of bed in the morning," she said.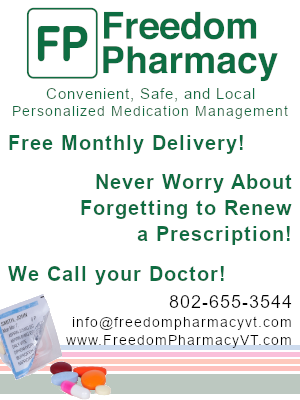 According to the American Cancer Society, in 2008 (the last year for which statistics are available) there were 21,810 new cases of brain cancer and 13,070 deaths from the disease. Miles for Hope, a non-profit devoted to finding a cure for the disease says that every day, 482 people in the United States are diagnosed with a brain tumor.
Statistics compiled by the National Cancer Institute show the highest incidence of brain cancer in Vermont for the years 2002 to 2006 in Washington County, followed by Windsor, Rutland and Chittenden counties. The mortality rate was highest in Chittenden County, followed by Washington and Rutland. Mortality rates have risen slightly across the state since 1975.
Condit bemoans the lack of interest in brain cancer research. While breast cancer clearly strikes more people, it is relatively (though not completely) gender specific. "Brain cancer doesn't discriminate," said Condit. "It can strike anyone."
She notes that other cancers benefit from celebrities who speak out on their behalf: Lance Armstrong for testicular cancer and Katie Couric for colon cancer. There is no similar spokesperson for brain cancer, despite the recent death of Senator Edward Kennedy from the disease.
Condit is still conducting her own research to determine the best place to send the money she is raising through Gray Matters. She is looking into hospitals in Massachusetts, Oregon and Texas as possible recipients. In addition to raising money, Condit hopes to create a website which is a repository of information for those wishing to learn about clinical trials and other options for people suffering from the disease and those who love them. "I would like to take my foundation to the national level," she said. "I'd like gray to be the new pink."