By Tim Simard
During a recent lunch hour at Natural Provisions in Williston, the parking lot quickly filled with customers. A lengthy line formed inside the market at its new hot lunch organic buffet. Another group of shoppers picked up grab-and-go all natural and healthy sandwiches.
Natural Provisions Co-General Manager Peter Lafferty said these types of steady customer rushes are a common daily occurrence, even in the face of the struggling economy.
"I literally have customers coming in every day of the week to get what they're going to eat for that day," Lafferty said. "They want the freshest produce."
Business is also strong at Healthy Living in South Burlington. During an evening dinner shopping hour at the market on Dorset Street, the parking lot was packed. Healthy Living had as many customers shopping its aisles as the nearby Hannaford Supermarkets store did near the University Mall.
In recent years, natural and organic foods have become more and more familiar to conventional shoppers, launching it into a multi-billion dollar industry. In Vermont, natural and organic foods are becoming almost synonymous with locally grown products, something residents find especially appealing.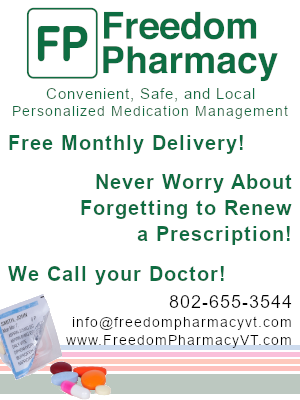 "People want to know where they're food is coming from," said Eli Lesser-Goldsmith, general manger of Healthy Living. "They want to get it close to home and know that it's clean and safe."
Residents of the Champlain Valley have a surprising number of places to shop for natural and organic products. Natural Provisions, Healthy Living, and the City Market/Onion River Co-op in Burlington offer a market shopping experience, complete with produce, deli and meat sections. These stores also have a focus on locally grown products or items from locally owned sellers.
Smaller natural food stores can also be found throughout the area, including the Sweet Clover Market in Essex.
Major chain supermarkets are also getting in on the natural and organic foods business. Stores such as Shaw's Supermarkets have a section called Wild Harvest, and Hannaford Supermarkets also have a natural foods section.
"(Natural and organic foods) are definitely the wave of the future here," said Lafferty. "It's becoming much more mainstream than it ever was." It's safe to say the organic food market has exploded in the past 20 years.
When organic foods and beverages first entered the mainstream consciousness in the 1980s, it was a $100 million industry. That's miniscule compared to what it's become today. In 2008, it had grown to a $23 billion industry, according to a study conducted by the Organic Trade Association.
Even in the face of the sluggish economy, the organic food industry is still expected to grow, although at a slower pace. This can be attributed to a large core group of customers that have made the choice to buy only natural foods, said Lesser-Goldsmith.
"People do not cut corners in terms of food, especially when it concerns they're health," Lesser-Goldsmith said.
Natural and organic foods are minimally processed. For instance, these foods do not include ingredients such as hydrogenated oils, food colorings and refined sugars, among other processed materials.
Instead, natural and organic foods use ingredients found naturally in the environment. Maple syrup and raw honey could replace white sugar in certain products, and sea salt is preferable over standard table salt. Vegetables are grown organically and free of pesticides, and meats are processed free of growth hormones and other unnatural additions.
For a food product to be labeled organic, it must first be certified. The U.S. Department of Agriculture certifies products based on their organic components in three categories. Entirely organic products can carry the "100 percent organic" label. Products that are 95 percent organic can carry an "organic label." Products that are at least 70 percent organic can be labeled "made with organic ingredients."
Perhaps the biggest draw of buying natural and organic foods is the health benefit. Lafferty said it's one of the main reasons new customers walk through the doors of his store every day.
"Our focus is on products that, in one way or another, have some sort of health benefit," Lafferty said.
Lesser-Goldsmith said many first-time customers come to his market with the idea they need to lose weight or make a significant life change. Lesser-Goldsmith said it's a huge leap for someone unfamiliar with the natural and organic food world.
"You can tell these customers when they come in because they have a 'deer in the headlights' look to them," Lesser-Goldsmith said.
Staff at Healthy Living are specially trained to help and inform these new customers, Lesser-Goldsmith said. It's not uncommon for a staff member to spend a long time touring the market with a customer and informing them about different products and how they benefit people.
Answering a person's questions and remembering their name when they return goes a long way building a customer base, said Lafferty. Superior customer service is what can make a store or market stand above others.
"We want to bend over backwards and get people what they want," Lafferty said. "It's that willingness to go the extra mile that customers remember."
With traditional supermarkets edging into the organic food world, Lesser-Goldsmith said it wouldn't be affecting his market much. Customers return because of the expert service, he said.
Prices at natural and organic food stores can sometimes be higher than the costs of conventional groceries. But informed shoppers can find ways to make natural food shopping cost effective. And in the current economy, markets have been adapting to the times by offering more sales and deals, said Lesser-Goldsmith.
"But our quality has never wavered, and never will," he said.
In light of the economy, Lafferty said Natural Provisions has expanded several programs designed to cut costs for customers. The store recently started a vitamin program, which allows customers to save on vitamins through a point system.
And the store also has a popular seniors program for individuals 60 and older. Seniors can receive 10 percent off all regularly-priced items in the store every day, Lafferty said.
Both Lafferty and Lesser-Goldsmith foresee the organic industry will only grow in the coming years. As people become more health conscious, they turn towards natural food stores.
"People are taking more of a responsibility for their health and we can help them," Lesser-Goldsmith said.