By Stephanie Choate
Dr. Donna Powell didn't set out to become a naturopathic doctor. She was going to be a psychologist.
Shortly after college, she began working with severely emotionally disturbed children. In one of her cases, Powell replaced a reward system revolving around sugary treats to one featuring books and fun trips—dramatically reducing the boy's sugar intake. Almost immediately, she saw drastic improvements in his behavior.
The experience was a turning point for Powell, making her take a step back from her focus on psychological treatment.
"You can't just treat the mind, you've got to treat the body, too," said Powell, who has now been in the naturopathic medicine field for 25 years. She runs Health Resolutions in Burlington with Dr. Molly Fleming.
Powell's revelation illustrates a fundamental goal of naturopathic or holistic health care—taking a step back from mainstream medicine's focus on curing symptoms and looking at the person as a whole.
Dr. Michael Stadtmauer, one of three doctors at Vermont Naturopathic Clinic in South Burlington, said naturopathic medicine has several basic objectives.
"One is to look at the person as a whole and to consider how their different systems interact," he said. "Another is to try to approach issues with the least invasive and gentlest treatment possible. Another is to counsel people about prevention and lifestyle and dietary changes, things they can do to take more control."
Naturopathic medicine—which typically avoids drugs and seeks out natural remedies— can help with a wide range of issues, Stadtmauer said, including insomnia, muscular or skeletal problems, arthritis, menopause and hormone imbalances and gastrointestinal problems.
"Sometimes the solution is very simple," he said.
Naturopaths are a diverse group of health practitioners, and use a variety of therapies.
Clinical nutrition
Nutrition is not so much a therapy as the foundation for good health.
"Clinical nutrition is something every naturopath uses every day," Stadtmauer said. "We have a very strong understanding not just that we are what we eat, but that food can really impact a lot of different symptoms that it is not typically associated with."
Aside from gastrointestinal issues and bowel problems, changes in diet can help resolve issues such as chronic headaches, joint pain and arthritis.
"It's very modifiable, and a way for a person to take more ownership of their health care," Stadtmauer said.
Dietary changes can also help with more specific problems, Fleming said.
For example, a patient with spasms might need more magnesium, whereas someone with Charlie horses and twitches could be low on calcium. A patient recently came in with headaches and digestive problems, Fleming said, and after painstaking research, she discovered that the woman was allergic to almonds.
Careful attention to nutrition becomes especially important later in life.
"As we age, our ability to digest foods becomes more inefficient," Powell said. "It's very individualized. We have to be a little more tuned in to the patient."
Nutrition is a vital aspect of overall health, one that practitioners of traditional medicine don't always have the time to fully examine, she said.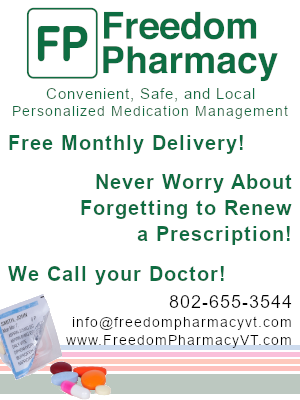 Reiki
Reiki is an energy-based method that helps people "tap into their own abilities to heal," said Rebecca Trono, who has taught Reiki for eight years and runs South Burlington-based Heavenly Healing. Reiki is a go-to cure for a multitude of problems in Japan, Trono said—as common as aspirin.
"There's never a situation where Reiki can't help," she said. "It's a great complementary therapy."
Trono often uses Reiki to help people reduce stress and anxiety, but has also had success managing arthritis and chemotherapy side effects. She volunteers at Fletcher Allen Health Care, helping to relax anxious pre-operation patients and working with oncology patients.
During a Reiki session, a trained practitioner helps channel the person's own energy, using a light touch or no touch at all.
"It's not the practitioner who's doing the healing, it's the individual themselves who uses that connection," Trono said.
Reiki is incredibly relaxing, Trono said—clients often promptly fall asleep or go into a light meditative state.
"Reiki is all about balance and that's the goal, to bring balance to all levels of the being for optimal health," Trono said.
Trono also holds Reiki sessions with animals at the Humane Society, seeing remarkable improvements in the behavior of traumatized or abused animals.
Frequency-specific micro-current
Frequency-specific micro-current treatment is an up-and-coming form of therapy in the naturopathic field, Fleming said.
Micro-current therapy uses a very gentle electric current, so gentle it does not meet with resistance from the body's tissue. Though Fleming originally got the machine to relieve nerve and muscle pain, especially pain caused by fibromyalgia, she has also found it useful for inflammation, shingles and sinusitis.
"Sometimes people are afraid to use acupuncture, and this is an alternative," Fleming said. "It's a very gentle therapy that I think is useful to people as they get older.
No matter the therapy type, naturopathic doctors agree that holistic medicine is an effective complement to traditional medicine. People of all ages visit naturopaths for a wide range of reasons, whether for general health, specific symptoms or as a last resort.
"We really are a little bit like that old-fashioned doc that is just there for you," said Powell.