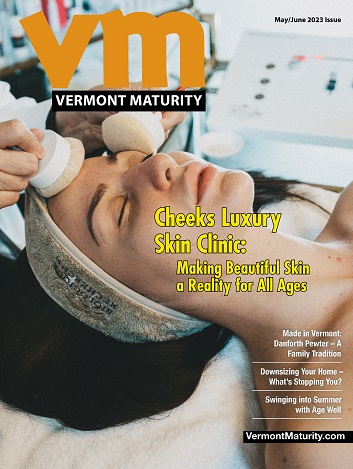 Vermont Maturity has been published since 1993.
Vermont Maturity magazine is published 6 times per year in both a print and digital format. Each issue of Vermont Maturity is mailed directly to 6,000 subscribers plus an additional 1,000+ newsstand copies of each issue are distributed. Total print distribution is 7,000+ copies per issue. A digital version of each issue is also published on VermontMaturity.com website that averages over 4,100 visitors per month. Total print and digital distribution for each issue is 15,200+ (2 months digital.)
All the subscriber and newsstand copies are distributed in Chittenden County, which is the Burlington, South Burlington, Essex, Colchester, Shelburne, Winooski, and Williston, etc. area of the state. The general zip code range is 05001 to 05764.
Vermont Maturity offers affordable print, website and editorial based advertising solutions specifically designed to professionally promote your company, products, and services.
Vermont Maturity offers an inexpensive and effective way to reach the key 50+ Consumer Demographic that:
Control 71% of America's Wealth
Own 63% of US Financial Assets
Are Responsible for 57% of "Big Ticket" Purchases (new cars, etc.)
Account for 51% of All Entertainment Spending
Make 39% of All Purchases Online
We publish news items and press releases for free for current advertisers which helps them build brand awareness and increases the value of their advertising commitment.
Review Digital Versions of Vermont Maturity Issues
Vermont Maturity 2023 Advertising Kit
Vermont Maturity 2024 Advertising Kit
Advertise in the Vermont Maturity Monthly Email Newsletter
Read These Articles for Tips on the Best and Most Effective Ways to Advertise to the 55 Plus Age Group.
Say it Again: Messages Are More Effective When They Are Repeated
How to Advertise to 55 Plus Consumers
How to Advertise to the Seniors
Baby Boomers Show More Trust In Print Advertising Than Online Ads
Survey Proves Print is Actually Growing in Popularity
For more information contact Robin Nichols at 802-332-3254 or email Robin@VermontMaturity.com.