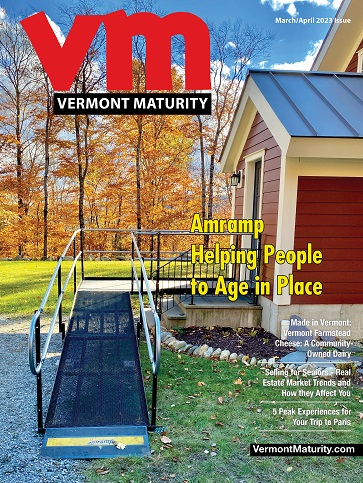 Vermont Maturity magazine is mailed free of charge to qualified recipients age 50 and older in Chittenden County Vermont. Vermont Maturity offers a wide range of local and regional coverage on topics important to boomers and seniors, including local stories and news plus articles on finance, travel, fashion & beauty, business, caring for aging parents, grandparenting, careers, health & fitness, food, and things to do.
New Subscribers
Please download print out the Vermont Maturity Free Subscription form and send it to:
Physical Mail: RTN Publishing Attn. Circulation 6170 Forest Hills Drive Asbury IA 52002-9349
Fax: 563.557.7641
Email: Robin@VermontMaturity.com
Change of Address for Existing Subscribers
Send and email that contains your existing address and what your new address will be to VermontMaturityMagazine@gmail.com.
Free Email Newsletter
Vermont Maturity Email Newsletter is free and published monthly. It includes features articles, products of interest and news of interest to Vermonters age 50 and older. Click here for a Free Subscription