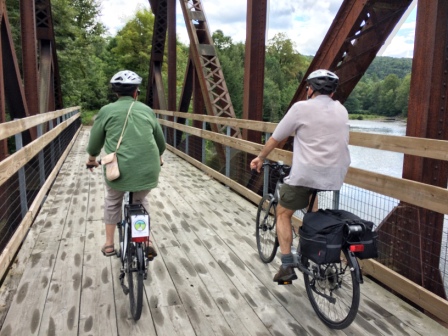 From country highways to winding paths in the woods, Vermont offers just about every type of bicycling. Throw in a causeway trail that might even remind you of biking along the ocean and there's little more you can ask for. This summer is a great time to hop back on two wheels and enjoy the outdoors while keeping yourself and others healthy.
Bicycling is also a great way to discover a new part of the state or experience familiar places in a new way.
"It allows you to see things that you normally wouldn't see from a car, and it also allows you to cover more ground than walking," said Tom Clark, a cycling advocate. "It allows you to move through life efficiently and slowly enough to enjoy your surroundings, and enough physical activity to keep you healthy, mentally and physically healthy.
"It's just a great combination of many things."
Here's a quick look at some of the bicycling options in Vermont.
Rail Trails and Bike Paths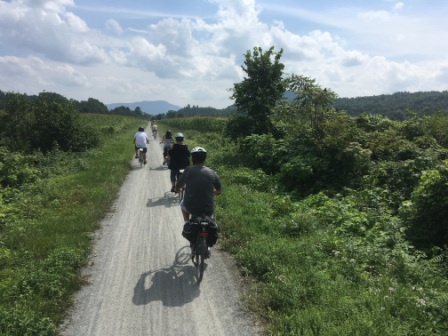 Vermont has several rail trails and dozens of recreation paths ideal for bicycling. The most famous is likely the Island Line trail, which runs 14 miles from Burlington to Colchester and out on a causeway into the middle of Lake Champlain. In the summer, a bike ferry takes riders and pedestrians across a gap in the causeway to a trail that then leads to the Champlain Islands. For a longer adventure riders can find a meal, ice cream or even visit a winery on the islands.
Local Motion, a nonprofit that advocates for safe and accessible biking and walking throughout Vermont, operates the Island Line Bike Ferry. Local Motion also rents bicycles from its Trailside Center in Burlington.
In a typical year, between 11,000 and 12,000 people visit Local Motion's Trailside Center along the Burlington Bike Path, according to Tom Clark, director of Local Motion services and marketing. The Burlington Bike Path and Island Line Trail are a major part of the draw.
There are many other car-free routes to take in the state. Other rail trails include the Missisquoi Valley Rail Trail, the Lamoille Valley Rail Trail, and the D&H Rail Trail. All of the rail trails have unique attractions, such as a train-themed playground and covered bridges, or provide easy access to local eateries, breweries and ice cream.
Many towns have recreation paths that also welcome cyclists. South Burlington, for example, has a 21-mile paved path. Stowe has a 5.3 mile paved path.
Road Biking
For those comfortable bicycling on roads, there are endless scenic loops. Tom Brassard, 64, has been an avid cyclist for about 40 years. He recommends a loop in Addison County in part because the valley near Lake Champlain offers less hilly terrain. One of his favorite rides is a loop from Vergennes to Middleburry and back. Both towns have great restaurants at which to enjoy a pit stop or celebrate your finish.
For road biking with less traffic, seek out dirt roads, Brassard suggests. Almost every Vermont town has some.
"I can't think of a better way to experience a place than on a bike. You're really immersed in where you are," Brassard said.
E-biking, the Great Equalizer
As Brassard put it, the two biggest hindrances to bicycling are often traffic and hills. Electric bikes can help with the latter, and have other benefits as well. Brassard extolled the virtue of electric bicycles in allowing riders of different abilities to ride the same routes together.
"E-biking is revolutionizing bicycling, especially for seniors," Brassard said.
Electric bikes can be great fun for any rider, agreed Yva Rose. They're perfect for anyone worried about cycling fitness or an existing injury. Advanced cyclists will find e-bikes allow them to enjoy longer routes.
Yva Rose and her husband, Jim Rose, operate Lamoille Valley Bike Tours. They rent and sell class I pedal assist e-bikes and give tours on and around the Lamoille Valley Rail Trail. Riders using that type of bicycle need to pedal to activate an electronic motor that gives the rider a boost. Other classes of e-bikes operate with a throttle that turns the wheels for the rider.
"E-bikes open up biking to many more people regardless of their fitness level and allows for people to bike farther faster and with less energy than a regular bicycle (great commuter vehicles!)" said Yva Rose.
E-bikes can be a great equalizer.
"E-Biking brings friends and family together for an activity that everyone can participate in. We once had four generations take part in one of our tours together," said Yva Rose.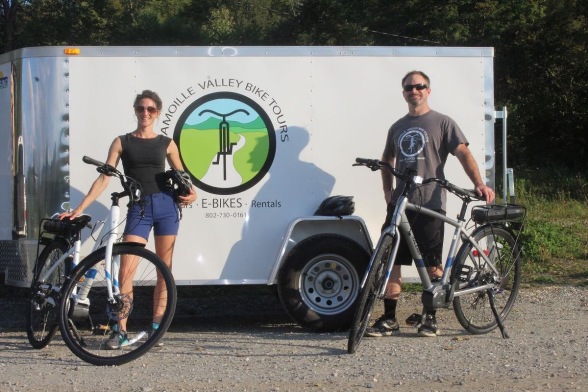 Mountain Biking
Just as there are many road biking opportunities, mountain biking options are plentiful in Vermont. Off-road options include narrow trails cut through the woods, wider trails used for snowmobiling or cross country skiing in the winter, downhill trails accessed from a ski lift, and even bike parks.
According to the Vermont Mountain Bike Association, local chapters maintain more than 1,000 miles of trails. The association has tools on its website to plan trips and to check trail conditions.
Many ski areas in Vermont turn into mountain biking meccas in the summer. Many Alpine and cross country ski areas around the state offer rentals, tours and host events.
Tours
There are businesses that offer both guided and unguided bicycling tours throughout Vermont. Some are standalone tour companies; others are associated with bike rental operations or trail networks. In an unguided tour, riders are provided route and attraction information they can use to plan their trip.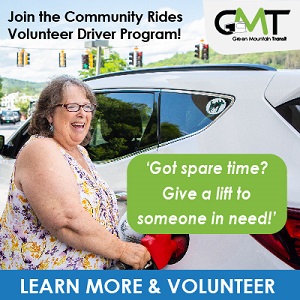 For someone new to or newly returning to bicycling, a guided tour could be a good introduction to both the sport and a location.
"On any tour you may get people who are nervous for whatever reason. A good tour leader will allay that," Brassard, who has guided tours before, said.
The Right Bike is Important
Brassard cautions against saddling up on ill-fitting bicycles.
"It's really important to buy the right bike that fits. People can easily get hurt on a bike that doesn't fit right," Brassard warns. Besides fit, it's important to use a bicycle that's right for the terrain. The wrong tires could lead to more falls, which could mean damage to both the bike and the rider.
A Word About COVID-19 and Social Distancing
To keep yourself and others safe trail etiquette is more important than ever, according to the Vermont Mountain Biking Association. On its website the organization offers guidelines for maintaining social distancing while riding that include leaving two bike lengths between riders, observing trail directions, "ride and go"- meaning no congregating in parking lots, and riding terrain well within your ability. The association also suggests packing a mask and gloves in case interaction or helping another biker is necessary.
Bike rental and tour businesses are preparing for summer operations with new procedures that may include increased equipment cleaning and online payments. Local Motion, for example, will for the first time be taking reservations for bicycles online and by telephone.
Check with local trail and cycling associations before embarking for the most current guidelines and trail information.
Resources
Local Motion trail finder, suggested routes, bike ferry and rental information: Localmotion.org, 802-861-2700
For an overview of popular routes and a downloadable Vermont bike path map visit: Vermontvacation.com/landing-pages/recreation/biking/paths-and-rail-trails
Lamoille Valley Bike Tours, Lamoillevalleybiketours.com, 802-730-0161,
Lamoille Valley Rail Trail: Lvrt.org
Missisquoi Valley Rail Trail: Mvrailtrail.org
D&H Rail Trail: Fpr.vermont.gov/dh-rail-trail
Cross Vermont Trail: Crossvermont.org
Vermont Mountain Bike Association: Vmba.org
Tips for outdoor recreation to avoid Covid-19: Fpr.vermont.gov/recreation/outdoor-recreation-and-covid-19
Suggested Vendor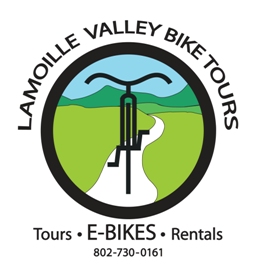 Lamoille Valley Bike Tours offers electric bike rentals, tours, and sales on the scenic car-free Lamoille Valley Rail Trail and beyond. The rail trail travels in and out of four quaint Vermont villages and spans miles of working farm landscape, sweeping fields of flowers, beautiful wild river plain, and breathtaking mountainous scenery. LVBT's pedal-assist electric bikes make the ride smooth and easy enough to breeze down the trail with plenty of energy to explore the villages, shops, restaurants and breweries on and around the rail trail, take a dip or fish in a local swimming hole or picnic in any of the picturesque locations right on the trail. Their tours include an Ebike and Brew Tour, a Pedal Paddle Tour, a Teahouse Tour, and Summer Adventure and Foliage Adventure Tours for all ages. For those looking to celebrate they offer custom group tours and private events. Book your ebike adventure now!
Lamoille Valley Bike Tours
Old Mill Park
661 Railroad Street
Johnson VT 05656
P – 802-730-0161
bikelamoille@gmail.com
LamoilleValleyBikeTours.com
Clover Whitham has been a journalist at Vermont newspapers for more than a dozen years and is now a freelance writer and editor near Burlington.
Related Articles & Free Subscription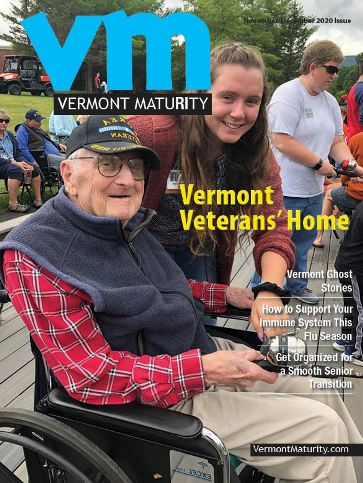 Exercisers in Their 40s and 50s Should 'Agercise' Their Workouts
The Vermont Republic – The Story of When Vermont was an Independent Country
Free Subscription to Vermont Maturity Magazine