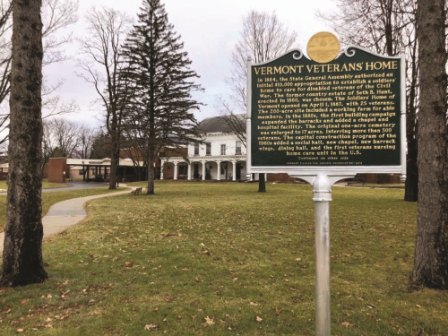 Located in Bennington, the Vermont Veterans' Home is an experienced residential and healthcare campus specifically for Veterans. Vermont Veterans' Home's number one priority is to fulfill America's promise to care for our country's Veterans, their spouses, and Gold Star Families. The staff at Vermont Veterans' Home (VVH) works tirelessly as a team to ensure this promise is kept. They do so by offering top-notch clinical care along with a wide range of services that are recognized as Best in Class for their effectiveness in patient-centered care. At VVH, the promise of care extends beyond physical care to include activities, entertainment, socialization, and education. All activities and amenities are specifically designed to create an environment that provides the residents with the dignity and respect they deserve.
A Beautiful and Spacious Campus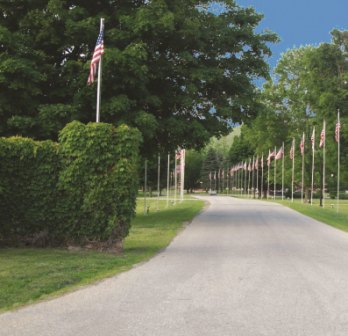 Situated on 84 acres along the Roaring Branch River, the Vermont Veterans' Home features walking paths, gardens, a stocked trout pond, and a herd of fallow deer. One look at the breathtaking campus and it is easy to understand why it is considered a first-class residential and healthcare campus. Each room has a view of a garden or wooded vista. The residents stroll down skylit corridors to lounges with expansive views of the campus. The interior decor is warm, inviting, and, perhaps most importantly, maintained to a military "spit and polish" standard. The five distinct "neighborhoods" within the campus are defined by the level of care each offers, along with unique features and amenities. Each neighborhood is a safe and friendly community all on its own.
The decision to live at the Vermont Veterans' Home is much more than choosing a nursing home; becoming a resident means becoming part of a community. The community members share experiences and values that are unique to those who have served their country. Military Veterans and their family members truly understand the importance of commitment and service. The staff at the VVH puts a similar level of commitment and service into fulfilling our nation's promise to care for those who have courageously served.
Top-Notch Clinical Care
In order to ensure oversight of every patient's condition and treatment regimen, the Medical Director at VVH makes regular rounds with the staff. VVH offers a wide range of medical and rehabilitation services on campus and, when special services and/or treatment is needed, will coordinate with the Southwestern Vermont Medical Center and the VA Hospitals in White River Junction and Albany. The Vermont Veterans' Home is an independent healthcare facility operated by the State of Vermont and is not part of the Federal Veterans' Administration.
Events, Activities, and Amenities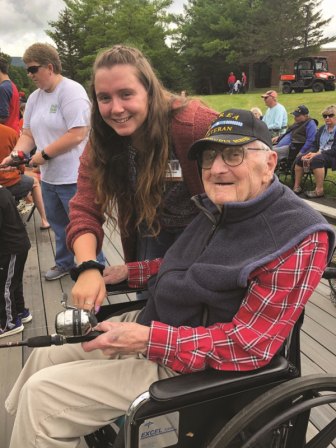 Aside from the unique community consisting of servicemen and -women, the biggest differences between the Vermont Veterans' Home and other retirement/nursing homes are the availability of activities, entertainment, socialization, and education. As previously mentioned, their philosophy of patient-centered care extends beyond physical care to include an array of amenities and activities designed for the residents' comfort and stimulation. A few of the amenities included are Skype carts for family chats, music and memory iPods, a Namaste relaxation room, an on-site Chapel, a trout pond, and a sports bar. The available amenities and activities make life on the VVH campus diverse, enriching, and engaging.
Most importantly, the staff focuses on each individual and his or her specific needs. They never take a "one-size-fits-all" approach, but, instead, customize the care given to each individual resident.
Fulfilling Our Nation's Promise
One hundred and fifty years ago, President Abraham Lincoln made a promise "to care for him who shall have borne the battle, and for his widow…" Today, VVH has the honor and responsibility of caring for those who have served our country by providing the very best care possible for Veterans, their spouses, and Gold Star Families.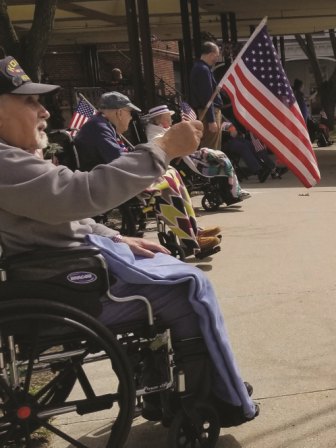 Gold Star Families are the immediate relatives of members of the United States Armed Forces who have been killed in combat or in support of certain military activities. The expression "Gold Star Family" dates back to World War I, when military families displayed service flags featuring a blue star for every immediate family member serving in the Armed Forces. The star's color would be changed to gold if the family lost a loved one in the war; hence the term "Gold Star Family". The entire staff takes President Lincoln's promise seriously and treats the residents with the respect and admiration that their service deserves.
Here is what staff member Al Faxon, Colonel, U.S. Marine Corps (Ret) had to say: "I am honored to be working at the Vermont Veterans' Home for it is justly a very special place. We work as a team to provide the best care and support for our Veterans, their spouses, and Gold Star parents. Providing for their needs is a weighty responsibility we do not accept lightly. Vermont Veterans' Home is held to a higher standard because of the sacrifices our Veterans have made for our country. We embrace this philosophy and recognize serving and caring for our Veterans is a tremendous honor and obligation. The Veterans who live and work here are part of a brotherhood (male and female) who share a common lineage with those who have supported and defended the constitution of the United States during peace and war. Here at VVH, we share respect, stories, and a common heritage not enjoyed at other homes. We continued to fulfill the promise President Lincoln made almost 150 years ago on our campus since 1884."
Vermont Veterans' Home is committed to serving its community of Veterans with a dedication and commitment similar to those who have served our country. VVH and its amazing staff will continue to do everything in their power to ensure that the great men and women who selflessly served our country receive the care they were promised, but also so rightfully deserve.
For more information, call 802-447-6510 or visit vvh.vermont.gov.
Related Articles & Free Subscription
Does Medicare Cover Vision Services?
How to Choose a Good Home Stair Lift
More Older Americans Are Starting Their Own Business