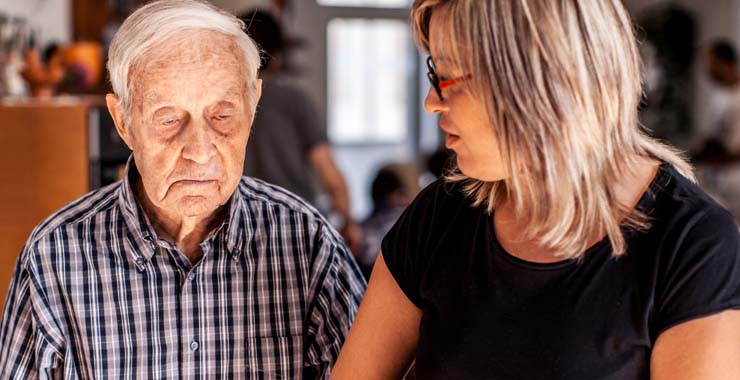 The share of America's career military families currently providing elder care is on the rise, creating unexpected monetary stresses and fueling demand for professional financial advice.
The First Command Financial Behaviors Index® reveals that 42 percent of middle-class military families (commissioned officers  and senior NCOs in pay grades E-6 and above with household incomes of at least $50,000) are currently providing care for an elderly parent or other family member. That's up significantly from 13 percent in 2012. In contrast, just 12 percent of general population families are currently providing elderly care, statistically unchanged from 2012.
Military families are currently or anticipate providing care in a variety of settings, most commonly in the home (54 percent in their own home and 46 percent in the elderly person's home). Many respondents expect to provide care by paying for:
* home care services (28 percent)
* health care services (10 percent)
* nursing home care (9 percent)
The cost of providing this care is proving to be sizable for many military families. More than half (53 percent) say costs are more than they expected, estimating their average monthly outlay at $1,306. Among general population respondents, just 27 percent say the costs are higher than they expected. They estimate their average monthly cost at $918.

Two thirds of military families are seeking out specific financial planning help related to the cost of elder care. The Index reveals that 67 percent are planning for these costs, up from just 16 percent in 2012. And almost half of those families are engaging with a financial advisor. The trend has remained essentially flat in the general population, where just 14 percent of respondents are seeking out planning services related to the cost of elderly care. Almost half are using a financial advisor.
"As a growing number of military families take on responsibility for elder care, they are finding that the economic reality is more challenging than they expected," said Scott Spiker, CEO of First Command Financial Services, Inc. "Seeking out knowledgeable financial planning support is a smart way to prepare for the added financial responsibility of caring for an older family member."
Look for the elder care trend to continue in the years ahead. Eighteen percent of military families say they anticipate providing elderly care in the future, unchanged from 2012.
Related Articles & Free Subscription
Free Resources That Can Help with Your Medicare Decisions
How to Recognize and Prevent Elder Financial Abuse
What Is Elder and Special Needs Law? 
Free Subscription to Vermont Maturity Magazine