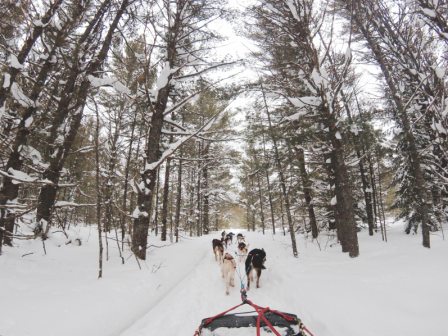 There are lots of ways to enjoy the snow. There's skiing and snowshoeing for those who like to use their own internal motors, and snowmobiling for people who prefer a mechanical motor, but what about harnessing (literally) a third option. For those looking for a new experience, a dog sled tour is a perfect middle ground for those who want to get out on the trails with a bit of an assist, but without an internal combustion engine.
Ken Haggett of Peace Pups Dog Sledding in Lake Elmore has been running dogs for 10 years. Six years ago, he turned his passion for dogs into a business. Although he also offers dog cart and scooter rides in the fall, the meat of Haggett's business begins in the winter. Four days a week he runs three two-hour tours from his land in Lake Elmore and twice a week he offers one-hour tours at Stowe Mountain Resort in the late afternoon and early evening. The Stowe rides often take place after dark on trails illuminated by Haggett's headlamp and include some fast downhill sections.
For people worried the dogs are being mistreated, Haggett notes "you can't push a dog with a rope." Siberian Huskies are bred to run and Haggett said it is harder to stop them than to get them started. Haggett's website shows photos of all his current sled dogs (19 in all) as well as a gallery devoted to those who have passed on. For each dog he lists measurements, favorite movies, likes and dislikes. Muddy Waters likes dead squirrels and dislikes global warming. Nemo is partial to beer drippings but objects to the lack of affordable health care. The political bend of the dogs may help explain why Haggett gives 10 percent of his proceeds to a variety of charitable organizations including Democracy Now, Professional Fire Fighters of Vermont, and the Breast Cancer Relief Fund. "Most of our guests are animal lovers," said Haggett. "The idea of doing an activity with a bunch of dogs is appealing to them. Nobody comes from Australia or Ireland to see me. They come for the dogs."
Rob Farley has been running dogs since 1994 after a ride on someone else's dog sled got him hooked on the sport. He sees his operation, October Siberians Sled Dog Adventures, as a hands on one in which customers can help harness the dogs and hook them up to the "picket line" where they wait to get placed on the main line. He runs 8 to 10 of his 12 dogs at a time, depending on the trail conditions.
Farley begins running his dogs when the temperatures drop below 50. He starts with them pulling his ATV for four miles to build up their strength. Farley's tours begin on Dec. 15 and continue until the snow disappears, usually at the end of March. Many of his customers are couples and some are families; many are return customers. Farley's sled is designed for two drivers so customers can get the feel of driving, although Farley maintains full control. He hopes the experience will allow his guests to catch the same bug he did.
Farley runs his dogs at Little River State Park on weekends but he also does some evening rides at Snowflake Inn with a headlamp. He enjoys the variety at Little River which has woods, historical structures and a reservoir. There are a variety of loops which Farley can choose based on his client's preferences. Some loops are mellow but others can include steep and fast "white knuckle" downhill sections. "There's a lot of flexibility," he said "and a lot of opportunity for photo opps."
Larry Abrams of Waterbury took a ride with Farley last spring and hopes to do so again this winter. "He allows you the chance to drive, which I thought was marvelous," Abrams said, noting he had enjoyed negotiating the hills and curves of the course. "I learned a lot in the two hours plus about the history of sled dogs and about the landmarks in Little River State Park." However, what impressed Abrams the most was Farley's dedication to his dogs. "He obviously has a passion for the dogs and they for him and that made the experience even better," he said. "I would think this is the perfect experience for someone who has done everything. It's something new and exciting and different." Haggett believes dog sledding is a great activity for those who may not be able to go out in the snow by themselves. "It's a unique way of travelling into the woods," is how Farley puts it.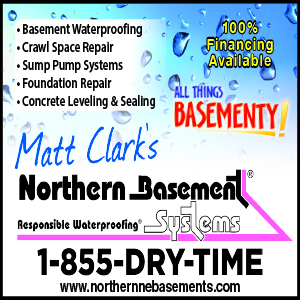 Haggett's oldest guest was 90-years-old and he has had several riders with physical disabilities. One of his most memorable guests was a woman with terminal cancer who had asked her daughter to bring her. "It was really special to be part of that," said Haggett.
For information on dog sled tours throughout the state, visit Voga.org/dog_sledding.htm
This article was contributed by Phyl Newbeck.
Related Articles & Free Subscription
Skiing in Vermont: Big Ideas and Quirky Characters
Free Subscription to Vermont Maturity Magazine