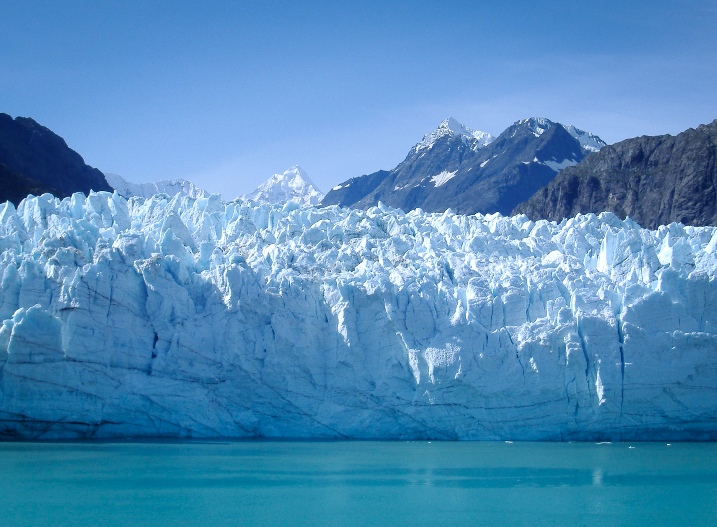 Today's families want to create and preserve lasting memories shared with their loved ones, and my family is no exception. With that in mind, my husband Bob and I recently joined my son, a daughter and their families (a party of 10) to sail aboard the Norwegian Pearl on an Alaskan itinerary. The four grandchildren are ages 15 to 20.
As it happens, I first learned about traveling with grandchildren — which has become my special delight – on my first of three Alaskan cruises in 1989. There I met a set of grandparents who took each of their grandchildren on a cruise as a graduation gift.
"Since 9/11, we see many more multiple generations sailing together rather than just grandparents and kids," said Kenneth W. Watson, COO of Silversea Cruises.
My family has traveled broadly with me, but now the kids wanted to see Alaska for its stunning scenery and wintertime wildlife. And my favorite memory of Alaska was having tea served on white linen napery from a silver teapot while sitting at the prow of a long-gone cruise ship. A harpist was playing as the sun streamed through the windows when suddenly humpback whales breached in front of the ship — delightful. This time my children and their spouses chose the Pearl for its many activities and laid-back freestyle-cruising atmosphere.
We started our vacation with a three-day pre-trip in Seattle, where we visit frequently because of family there. Everyone repeatedly loves checking out Pike Place Market, where fruit, flowers and handicrafts vie for browsers' attention. But the must-see stop is its legendary fishmongers' stall, where the salesperson flings each customer's fish to the cashier.
At the waterfront, eateries, boat tours and a small aquarium are among the attractions. The latest is the new giant 175-foot-tall Ferris wheel, dubbed the Seattle Great Wheel. It extends 40 feet from the pier, and its 42 glass gondolas are heated and air-conditioned.
Another high priority is zooming to the top of the iconic Space Needle for its views of the city and the myriad waterways spread out below. It is located in Seattle Center, where the EMP (Experience Music Project) will wow parents who are fans of 20th-century music. Our group loved its "On Stage" exhibit, where we sang and "played" instruments for a song for a TV tape. Children especially enjoy the interactive Pacific Science Center here.
Also new is the Chihuly Garden and Glass for fantastic glass sculptures, which may remind the middle generation of times spent blowing odd shapes using bubble plastic, but in glorious colors.
Once we boarded the ship the kids checked out the bowling alleys, rock-climbing wall and teen club, Entourage for Teens, where they made new friends. The line offers complimentary programs for both kids and teens. That night we celebrated my daughter Deborah's birthday with a lovely steak dinner in Cagney's. The Pearl offers 19 dining options, some for an additional cost.
As we sailed past increasingly taller mountains, we spotted a huge rainbow, boding well for our trip. Although many passengers indulge in the buffet, we enjoyed eating in the full-service Summer Palace, reminiscent of St. Petersburg, Russia, and included in the cost. We also chose special dishes in the Lotus Garden to celebrate my husband's and my anniversary. NCL has electronic displays where passengers can see tables that are available if they haven't made reservations. Evening entertainment included some production numbers and hilarious shows by the Second City.
Our first port was the state's capital, Juneau. The two younger generations helicoptered to the top of the vast Juneau Ice Field. This was the highlight of the trip, they all later said.
"It was amazing," they claimed in unison when they returned. I had done this before and felt like I was on the top of the world.
We grandparents visited the Mendenhall Glacier Visitor Center by taking the shuttle from town to view the gorgeous glacier and learn about glaciers' formation. I was shocked by how far its blue face had receded. On my first visit in 1989 we had watched the film and the curtains then opened to reveal the glacier right there. In 1995 we had to walk down a boardwalk to see it farther away. Now it's even farther back. The glaciers are melting back faster than moving forward, a phenomenon experts attribute to global warming.
When we awoke the next morning, my husband Bob looked out the window at the tall, dark mountains crowned with gleaming snow.

"I don't think there's a more beautiful sight in the world," he said.
Skagway is a town right out of the Klondike Gold Rush days where visitors can stroll the streets or take a horse-drawn carriage or a 1927 motorcar past the colorful clapboard buildings. The 900-fulltime-resident town, which once offered 30 brothels, now showcases 22 jewelry stores. At the interactive Junior Ranger Center kids can learn about the state's fur and gold industries. The 1904 Historic Moore Homestead offers a photo exhibit about the period and two furnished rooms. A playground gives youngsters a chance to burn some energy.
In this port my kids and grandkids went zip-lining and loved it. My grandson Andrew said, "It felt like I was flying." Anna, the cheerleader, did stunts. The whole group thought the guides added hilarious commentary.
We spent some time cruising Glacier Bay, an absolute highlight. My son Adam said, "I can't get over seeing Glacier Bay. To think that a glacier is the height of a 25-story building to the top and a mile wide — the size is really impressive."
On a previous visit to Marjorie Glacier we watched in awe as a chunk of the glacier's face — the height of a 250-foot-high apartment house — crashed into the water. The youngsters spotted a pod of whales, American bald eagles and an occasional black bear on the shore.
Our final port visit was Victoria, B.C., Canada. The city boasts a decidedly British flavor, including the architecture on government buildings and the Fairmont Empress Hotel. Government House offers 26 acres of English gardens, but true flower-lovers head to the Butchart Garden, where gorgeous displays cover 55 acres in a former abandoned stone quarry. Specialty gardens include a rose garden, Japanese garden and greenhouse exhibits. Little ones will delight in the Children's Pavilion and the Rose Carousel. Wheelchairs and strollers are available.
Unfortunately my husband suffered from congestive heart failure on the ship. As he gasped for breath, I called 911. Within about seven minutes, a team arrived at our cabin (four decks above the infirmary and at the opposite end of the ship). Two nurses immediately gave him oxygen and checked him out with cardiac equipment. A third person put him in a wheelchair and we raced to the clinic, where two physicians gave him more tests and monitored him for six hours. The care was outstanding. And it certainly was comforting having my two children and their spouses, Marci and Mike, along, to stay with us in the hospital.  If Bob hadn't improved by the next day, the staff said, they would have airlifted him to Seattle.
Other than that, the cruise provided a wonderful bonding experience. Another eight-member multigenerational group from San Diego told me they felt the cruise had met all their needs. Dolores Green, the grandmother, said, "The kids have the opportunity to be together and they have activities together. I chose this ship because there's so much for young people to do." Susan Green Pollack added, "On a ship, the entire clan can do what they want. And it's most rewarding that nobody's fighting!"
This article was contributed by Molly Arost Staub.
Related Articles & Free Subscription
Staying Young In Spirit In Retirement
Thrifty Travel: How to Find Inexpensive Travel Accommodations
Traveling Can Be Very Good for the Elderly
Free Subscription to Vermont Maturity Magazine