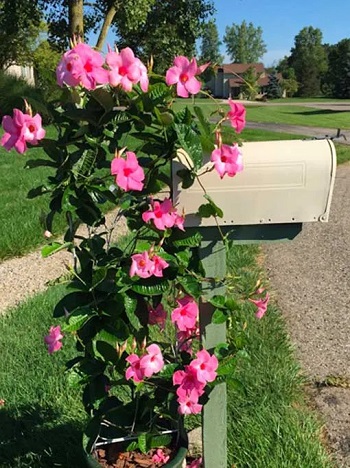 Bold color, tropical beauty, and easy-care mandevillas make excellent additions to patios, decks, and gardens. You can train them onto a trellis, allow them to cascade from a hanging basket, or combine them with other plants. Enjoy summer-long blossoms and the butterflies, hummingbirds, and other pollinators that stop by for a visit.
Once divided into two different groups, dipladenias and mandevillas, the botanists now consider them all mandevillas. You will find both names still in use, with dipladenias referring to those with a more mounded, shrub-like habit and mandevillas being more of a trailing vine. Whatever you call them you are sure to find one or more that complement your garden and container designs.
Mandevillas are grown as annuals in all but zones 10a to 11b where some varieties are hardy. They flower best in full sun but will tolerate some shade. These South American native plants thrive in the hot humid weather of summer. Wait for spring temperatures to remain in the 60s before planting them outdoors.
Select a potting mix or location with organically rich, well-drained soil. Use a slow-release fertilizer at the start of the season and make a second application, if needed mid-season. Read and follow the label directions when using fast-release liquid fertilizers.
Mandevillas are usually flowering when you purchase them at the garden center. They will continue to bloom on new growth throughout the summer and fall until frost kills the plant.
The well-behaved vining mandevilla will not strangle nearby plants. Just give it a trellis or obelisk for the vines to wrap around and climb. Their slightly woody stems provide greater stability than other vines that regularly need to be secured to the support. Just tuck any new tendrils through the trellis, pointing them in the desired direction as needed.
Use vining varieties in a container of their own or as a vertical accent on a trellis in mixed containers or flowerbeds. Set pots by an entrance to your home or garden for a colorful welcome or use them to dress up a bare wall or fence.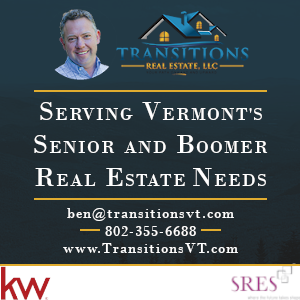 The more compact shrubby types can be planted with other annual flowers in the garden, grown in hanging baskets, or used as a filler in mixed container gardens. Just prune off or tuck any wayward branches behind neighboring plants.
Include them on your patio, deck, or balcony, and situate a few outside your windows. You will enjoy the flowers and winged visitors whether inside looking out or relaxing in your outdoor spaces.
Melinda Myers has written more than 20 gardening books, including Small Space Gardening. She hosts the "How to Grow Anything" DVD series and the Melinda's Garden Moment TV & radio segments. Her website is MelindaMyers.com.
Related Articles & Free Vermont Maturity Magazine Subscription
5 Houseplants That Promote Better Sleep
Adding Water Features to the Landscape Creates Many Benefits
How to Keep Plants Thriving Despite the Heat of Summer
Free Subscription to Vermont Maturity Magazine