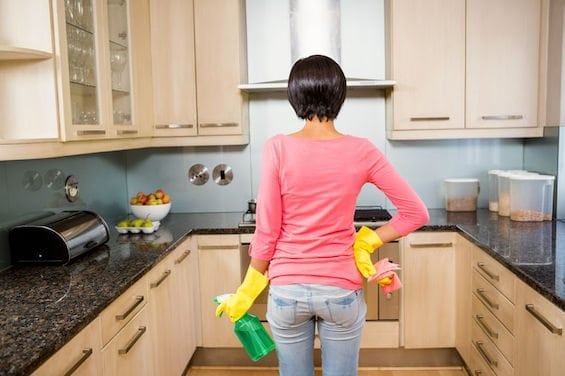 When did you last look at your kitchen cabinets? Not a passing glance, but an up-close visual study — paying particular attention to the areas around the knobs and handles that get touched thousands of times throughout the weeks and months? 
If you are looking for a commercial product to clean those cabinets, you'll never beat the effectiveness of real orange oil polish to melt away grease, grime, polish and wax buildup, leaving a fresh scent and beauty in its place. At about $12 for 16 ounces, it's going to cost a bit to do your entire kitchen, should you decide to go the commercial route.
Or you can make your own cleaner that will be equally effective, for just pennies. That's what I prefer and I'll bet you do too.
I have two recipes for your wood cabinets: The first is great if those cabinets just need some sprucing up to bring back the beauty and shine; the second is more powerful if you're looking at years of built-up gunk and grime.
Recipe 1
In a spray bottle, mix 2 tablespoons of olive oil, 4 tablespoons of white vinegar and enough warm water to fill the bottle. Shake it to mix, then spray it on one door or drawer front at a time. Scrub with a soft cloth to remove any dirt, then buff to a beautiful shine. Before each spray, give the bottle a shake to keep the oil mixed in.
Recipe 2
In a small bowl, measure out 1 part vegetable oil and 2 parts baking soda (for example 2 tablespoons oil and 4 tablespoons baking soda — or 1 cup oil to 2 cups baking soda depending on the size of your job).
Using your fingers, mix this into a thick paste. Squish and spread this a little bit at a time into the surface of that grimy cabinet, being particularly mindful of the areas close to the handles that receive so much handling and human contact.
Scrub with a soft cloth or sponge to get this paste into the grain. Use an old toothbrush to get it into all of the nooks and crannies. This paste is very thick, and as you begin to scrub and brush, it will fall off, along with a lot of grime. It could get disgusting and that's what you want — to get rid of it! Buff well with a soft cloth then step back to admire your beautiful work.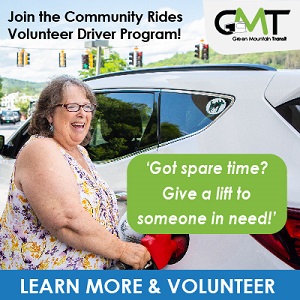 You can always add a few drops of essential oil to your homemade cleaners — orange or lemon would be a great choice — and that will leave a wonderful clean scent.
Note About Vinegar
Normally you should avoid using white vinegar on hardwood floors — or any wood application — because over time the acid in the vinegar is going to permanently dull the finish, using vinegar in the recipe above is not going to create a problem. First, because you are using oil along with the vinegar to protect and retain the finish and secondly, because this is a cleaner you would use only occasionally, not routinely in the way you would clean hardwood floors.
This article was contributed by Mary Hunt.
Related Articles & Free Subscription
Give Your Legal Documents a Spring Cleaning Too
How to Make Your Kitchen Safer and Easier to Use
Laundry Problems, Mistakes and Mysteries
Free Subscription to Vermont Maturity Magazine