VINS: 50 Years of Helping Vermonters Connect with Nature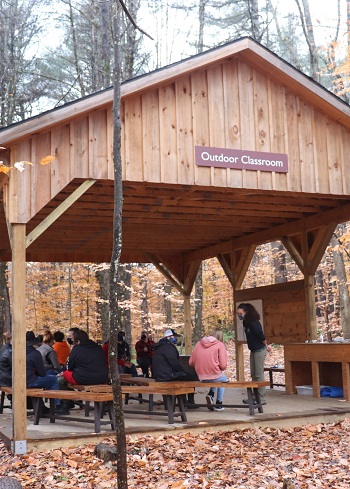 For over 50 years, the Vermont Institute of Natural Science (VINS) has provided a window into the natural world for people of all ages. Their mission is to motivate individuals and communities to care for their environment through education, research, and avian wildlife rehabilitation. Last year, over 75,000 people visited their 47-acre nature center in Quechee, and many more learn about the non-profit's work through their outreach activities.
The spark for VINS began in 1970 when concern over pollution in the Ottauquechee River, led a Woodstock dentist named David Laughlin to join several other local professionals in studying the damage and successfully suing the state to spearhead a clean-up. Buoyed by that victory, they founded what was originally an environmental organization aimed at children.
Over the years, the VINS Nature Center has grown to encompass a wider variety of activities. A relatively new addition is the Forest Canopy Walk. The ADA-accessible boardwalk rises to over 100 feet above the forest floor. The walk has five interpretation nodes and a spur off the main trail leads to the two-level Eagle's Nest where visitors can see the property from the vantage point of a raptor. The walk also includes the Giant Spider Web, which at 20 feet in diameter, is fitted with three layers of netting and allows visitors to peer down below to the forest floor.
Other walks on the property include the McKnight Trail, which is suitable for wheelchairs and strollers, as well as the Laughlin and Lingelbach Trails which travel along the Ottauquechee River. For the younger set, the natural wood and stone Adventure Playscape allows children to imagine themselves as woodland creatures by crawling through tunnels or scrambling up a climbing wall. There are also plenty of raw materials for youngsters to create art and music.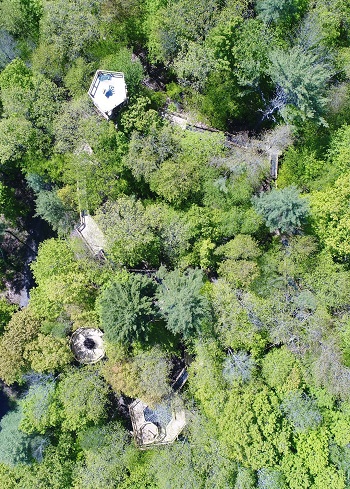 VINS is probably best known for their live raptor programs which include owls, eagles, hawks, falcons, and kestrels. These are birds that were injured and after rehabilitation were deemed unable to survive in the wild. More than 40 raptors live at VINS, and there are17 state-of-the art enclosures open to the public. Many of those serve as Avian Ambassadors, travelling across the state to help educate people about their place in our environment.
The 2,160-square-foot Songbird Aviary provides a safe space for smaller birds which have been rescued but would be unable to survive in the wild. A separate room is dedicated to rescued reptiles including turtles and snakes. For those with an eye to the past, a Dinosaur Room shows how birds evolved from their prehistorical ancestors. The room has life-sized replicas and hands-on activities for children.
Although VINS is pleased to showcase their avian ambassadors, their goal is to rehabilitate birds so they can return to the wild. An example of that is a northern flicker found in a wastewater tank by a Public Works employee in early November of last year. VINS staff gave him a bath a few hours after his arrival, and he perked up after cleaning. He was also given a course of eye medications so he wouldn't get an infection and after only seven days of care, he was released near where he was found.
VINS took in 857 birds in 2022 with the majority arriving in the summer months. The number of birds taken in has more than doubled since the organization began keeping records in the year 2000. Most of the birds came from Vermont but the center also accepted over 150 New Hampshire birds, four birds from New York and nine of unknown provenance. Eighty-six different species were represented and almost 400 were babies. Robins, barred owls, European starlings, eastern phoebes, and broad-winged hawks topped the list of guests at the facility. The staff was able to release 333 birds and transferred 14 others to different facilities.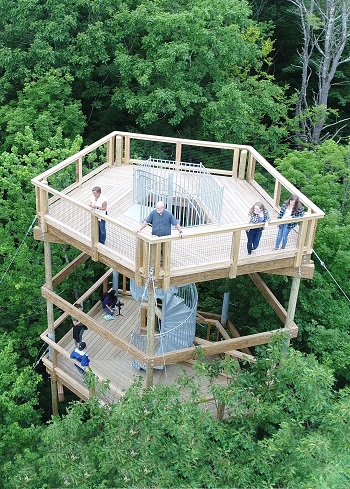 VINS scientists are involved in research projects on subjects including crayfish, fireflies, and monarch butterflies. They take part in breeding bird studies, the Audubon climate watch, and bird banding initiatives. They also use game cameras to inventory the non-avian species on the property, as well as overseeing the success rates of both painted and snapping turtles on the land. True to their roots in water quality, they do environmental testing on two nearby bodies of water.
Although VINS has something for people of all ages, they have special activities designed for the younger set including nature quests and scavenger hunts. Every Friday there is a pop-up playtime for children with activities including a mobile magnet wall, water works, a sensory table, a wind tunnel, and outdoor ramps.
For those who prefer their education within four walls, VINS has created an indoor experience with the sights, sounds, and smells of a natural forest. Visitors can step inside a model tree with a seven-foot diameter and climb up internal stairs to the canopy, noting the diverse fauna they encounter along the way. A mural on the wall depicts the various species that might be seen in and around the tree. The tree may be artificial but inside are natural artifacts including a moose antler and hoof and porcupine quills.
Exploration of the Nature Center can be done independently but there are daily talks, programs, and special events. For those who can't visit the facility, VINS sponsors educational programs in 34 schools for children ranging in age from 18 months to grade 8. They also provide professional development for STEM teachers and are willing to visit locations as diverse as senior centers, libraries, schools, and even ski areas. VINS relies on volunteers for all their programs and is always looking for new recruits.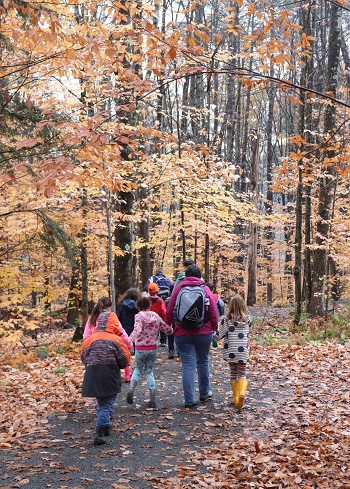 VINS prides itself on trying to foster a deeper understanding of the natural world through science education, encouraging children and adults to become stewards of the environment. Mary Davidson Graham, Assistant Executive Director, is proud of what VINS has accomplished. "Our programs engage and instill in people of all backgrounds a desire to care for and respect the natural world in their daily lives," she said. "VINS programs help each individual we interact with to build a positive relationship with the natural world via exploration of the outdoors in camp or through live animal encounter programs in our outreach events. Our goals are to nurture appreciation for and curiosity about nature in learners of all ages, as well as to show audiences they can be a force of change in their world."
VINS is a wonderful place to bring grandchildren and it also offers virtual programs through their adult education programs, with many of them being complimentary if you are a member. Their trails are easy access and less than a mile long.
The Vermont Institute of Natural Science is located at 149 Natures Way in Queechee, Vermont. They can be contacted at 802-359-5000 and you can visit their website at VINSWeb.org.
Phyl Newbeck writes for a wide variety of Vermont newspapers and magazines. She is the author of Virginia Hasn't Always Been for Lovers: Interracial Marriage Bans and the Case of Richard and Mildred Loving.
Related Articles & Free Vermont Maturity Magazine Subscription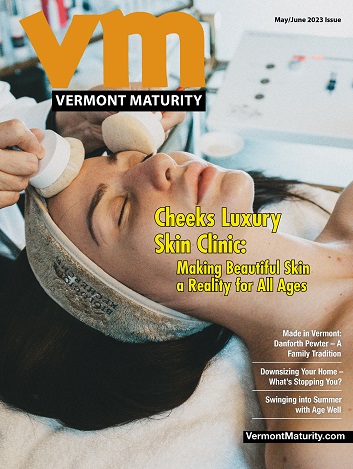 Billings Farm & Museum: A Gateway to Vermont's Agricultural Heritage
Exploring the Historic Elizabeth Copper Mine in Vermont
The Vermont Republic – The Story of When Vermont was an Independent Country