Farm to Cone for Sisters of Anarchy at Fisher Brothers Farm
Vermonters are familiar with the concept of farm to plate but what about farm to cone? At Fisher Brothers Farm, that's how they describe their home-grown Sisters of Anarchy ice cream. In 2013, Bob Clark and Becky Castle purchased 75 acres on Spear Street in Shelburne. These days, what Becky describes as a vertically integrated agriculture operation has grown to include several value-added products, the best known of which is their ice cream.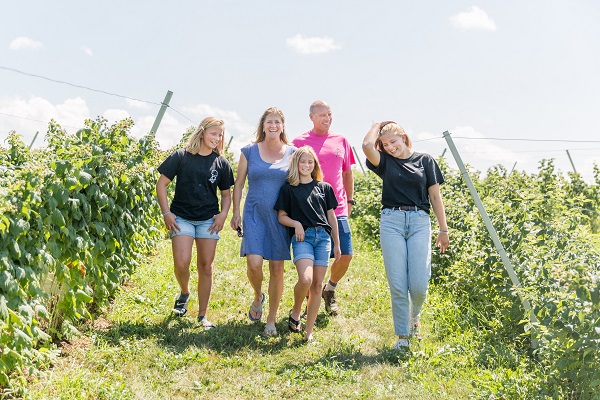 Bob and Becky met at Middlebury College. When they lived on the West Coast, they made a commitment that – to prevent the bursting of seams in their windsurfing wetsuits – they would only eat ice cream they had hand-cranked. That vow continued when they returned to Vermont and started the farm which is named after Bob's maternal family. They built a barn and after two years of enriching the soil with cover crops, they planted their first berry bushes in 2015.
When they initially started the business, the couple didn't really have a background in agriculture. Becky jokes that they were the Beverly Hillbillies in reverse with their move from Los Angeles to the farm. Although Bob grew up on a dairy farm, he made his living in the television and film industry. Becky worked as a consultant for a firm that partnered with agricultural groups.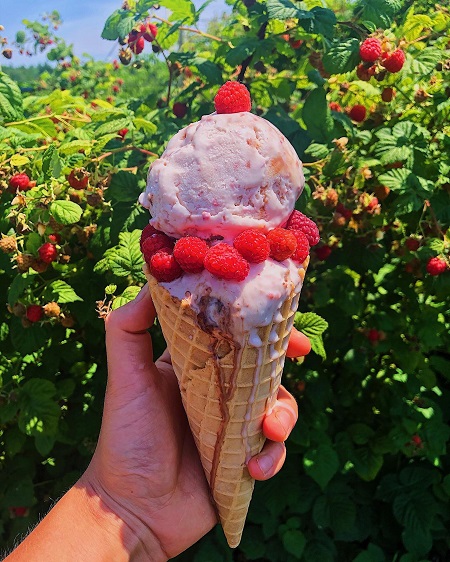 Once the farm got going, it was only natural for the couple to include their three children in the work and the ice cream is named for the trio. These days, the two oldest kids, Lily and Sunshine, are stepping back a bit in favor of outside employment but Clark, the youngest, is still an important member of the workforce. In addition, the farm has four or five full-time year-round employees, six H2A workers from Costa Rica, and 15 to 20 seasonal staff members.
Becky said ice cream was always part of the business plan. "It's hard to do well in agriculture unless you have a value-added product," she said. Fisher Farm grows 32,000 row feet of berries including blackberries, blueberries, raspberries, Aronia berries, and elderberries, as well as Marquette grapes. This year, they will be adding 2,000 rows of yellow raspberries. Peaches are the only fruit used in their ice cream which are not grown directly on the property.
Sisters of Anarchy ice cream reaches consumers in several ways. Scooped ice cream is available at catered and vendor events and at retail stores in Vermont, New Hampshire, and Massachusetts. They also ship both pints and four-ounce, single-serve packages nationwide. Becky said the most popular flavors are Crystal Blue Persuasion which has fresh blueberries, Chocolate Anarchy, Tap This, which features maple from Purington Farms in Huntington, and I Want Candy with Chocolate which includes the farm's home-grown peppermint. Many other flavors have musical motifs including The Experience, Raspberry Beret, Nine to Five, and Black Velvet if You Please.
Another product line at the farm is wellness syrups, although Becky concedes they haven't done much to market them. The three options are elderberry, Aronia, and a combination of the two berries. All three are made without water or apple cider vinegar but include Marquette grapes and crystalized honey from Champlain Valley Apiary. The syrups are sold on-line and through retail partners. Other berries end up in value-added products at Vermont businesses including Skinny Pancake and some local breweries.
A new addition to the farm is the sale of dry ice. "We're the only producer of dry ice in Vermont," Becky said. "We did it so we could freeze our berries and lower the cost of shipping but now that we have that capacity, we can sell it." Purchasers include the Agency of Agriculture and Farmers to You which aggregates Vermont products to ship to pick-up points in the Boston area. "Even though we initially did it for ourselves, it's turned into a nice business niche," Becky said.
This year, Sisters of Anarchy is adding two new vegan sorbet flavors. Un-whined is made with Marquette grapes while Berries and the Jets is a mixed berry sorbet. Both use only unbleached sugar. In June, the farm launched an ice cream sandwich which is known as the Anarchy Burger.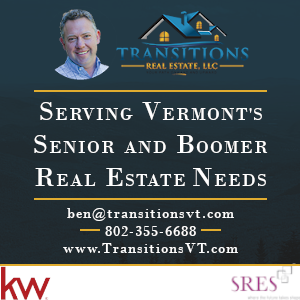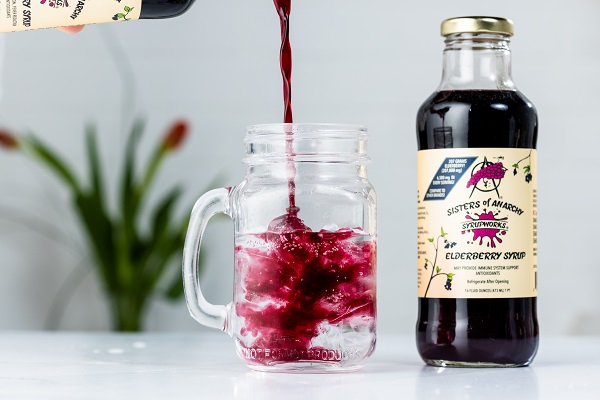 After ten years, the farm continues to evolve and both Bob and Becky have quit their day jobs to focus exclusively on their agricultural endeavors. The addition of the dry ice has helped them minimize the seasonality of the business. Becky notes that the benefit of vertical integration is they are less dependent on supply chains, but it does mean their ice cream is more expensive than most grocery store brands.
These days, Sisters of Anarchy is doing fewer vendor events and spending more time on catered ones where it is easier to predict how many people will attend. No matter the function, there is never any waste from their appearances. They have two food trucks and three smaller set-ups, and they can either plug in to local electricity or be powered by a generator.
Becky and Bob love to have people visit their farm and on ten Friday evenings during the summer, people are invited to come and enjoy live music and hyper-local vendors. Fisher Brothers Farm also hosts special events including Loving Day on June 10 which celebrates the 1973 Supreme Court decision striking down laws banning interracial marriage.
The farm allows the family to connect with people and to provide a community space. "We love the conversations we have with our customers whether in-person or online and now consider many of them as friends," Becky said. The importance of the farm as a community resource became more evident during Covid because there was sufficient space for social distancing. "At the beginning of the summer of 2022, there was a little girl who came for ice cream, and she told my husband that it was her first time leaving the house since COVID began," Becky said. "At the end of the summer, there were a number of customers who told us that the farm was the only outing that they participated in and were really appreciative of the space."
Phyl Newbeck writes for a wide variety of Vermont newspapers and magazines. She is the author of Virginia Hasn't Always Been for Lovers: Interracial Marriage Bans and the Case of Richard and Mildred Loving.
Related Articles & Free Vermont Maturity Magazine Subscription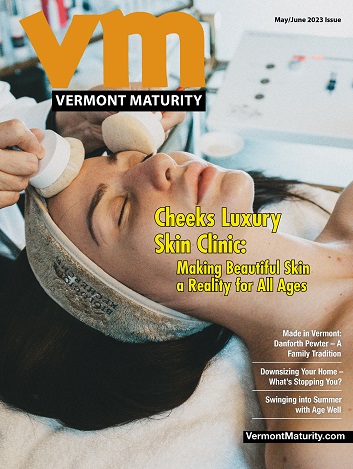 The Vermont Republic – The Story of When Vermont was an Independent Country
Vermont's Covered Bridges are Where History and Beauty Converge
Free Subscription to Vermont Maturity Magazine