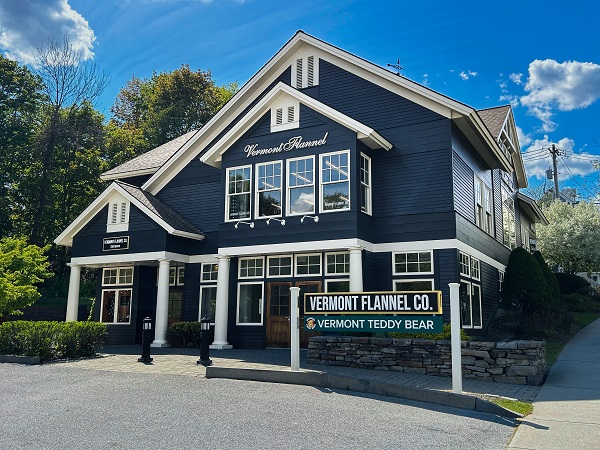 Vermont Flannel: Spreading Comfort Throughout Vermont and Beyond
For over three decades, the name Vermont Flannel has been a mainstay for lovers of comfortable, durable plaid. Founded 31 years ago by Mark and Linda Baker, the company is now part of the USA Brands group, but their product remains a local one.
Vermont Flannel's new president and chief operating officer is Matt Bigelow. Even as part of a larger group, Bigelow said there was no thought of changing Vermont Flannel's name. "That name is everything," he said. "People come to Vermont because they want a certain experience, and they leave with Vermont Flannel products because they want something to help them remember that experience. The name means everything to the product." As former owner Mark Baker was fond of saying "Vermont and flannel go together like bread and butter."
Bigelow said the first keystone product of the company was lounge pants. He notes that Baker once said that he had contributed more to the prevalence of non-productivity with those pants than anyone else. Baker was quoted as saying that Vermont Flannels were so addictive that they might cause people to quit their jobs and just lounge on the couch at home. "Nowadays," said Bigelow "we focus more on comfort and coziness than non-productivity."
After lounge pants, men's and women's button-down shirts are probably the biggest sellers. Bigelow said that another very popular item is a flannel hoodie which he said is unique to the company. Vermont Flannel describes its products as "brushed beyond reason for incredible softness and yarn-dyed for lasting color." The items are hand-cut and tightly woven to minimize shrinkage, with instructions to wash on the cool cycle and dry on low heat.
All of Vermont Flannel's products are 100% GOTS Certified Organic Cotton. GOTS stands for the Global Organic Textile Standard which takes into account both ecological and social responsibility benchmarks. All the cotton is sourced from Europe. Bigelow said he wishes he could source it domestically but there are no longer any flannel mills in the U.S.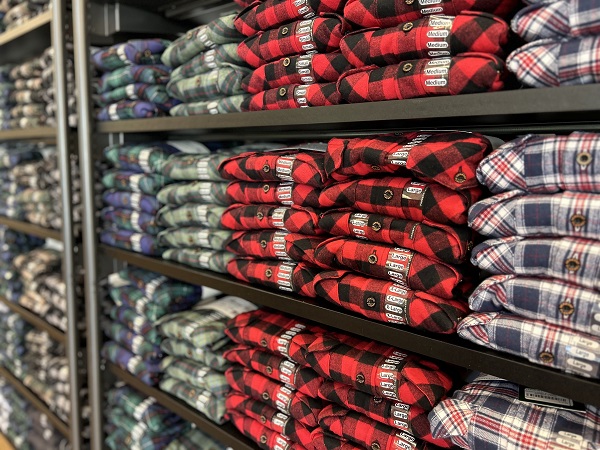 Vermont Flannel has roughly 100 employees with most doing production, followed by retail and distribution. All the production takes place in Johnson and East Barre. The company has its own fulfillment center for internet orders so there is also a warehouse crew. The first Vermont Flannel retail store to open was in East Barre, followed by Johnson, Ferrisburgh, Burlington, and Woodstock. The latter two have the highest volume of sales but the Ferrisburgh location boasts its own iconic covered bridge. Recently, Vermont Flannel opened a store in Manchester, as well as two in Maine.
Bigelow said the company's sales span the globe. "We're heavy in New England," he said, "and we do best in cold weather states, but I don't think there's anywhere we haven't shipped." Summer months are quiet, but the business starts to get busy during the fall foliage season and then really picks up around the winter holidays. By mud season, things quiet down a bit. The company may be a local one, but they have done their part to help others. In April 2022, they collected medical supplies at each of their retail stores to ship to Ukraine.

Although traditional flannel clothing is the heart of their business, Vermon Flannel offers people a variety of opportunities to rock the plaid including scrunchies, scarves, head warmers, and a thong known as a Vong. They also sell flannel dog jackets and leashes, a variety of bags ranging from backpacks to zipper pouches, lanyards, beer hugs, and wine sleeves. One novelty item is a short sleeved black T-shirt with a red plaid breast pocket.
Lori Crowningshield, the manager of both the Woodstock and Manchester locations, signs emails by wishing people a "flantastic day." Her stores see people from all over the world including travelers from Africa, Spain, Finland, Scotland, and across the U.S. Their most popular sellers are the flannel lounge pants, the classic men's shirt, and stadium blankets but Crowningshield is partial to the Henley Flannel shirt which has a relaxed fit and a fisherman's collar. "I've worked in retail for over thirty years," Crowningshield said, "and the Vermont Flannel Company is hands down one of the top U.S. retail companies to be working for. We have amazing customers and employees who enjoy handcrafted products."
Bigelow is proud of a new collaboration with Vermont Teddy Bear. Vermont Flannel is creating a line of shirts that fit the 15" model. "That's another cool thing that someone from out of town can buy as a gift," he said. "There is nothing cozier than a teddy bear with a flannel shirt."
Vermont Flannel bills itself as part of the Handcrafted USA Movement, but Bigelow concedes that this may have been one of Baker's creations. "He had a mission," Bigelow said, "of flannelizing the world."
Vermont Flannel already has 30 different patterns, but Bigelow said the company will be introducing some new ones for the first time since the pandemic. He wouldn't elaborate but promised that they would be "absolutely flantastic."
Bigelow loves the fact that Vermont Flannel products make people happy. "When a new customer walks into a Vermont Flannel store and is confronted with this world of flannel and bold colors there is a sense of childlike delight that you just have to experience," he said. "The only way to do that is to walk into our stores. We develop new products and talk about different marketing campaigns and coach our retail employees on how to help customers, but the pinnacle is when you see that look on customer's face and know that they are going to take some of Vermont home with them."
For more information visit VermontFlannel.com.
Phyl Newbeck writes for a wide variety of Vermont newspapers and magazines. She is the author of Virginia Hasn't Always Been for Lovers: Interracial Marriage Bans and the Case of Richard and Mildred Loving.