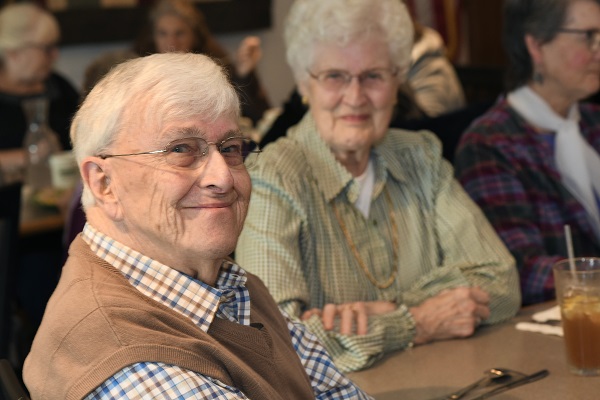 Welcome to Age Well's Winter Feature in Vermont Maturity, it's hard to believe it is winter once again in Vermont. Our team is grateful to serve older Vermonters and their caregivers in Addison, Chittenden, Franklin, and Grand Isle Counties.
Keep reading for information about how you can give back, our nutrition offerings, and this year's Open Enrollment Period.
With Gratitude,
Jane Catton, CEO
Giving Back this Holiday Season
Without generous donors and volunteers, our work would not be possible. Age Well's services are provided free of charge, your support helps us keep these services free and accessible to those in need.
Your support means when an older Vermonter calls, we are there to answer and meet their needs. Whether one-time, monthly or in honor of someone special, your gift helps older Vermonters here in Northwestern Vermont age well. Make your tax-deductible gift today by visiting Agewellvt.org/giving-back. Age Well is a 501(c)3 non-profit, Tax EIN 22-2474636. Donations are tax-deductible.
Make New Friends as a Friendly Visitor
When you sign up to become a Friendly Visitor volunteer you will be matched with an Age Well client based on common interests with the hope of developing an ongoing supportive relationship that spans months to years!
It's a very personalized role; each person is going to have different needs. Activities can vary including reading for someone who is visually impaired, going on walks, crafting, baking, and more. It's really whatever the client requests, but it's always interesting and rewarding. Learn more about volunteering by contacting our Volunteer Services team at 802-662-5249 or volunteer@agewellvt.org.
Legacy Giving
Make generosity a part of your legacy. Your planned gift would play a key role in the future of Age Well and enable us to adapt and thrive, ensuring the health and wellness of our aging population for years to come.
To leave a gift to Age Well, consider using the following language in your will. "I give and bequeath unto Age Well, Tax ID #22-2474636, ___% of the rest, residue, and remainder of my estate to be used for general charitable purposes."
Benefits of Making a Legacy Gift:
You'll leave a legacy that will be remembered.
Know that your generosity will help generations from now have access to healthy meals, care coordination, and more to help them age well.
It costs you nothing now, and you retain control of your assets throughout your lifetime.
You lessen the burden of taxes on your family.
You may receive estate tax savings.
Age Well's Development Team shares your passion to ensure older Vermonters have access to services to age with confidence. We would enjoy speaking with you to find out more about your goals and how we can best serve you. Contact Sara Wool, Director of Development at swool@agewellvt.org or 802-662-5229.
Medicare Open Enrollment is Upon Us
The annual Medicare Open Enrollment Period is started October 15 and lasts through December 7, 2023. This is the time of year to check your Medicare drug coverage for 2024 and to change your drug plan if necessary. It also offers an opportunity for those Medicare beneficiaries who do not have a drug plan to enroll into one.

State Health Insurance Program counselors are available in each of Vermont's Area Agencies on Aging. Whether it is helping someone access their prescription at a lower copayment, helping someone transition from coverage through Vermont Health Connect to Medicare, or assisting someone who is still working and eligible for Medicare, SHIP counselors are the most trusted source of Medicare information and assistance. Call Age Well's Helpline at 800-642-5119 and ask for SHIP.
Support Finding Fuel Assistance
No one should go without heat during the cold Vermont winter, Age Well can help you navigate and understand the various fuel assistance programs you may be eligible to receive. Call the Helpline at 800-642-5119 to learn more.
Join us for a Meal
For those able to venture out, we serve meals in gathering places and restaurants throughout Northwestern Vermont, providing an opportunity to stay connected to your community, enjoying time with friends and neighbors.
Meals are created to meet the dietary and food safety guidelines required by the Older Americans Act. A typical meal consists of 2-3 ounces of protein, a complex carbohydrate (such as sweet potato, rice, or pasta), one and a half cups of fruit or vegetables, a grain (preferably whole grain), milk and dessert (often includes fruit). Salt is not added to foods during cooking, though in some foods it may naturally occur. Find more information about our meal options below or online at Agewellvt.org/services/food-meal-delivery/community-meals.  
Community Meals
Age Well hosts community meals at over 70 locations. Programs vary from small rural gatherings to senior centers, local parks, to an ever-growing array of restaurants. Space is limited. Advanced registration is necessary for each community meal. An annual registration form is required.
Restaurant Ticket Program
Age Well's popular restaurant ticket program allows an opportunity for older adults to enjoy a nutritious meal and an outing at a local restaurant. Older adults can make a $5 donation to receive a ticket to dine at one of the participating establishments. Participating restaurants include: 3 Squares Café in Vergennes, Ray's Seafood in Essex Junction, The Abbey in Enosburg Falls, iHop in South Burlington, Rosie's in Middlebury, Halfway House in Shoreham, and The Dutch Mill in Shelburne.
Grab and Go Meals
Age Well hosts Grab and Go meals throughout Northwestern Vermont providing an opportunity for older Vermonters to get out and access nutritious meals. Advanced registration is necessary for each Grab and Go meal. An annual registration form is required.
Learn more about these Age Well services and other ways to give back by calling the Helpline at 800-642-5119 or go online to Agewellvt.org.
Related Articles & Free Vermont Maturity Magazine Subscription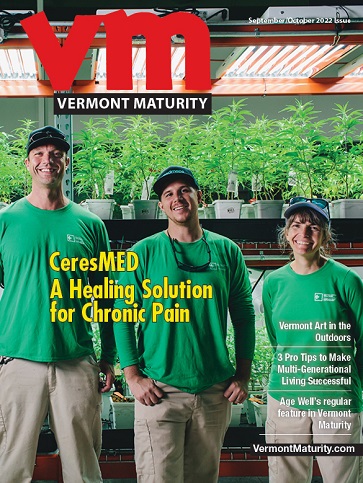 3 Common In-Home Injuries for Older Adults and How to Avoid Them
How Older Adults Can Protect Themselves from Cybercrimes
Person-Centered Care & Your Aging Journey
Free Subscription to Vermont Maturity Magazine