Over the past 23 years, Silver Leaf In-Home Care has built a reputation of excellence. This achievement is a direct result of high recommendations from their clients and their family members. Silver Leaf In-Home Care is a locally-owned Vermont business that provides up to 24-hour care for the elderly and adults with disabilities. They offer a multitude of services with the intent of helping to ease the burden of caring for a parent or loved one.
The cornerstone of Silver Leaf In-Home Care is love and compassion for others. In fact, it was the desire to create a significant difference in other people's lives that inspired Patricia (Patty) Bergeron to expand her business of making and delivering homemade comfort foods and desserts (simple meals for seniors) into an in-home service for seniors. Today it is the 40-plus employees that make Silver Leaf In-Home Care so successful, but, initially, it was Patty Bergeron's vision and empathy for others that drove the business. Patty was born and raised in Vermont. She graduated from Trinity College of Vermont and also completed a private in-service program for nurse's training through Associates in Comprehensive Nursing Care.
Patty, who still answers her own phone and takes calls from clients 24/7 explains, "We are still small enough to really have wonderful, lasting relationships with our clients, giving us the accountability to stay on top of the needs of each client. Bess, who is featured on cover with Patty celebrating her 90th birthday, is the wife of former client Frank, a long-time bank vice president in their hometown of St. Albans. Bess lovingly cared for her husband at home for 2 years with the help of Silver Leaf. Bess was able to take a much-needed respite trip with her family while her caregivers stayed at home with her husband.
The Silver Leaf Company
Today, Silver Leaf In-Home Care boasts two full-time care managers, a senior scheduler, and two part-time managers. In 2016, Silver Leaf began upgrading its software to help organize and streamline its 40-plus employee's schedules, time clocks, payroll, and billing. Even with all the rapid expansion, Patty and her managing staff still get out of the office to help with caregiving when needed. "I have been a caregiver (on and off) since 1977", says manager Jacci Alder, "and. I am always in awe of her generosity and kind heart. Never have I met an administrator so willing to roll up her sleeves and pitch in."
It is the personal commitment to other's well-being that sets Patty Bergeron apart from other administrators. She personally visits and checks in with her clients regularly to ensure they are getting their needs met and are happy with their caregivers. Cards and letters Patty receives attest to her dedication. "I trust Patty and her team completely. As far as I know, Patty is the only caregiving business owner in our area who actually has been a caregiver. Her extensive caregiving experience combined with her remarkable ability to own and manage a complicated business makes her and Silver Leaf unique." She is also the key point of contact for families; providing regular updates on changes in a client's needs or condition. As Patty often says, "I love the connection I have with my clients and their families, and I love it when my clients share with me how much they love their caregivers. It is such a rewarding feeling to know that I made a difference in their lives, providing them with a sense of well-being, happiness, and, most importantly, trust in me and my caregivers."
In-Home Care
Silver Leaf In-Home Care provides personalized services by matching caregivers to clients; not just by mere availability, but, rather, personality dynamics, skill sets, and hobbies. A recent client writes, "Silver Leaf was not only there for my mom, but the love and supportI received was amazing. They all loved and cared for my mom as if they were family."
Patty and her caregivers will also help plan special events, such as birthdays, anniversaries, trips to local cultural events, and other special events. Silver Leaf In-Home Care recognizes that maintaining social connections is vital to the health of the client.
From celebrating milestones together, with homemade pies and cakes for holidays and birthdays, to accompanying clients to family gatherings in and out of state, a good relationship between client and caregiver can be rewarding for everyone. Manager and Senior scheduler, Jim Trombley, who joined Silver Leaf 3 years ago, has a degree in Culinary Arts and was a Chef at a local assisted living facility for seven years. Jim and Patty often compete in the kitchen cooking or baking pies and holiday cookies and cheesecakes! Several days of work goes into the wrapping, packaging and distributing gifts for everyone.
Being a part of these family memories makes the work very rewarding for employees. "I drove a 92-year-old former client to her granddaughter's wedding in East Burke," she says. "We loved catching up during the ride there and back and her family was able to fully enjoy their day." It is the personal touch and ability to customize services to meet the needs of each client that differentiates Silver Leaf In-home Care from other in-home care providers. The dedicated, compassionate care from case managers and caregivers leaves no doubt that Silver Leaf will continue to fulfill its commitment of providing only the very best in-home care.
The Caregivers
Silver Leaf In-Home Care only hires experienced caregivers to provide a full range of support in daily activities, including cooking meals, light housekeeping duties, transportation to medical appointments, assistance with medication and monitoring health issues, pet care, and assisting with bathing, showers, shaving, and dressing. Caregivers are much more than just health care providers, they provide friendship, share indoor and outdoor activities, and celebrate achievements with their clients. Most importantly, Silver Leaf caregivers provide a safe and loving environment, where family and friends are invited for lunch or dinner or to share in homemade desserts.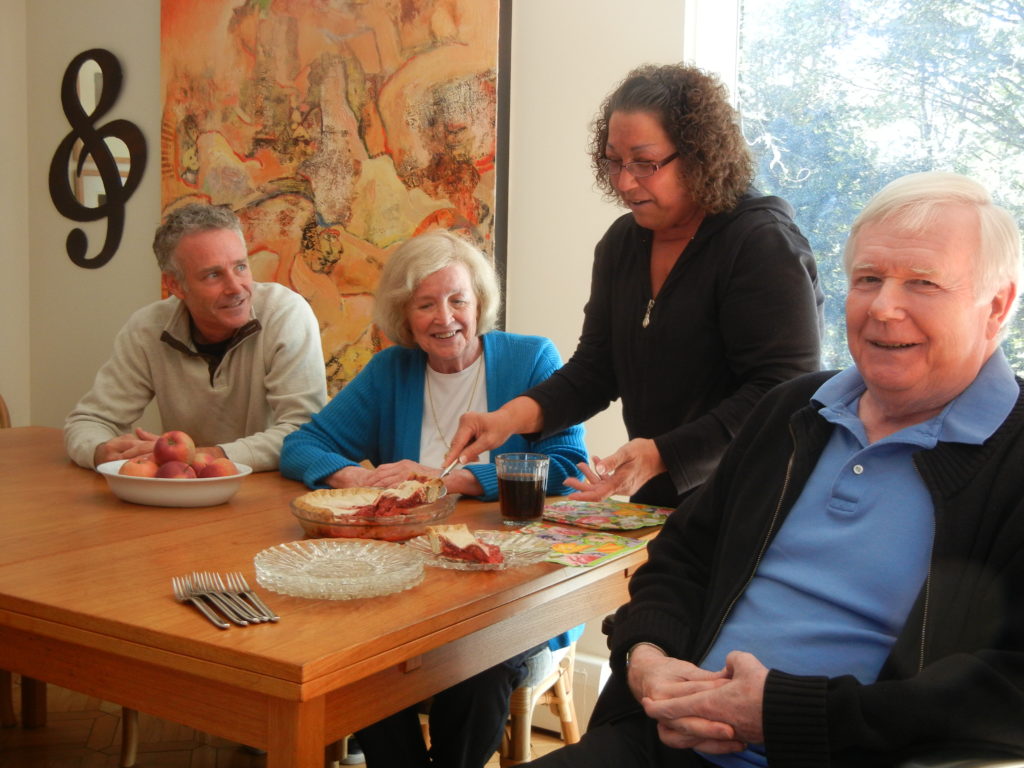 Long-time client writes, "My husband thinks the world of Patty. He is always happy to see her and members of her team. Years ago, he told her that he loved pecan pies, and Patty somehow made time in her busy schedule to bake him a pecan pie and continues to bake them for him as often as she can. We found out that she is not only a caring person; but also a wonderful baker."
When a caregiver is selected to work for a particular client, Patty Bergeron and her team will spend as many hours as needed training the new caregiver on-site until comfortable being on their own.
The Silver Leaf staff works closely with other agencies, such as University of Vt Home Health or Bayada, for palliative care and hospice which provides continuity of service by utilizing their nursing staff. Quite often, the caregivers are trained on a case-by-case basis by outpatient staff, providing physical therapy and occupational therapy. Because Silver Leaf realizes that every client is unique in their own way, special training classes are provided on a case by case basis as ongoing support for caregivers whose clients' needs change or special equipment and additional services, are added.

Estate Services
Silver Leaf has been offering estate organization services by request for more than two decades. Sometimes clients aren't always able to remain at home safely. Downsizing a household or selling the house can be difficult for families that are managing care from a distance. Silver Leaf sees this as a natural extension of the home care it already provides and another way to ease the burden and work for the families of clients.
Estate services offered may include managing a property when it is put up for sale, conducting inventory and shipping furniture and heirlooms to out of state family members. They also organize estate sales and garage sales, through a highly regarded and trustworthy dealer. Silver Leaf will organize consignment shop deliveries, hiring and supervising house cleaners, and hiring contractors for home repairs, painting, and renovations. Silver Leaf In-Home Care can also assist when working with trustees or estate lawyers and be a liaison with a local realtor for house showings.
Four-legged Support Staff
The origins of the four-legged support staff at Silver Leaf In-Home Care stems from a heartwarming story. Patty Bergeron helped one of her clients celebrate his 100th birthday. She baked a special cake and decorated his home for the guests. When the party was over, the client shared a concern: "What will happen to Penny (the dog he had raised from a puppy) when I'm gone?" Patty decided right then and there that she would adopt Penny when the time came. Her client passed away just a few weeks later, content in knowing his best friend would be in good hands.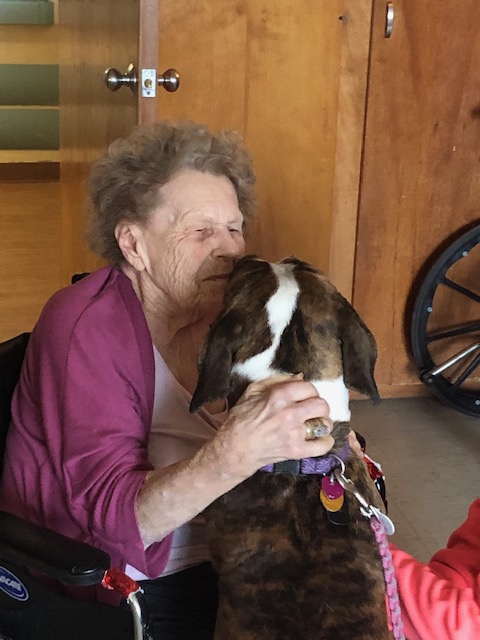 After Patty adopted Penny, she began making regular visits to other clients with the amazing dog who actually gives hugs. Study after study has shown the emotional and health benefits of owning and caring for a pet. Unfortunately, many elders and disabled people are unable to keep a pet full time due to physical limitations. This is why Silver Leaf also boasts a four-legged support staff. Being visited regularly by a well-trained comfort or therapy dog brightens the client's day. If a client already has pets in the home, Silver Leaf caregivers can help take care of the pets as well.
Accompanied Travel
In response to increased local demand from clients and "snowbirds", Silver Leaf In-Home Care is launching an Accompanied Travel Program to assist seniors with their travel needs. Clients who have unfulfilled travel dreams can take a cruise, visit distant family or friends or even relocate.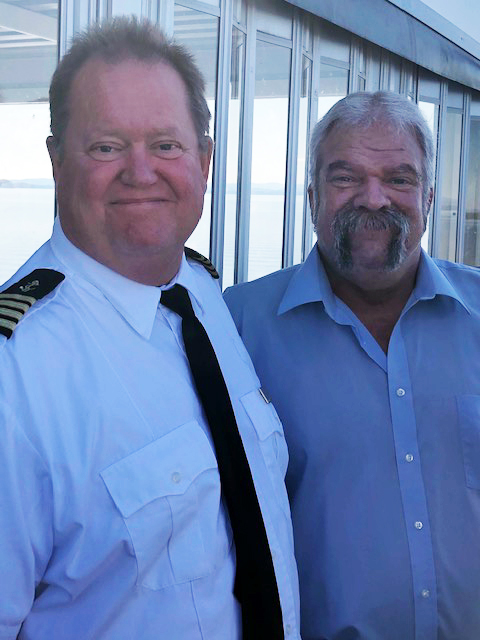 Silver Leaf enlisted caregiver and now part-time manager Odale Cress to spearhead the new service. The Silver Leaf Accompanied Travel Program features "home & away" for traveling locally and nationally and "home & abroad" will encompass cruises and travel to Europe. Cress brings more than 20 years of prior caregiving experience, along with a master's degree in cultural tourism and culinary anthropology, fluency and knowledge of several languages, and 30 years of experience in international travel. She looks forward to providing Silver Leaf clients and families with her compassionate travel companion services.
Recently Manager Kathie Berard accompanied a client to her granddaughter's wedding in New Hampshire, to support her needs during the festivities assuring that the family was able to fully enjoy their day. Berard also accompanied a client overnight to Boston to visit her first grandchild, and is set to assist another client on his annual trip down to Marco Island to the beach for a month.
It is the personal touch and ability to customize services to meet the needs of each client that differentiates Silver Leaf In-home Care from other in-home care providers. The dedicated, compassionate care from case managers and caregivers leaves no doubt that Silver Leaf will continue to fulfill its commitment of providing only the very best in-home care.
For more information visit SilverLeafHomeCare.com. Or contact Patty Bergeron at 802.355.3790 or silverleafcare@gmail.com.
Related Articles & Free Subscription
Association Develops Test for Home Care Workers
How to Choose a Good Home Stair Lift
How to Choose and Use a Home Blood Pressure Monitor
Free Subscription to Vermont Maturity Magazine