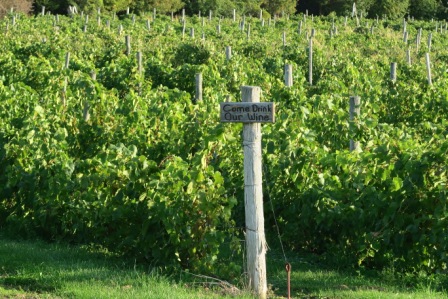 How does a summer stroll through a bucolic vineyard surrounded by stunning views while sipping on carefully crafted wine sound? Great news: You can do that in Vermont.
Most people may think of California and little else in the category of wine made in North America. Vermont wine producers would like to change that.
Grapes Can Grow Here
The main reason Vermont is not Napa Valley is, of course, the climate. Most traditional wine grape varieties can't survive winters here. There are, though, cold hardy varieties that can and more continue to be developed by researchers and growers.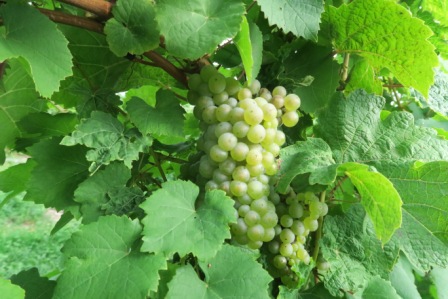 Snow Farm Vineyard lays claim to being Vermont's first commercial vineyard having opened in 1996. Its location on an island in Lake Champlain provides a unique climate well suited for growing grapes that are similar to varieties grown in France, says co-owner Julie Lane. Lane explained that spring comes to Snow Farm's vineyard in South Hero later than in much of Vermont because it remains cooler on the lakeshore. In turn, the lake retains summer's heat in the fall, often delaying the first frost and harvesting season.
Patrick Barrelet is Snow Farm's winemaker and a co-owner. Barrelet, who grew up just north of the border in Canada, has a degree in Oenology from the University of Dijon in Burgundy, France. While studying in France he realized he was working with grapes that could survive a climate similar to where he grew up. He returned and eventually helped create what is now Snow Farm Vineyard.
Many of the vineyards in Vermont owe their existence to such cooler climate European grapes along with cold hardy grapes developed in Minnesota, and specifically by a farmer named Elmer Swenson. Swenson cross-pollinated grapes native to the Midwest with European winemaking varieties. His work now continues at the University of Minnesota and elsewhere. The grapes in the Minnesota family that are grown in Vermont include Marquette, Frontenac and La Crescent varieties.
It's common to see the Marquette grape in Vermont wines. In fact, after years of growing grapes for both red and white wines, this year Lincoln Peak Vineyard in New Haven plans to focus on crafting red wine from just two grape varieties, Marquette and Farnsworth.The Farnsworth grape is unique to the vineyard and named after the family that farmed the land more than a century ago. "They would never have imagined that fine wine grapes would one day grow on their hill," Lincoln Peak says on its website.
As anyone who has visited a winery in Europe will know, it's more than climate that matters to the grape growers. Vermont winemakers, too, can teach visitors about the terroir that feeds their wines.
Shelburne Vineyard, for example, grows grapes at three distinct locations. The soil at its Meach Cove Vineyard is described as "deep, stony loam in the Georgia series. It originated in glacial till derived from limestone and calcareous shale."
What to Expect
There are some wines and grapes, such as Rieslings, that oenophiles will recognize at Vermont vineyards. Though some of the other grapes may be unfamiliar, visitors to most of Vermont's vineyards will find both red and white wines, with tasting notes similar to European and Californian wines.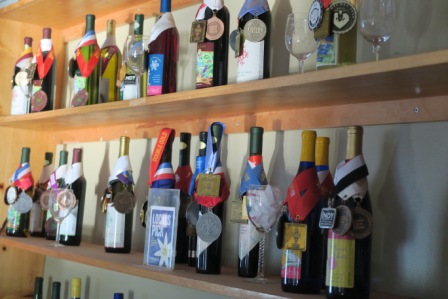 For example, Snow Farm describes its Marquette wine as a dry red with red berry and plum flavors, spicy with a tart dark cherry finish. Fresh Tracks Farm Vineyard and Winery, in Berlin, describes its La Crescent variety as "a crisp, floral powerhouse white wine with tendencies towards lychee, Asian pear and white flowers."
Many vineyards also have specialty wines beyond traditional reds and whites. The cold that prohibits cultivation of some grapes is perfect for ice wines, which are made in few other places worldwide. To make ice wine, a dessert wine with concentrated sweetness, the grapes are allowed to freeze on the vine before they are harvested.
Vineyards Diversify
There are common themes in the origin story of many of Vermont's vineyards. Several started two or three decades ago with someone who had a crazy idea to try growing new varieties of grapes despite Vermont's harsh winters. Some started on family farms rooted in some other type of agriculture. Both Snow Farm and Boyden Valley Winery, for example, are on acres that originally were dairy farms. Lincoln Peak Vineyard was an apple tree nursery and popular strawberry farm.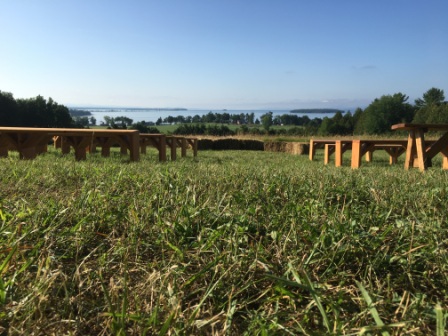 Several vineyards maintain diverse operations. Some make other products, such as jams, with grapes. Some grow other crops to make non-grape wines and liquors, including maple wines. Other non-traditional wines are made from rhubarb, apples, blueberries and red currants.
And of course, most vineyards host visitors for tastings and tours. Some host weddings and public events, such as indoor and outdoor concerts.
Make it a Weekend
Vermont's wineries span the state from Putney in the southeast corner to the Champlain Islands in the northwest.
For unique, non-grape wines, check out Putney Mountain Winery in southeastern Vermont. The varieties include a rhubarb wine, apple maple wine, cranberry wine, blueberry wine, plus several liquors. At the winery in Putney visitors can see the winemaking process through observation windows. There are also two tasting rooms in other locations: One in the Cabot Cheese Store in Quechee and the other in Vermont Farmstead Cheese Co. Market in Windsor.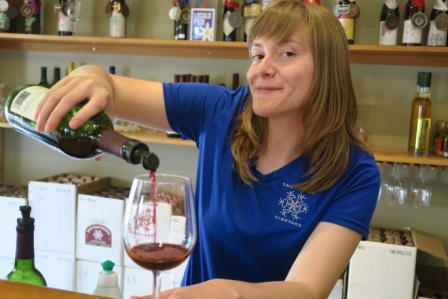 There are several wineries in the opposite corner of the state, in and around the Champlain Valley, close enough together to make a day of touring a few. Several, including Snow Farm, Shelburne Vineyard, Lincoln Peak and Boyden Valley Winery, Charlotte Village Winery, and Fresh Tracks are all within an hour's drive of Burlington.
Some of the grapes used in Vermont, according to the Vermont Wine and Grape Council:
Red Wine Grapes
Frontenac is a very cold hardy vine and has borne a full crop after temperatures as low as -30 F. Frontenac wine typically has a pleasant cherry aroma with berry and plum evident in many cases. The color is usually a garnet red.
Marquette sets a new standard of excellence for winter-hardy red wine grapes. The wine is complex with berry, cherry, black pepper and spice, and is more tannic than other northern reds.
St. Croix has produced many award-wining red wines. It is widely grown in Minnesota, Connecticut and Quebec. St. Croix wines have a pleasant berry-like fruitiness in the nose and mouth.
White Wine Grapes
LaCrescent is one of the best of the new white grapes from the University of Minnesota. It thrives in VT producing wine with intense and delicious apricot flavor, good body and balanced acidity.
Riesling is a noble grape from alpine regions of Europe that adapts well to the Vermont climate. Riesling wine can be dry or sweet, with great body and complexity.
More information about Vermont wineries can be found at:
VermontGrapeAndWineCouncil.com
Clover Whitham has been a journalist at Vermont newspapers for more than a dozen years and is now a freelance writer and editor near Burlington.
Photos provided by Snow Farm Vineyard.
Related Articles & Free Vermont Maturity Subscription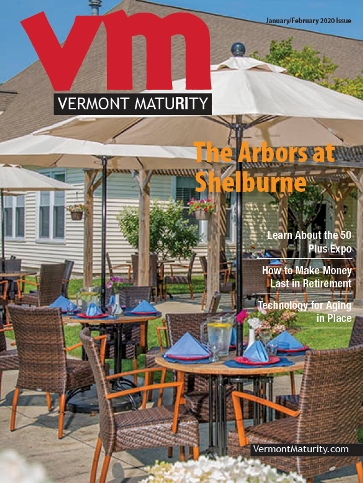 Skiing in Vermont: Big Ideas and Quirky Characters
The Health Benefits of Red Wine
The Vermont Republic – The Story of When Vermont was an Independent Country