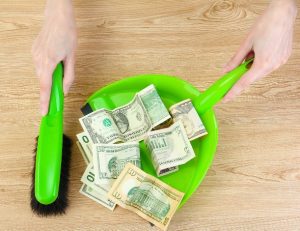 These 7 items will give you even more reasons to "green up" your finances.
Save Trees
If 20 percent of households switch to electronic bills, statements, and payments, 1.8 million trees would be saved each year. More trees mean better air quality.
Reduce Clutter
19 Billion bills are delivered yearly. A 20 percent reduction would eliminate over 100 million pounds of paper.
Reduce Greenhouse Gas
If 20 percent fewer bills, statements, and checks are produced and transported, we'll cut greenhouse gas by 2 million tons per year. Less greenhouse gas means cleaner air for us and future generations.
Save Money
Pay bills electronically to avoid late fees, improve your credit rating, and save half a day's time and close to $100 yearly.
Conserve Water
Reducing use of paper bills, statements and checks by 20 percent eliminates 1.4 billion gallons of wastewater per year. Fresh water is one of the scarcest resources on the planet. Clean and abundant water protects human, animal and plant health.
Improve Security
Take small steps to reduce your impact now and help secure a healthy environment for the future. Managing your finances electronically improves record keeping and reduces the risk of identity theft.

Save Fuel & Energy
20 percent of households make the switch, 103 million gallons of fuel will be saved each year. Less paper to produce and transport means cleaner air and less congestion on the road.
For a list of green calculators visit Calculators.org/health/green.php.
Related Articles & Free Subscription
Bank or Credit Union: Which is Right for You?
Keeping Money Safe While Banking Online
Tips to Prevent Online Scamming
Free Subscription to Vermont Maturity Magazine