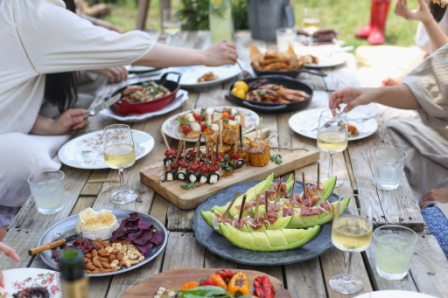 Summer in Vermont is fleeting so you'll want to maximize your time in the great outdoors. One way to do that to go on a picnic! Whether it's an afternoon on the beach, a hike to a scenic overlook, a family get-together or an evening at an outdoor concert, food just tastes better when it's spread out on a blanket or a picnic table. Enjoy the summer. Dine out while you can!
If you know you're going use a picnic table, you might want to bring an old plastic-coated cloth that's easy to wipe down. That way you don't have to worry about what previous guests – or seagulls – have left on the table. If you're planning on staying at ground level, a good blanket will provide a little separation between you and the grass or sand. For an outdoor concert, you may want to bring a light, portable chair, but recognize that many venues ask those with taller chairs to sit in the back so they don't block the views of others.
It's beautiful outside,but you're likely to be sharing your space with a few flying creatures, some of whom may think that you are the perfect picnic meal. Mosquitoes are fiercest in the early morning and late evening. Citronella candles can be very romantic, but you won't want to carry them for long distances so bug repellent is probably something you should think about. For daytime picnics, you'll also want to remember your sunscreen.
Glass containers aren't recommended since they're fragile, but if you do bring along some Chardonnay, don't forget a bottle opener.
The length of your trip to the picnic site will obviously impact how much or how little you bring. If you're not going far, a cooler will ensure that food doesn't spoil and drinks stay cold. A hard-covered cooler has the advantage of doubling as a small table. If you've got farther to go, a big knapsack or Adirondack pack basket will do the trick. It's best to avoid plastic bags unless you enjoy spending your time chasing after them as the wind blows them hither and yon.
Katherine Vanderminden of Village Roots Catering in Pawlet thinks a cold quinoa salad with roasted vegetables and maple balsamic is a perfect picnic dish for a day at the lake. She also favors homemade hummus or black bean dip with vegetable sticks and low salt corn chips. For longer treks, she likes to make venison jerky and will also pre-cut fruit for a healthier snack. Vanderminden cautions picnickers to avoid pasta salads, which dry out quickly, and mayonnaise based salads, which can spoil in the sun and heat.
It's always safest to pack soft food like fruit or dessert in separate plastic containers. For sandwiches, there is reusable packaging made of cloth with one waxy side for the food and a Velcro clasp to cut down on the use of plastic bags and aluminum foil. One tip for avoiding soggy sandwiches is to put the driest material like meat or cheese closest to the bread with the lettuce and tomatoes in the center. If possible, buy sturdy, re-usable plastic utensils since lighter ones are more likely to break.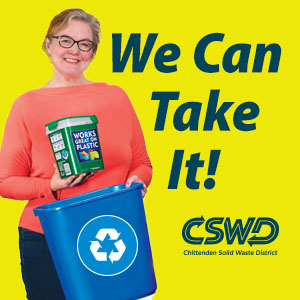 Not surprisingly, Director of Vermont State Parks Craig Whipple considers state parks ideal locations for picnics. A tab on the State Parks website even provides a list of prime locations. Whipple suggests the top of Mt. Philo as a great place to spread out a blanket and dine al fresco, but notes that many people prefer the shores of various ponds, lakes and reservoirs. Some parks have sheltered areas which are ideal for large groups of people and convenient for getting out of the weather.
This article was contributed by Phyl Newbeck.
Related Articles & Free Subscription
Do You Need to Take a Dietary Supplement?
Free Subscription to Vermont Maturity Magazine