By Phyl Newbeck
In general, Vermonters are making use of 3SquaresVT, the state affiliate of the federal Supplemental Nutrition Assistance Program (SNAP). In fact, more than 90 percent of eligible Vermonters receive assistance. However, only 30 percent of eligible seniors are taking part in the program, but the folks at Hunger Free Vermont are trying to improve on those numbers.
3SquaresVT Advocate Faye Conte said eligibility for the program has expanded and, due to the recession, more people are signing up so use is at an all-time high, with over 95,000 Vermonters participating. However, numbers for seniors are still quite low, either due to lack of knowledge of the program or pride. "Seniors tend to see the program as something they don't deserve," she said. "We do a lot of messaging to convince them that they've been paying taxes and contributing to society and this is no different from collecting Social Security."
Conte explained that 3SquaresVT is an entitlement program rather than one dependent on block grants, so funds will not run out and seniors needn't feel they are taking benefits away from younger recipients. Conte believes many seniors don't participate because they have too much pride to request assistance until they have hit rock bottom.
But Conte said the program has changed greatly over the years. In the past, when it was known as the Food Stamps program, recipients had to pay in order to get benefits. During the  Reagan era, there was also a stigma to receiving benefits so those old stereotypes need to be overcome. "We do a lot of messaging," Conte said "and try to dispel myths and keep people informed."
3SquaresVT has worked with the Vermont Department of Children and Families and several area agencies to simplify the application process for seniors. The current application form, which covers several programs including fuel assistance and Medicare, is 32 pages long. A simplified, 9-page application has been created that covers 3SquaresVT and is designed solely for seniors and people with disabilities who are living on a fixed income in a one or two-person household. 3SquaresVT is a need-based program with eligibility determined by gross monthly income. The minimum benefit is $16 a month, but nine out of 10 households receive more than $50, and the average benefit for a single person over the age of 60 is $150.
3SquaresVT has partnered with the United Way and Champlain Valley Agency on Aging (CVAA) to launch a new pilot program involving senior peer-to-peer outreach called Eat Well, Age Well. Senior volunteers are recruited and trained to provide support for other seniors with the application process. Eat Well, Age Well is based on a similar program in Maine which was highly successful. "The big message," said Conte, "is proper nutrition will help you age well and stay in your home."
Conte oversees the program with volunteers from RSVP (a non-profit organization which matches volunteers, age 55 and over, with meaningful work at other non-profits, schools, libraries, hospitals and towns), the United Way and CVAA. Outreach started in April. Initially, the program will be limited to Chittenden County, but the hope is that it can be expanded. By having a large number of peer volunteers, the program will be able to reach smaller groups of seniors like those in book clubs or bingo nights. Since the application process involves a phone or personal interview and requests for documentation, peers can ensure seniors follow through with all the pieces.
Tamsen Goldfield of Burlington is one of the three Leadership Volunteers working with the peer to peer program. Goldfield tried several volunteer opportunities through the United Way before settling on working for Hunger Free Vermont. "I couldn't be happier," she said. "I'm so excited to be part of the leadership of people working peer-on-peer with elderly folks who might be suffering from food insecurity."
Goldstein and her fellow Leadership Volunteers have been mapping out a strategy to reach as many seniors as possible, creating a vast spreadsheet showing various community groups ranging from church choirs to Zumba classes. Goldstein's interest in the program isn't abstract. She lives in a low income senior housing facility and is part of the 3SquaresVT program. "When I stand up at the senior center," she said "I'm one of them."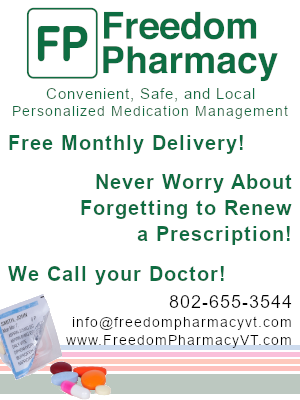 Another group involved in trying to alleviate hunger among Vermont seniors is the Northeast Organic Farming Association of Vermont (NOFA). NOFA assists farmers' markets in installing Electronic Benefit Transfer (EBT) machines which allow seniors to use their 3SquaresVT benefits for fresh produce. Conte said fruits and vegetables are often the first things low income seniors talk about adding to their diets when they begin to receive benefits. By shopping at farmers' markets, they are able to get these nutritional products seasonally at low cost.
Additionally, in 2011 there were 925 seniors enrolled in a special Farm Share program that NOFA and the Agency of Human Services (AHS) oversee. The program is designed for those living in senior housing, and outreach is provided by volunteers at those sites. The program's budget is limited by federal funding, so no additional seniors can be accommodated at this time. "We've heard lots of positive comments from participants and farmers," said Mary Woodruff of AHS. "The farmers feel more connected to their community and enjoy providing food to people who really need it."
Conte is hopeful the peer-to-peer program will convince more Vermont seniors to sign up for 3SquaresVT. "By connecting with peers who they relate to, my hope is Vermont seniors won't feel alone in needing some extra money for groceries, and will feel more comfortable and confident applying for 3SquaresVT," she said. "Eat Well, Age Well has the potential to not only empower our older volunteers, but also empower all seniors to receive the assistance they deserve and help Vermonters stay healthy and independent."