Caring for an aging relative isn't easy. Doing so can be an emotional burden, as well as a financial one. Will you feel an overwhelming sense of guilt if you move your mother into assisted living…and is that worse than the resentment you might feel if you move her into your home? Thankfully, Vermont has a number of resources to help caregivers deal with the emotional rollercoaster, but the key, according to experts, is to start planning early.
Liz Vogel is President and CEO of DOTS, an organization developed to provide information for those caring for aging parents or loved ones. "One of my soap boxes," she said "is Americans don't talk about aging so we are unprepared. At a certain point in the continuum, you find yourself in a role reversal with your parents and nobody teaches us how to deal with that."
Vogel notes that there are seven common emotions felt by caregivers: guilt, resentment, anger, worry, loneliness, grief and defensiveness. She believes that with guidance, one can overcome these feelings and learn to deal with the reversed caretaking role.
Vogel said guidance can come from a variety of sources — from family and friends to houses of worship and local groups like the Vermont AARP affiliate. Vogel's organization, DOTS, has a resource library divided into seven topics ranging from health and wellness to safety and legal issues. "Unless you're involved in a caretaker situation, you have no idea what is involved," she said. "People need a road map and they need emotional support."
Sharing the Care
In 2003, Patrice Thabault opened the South Burlington office of Home Instead Senior Care (HISC) which provides in-home care for seniors. The program's 180 caregivers offer non-medical services for roughly 150 clients in five counties. HISC sponsors a program called 50-50, for siblings who are caring for aging parents. Studies have shown that the burden is rarely borne equitably between siblings. Usually a daughter, often the youngest in the family, is the one who bears the heaviest load.
The name 50-50 refers to an equitable distribution of labor, but 50 is also the average age at which the parent/child role undergoes a transformation with the child becoming the caregiver to the parent. The family conversation should start earlier than that, ideally when the child turns 40 or when the parent turns 70. HISC offers one-on-one consultations with families and provides written information to help siblings divide the labor as equally as possible. Obviously, finances, employment issues, family situations and geography can conspire to make some siblings more involved than others, but the goal is to share the work and prevent resentment among brothers and sisters.
Some families share the work via formal arrangements with spreadsheets or dry erase boards in the parental home, while others work out more informal agreements. Often siblings will find an area of expertise such as cooking, cleaning, or driving and make that their niche in parental care. Ideally, decisions are made via consensus so no sibling feels they are pulling more than their fair share of the weight. "One of the things we really encourage," said Thabault "is for seniors and their children to start the conversation early regarding where they would like to live. That's far better than waiting until there is a crisis or the parent's health has declined to the point where they can't take part so the caregiver has to make a decision without knowing the parent's wishes."
HISC has created a checklist for caregivers to assess what they call "caregiver burnout." Signs of burnout include anxiety, depression, mood swings, irritability, lack of concentration, substance abuse, phobias, argumentative behavior and feelings of isolation. Repressing these feelings can have detrimental effects on the caregiver's physical and mental health and Thabault stressed that it is important to have discussions about all aspects of caregiving, both within the family and with outside professionals to prevent burnout.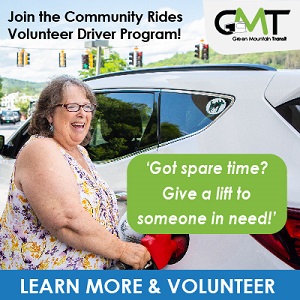 Cathy Michaels of Armistead Caregiver Services agrees. From its office in South Burlington, Armistead serves more than 100 clients with a staff of 140 caregivers. "You struggle with when to step in," said Michaels. "No matter what action you've taken, you're never sure it's the right one. A lot of people come to us in crisis so we try to educate people to start thinking about these types of things earlier."
Michaels said people who call Armistead are going through a full range of emotions. Sometimes those caring for an aging relative on their own begin to feel resentment, but when they bring in an outside person it can result in feelings of guilt. This is especially true when children move an aging parent into their own home. "They do it with great intentions," Michaels said "but sometimes they haven't had the time to think it through." She suggests bringing in an outside caregiver slowly so they will eventually build a relationship with the parent.
"It's human nature to feel guilt and worry that you're making the right decision," said Michaels, noting that this is another reason to have the discussion before it becomes an emergent issue. The goal is to insure that the parent is aware of your caregiving plans and is prepared for the changes in his/her life. "Parents don't want to be a burden," said Michaels. "They raised us and then we raised our children, but we also have to take care of our elders. It's okay to ask for help with that."
This article was contributed by Phyl Newbeck.
Related Articles & Free Subscription
11 Things Employers Misunderstand About Caregiving Employees
Money and Memory: Beyond Retirement Planning
Free Subscription to Vermont Maturity Magazine