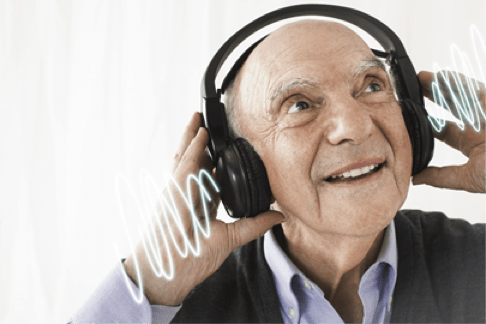 Do you have that one song that when you hear it played, triggers a memory or evokes a strong emotional feeling? Maybe it's a song played at your wedding or a song you sang in a grade school concert.  Maybe it's a song that was playing on the radio during a special moment in your life.
"We all have songs that move us, that bring up emotions and make us re-live past experiences," says Francesca Creta-Merrill, Manager of the VNA's Adult Day Program at Grand Way in South Burlington.
In fact, extensive neuroscience research shows that our brains are hard-wired to connect our memories with music and can have a calming effect on people. It's especially beneficial to people with various stages of memory impairment. Music can calm chaotic brain activity and help a person focus more in their present state while awakening memories thought to be lost.
Dan Cohen is the founder of Music & Memory, a non-profit organization that recognizes this benefit of music. The program trains staff at nursing homes and other elder care facilities in how to create and manage digital playlists using iPods and other audio systems, how to maximize the benefits of music for clients, and how to measure set goals. Participants in this program can become more active, more social and more communicative.
A number of VNA staff from its Adult Day Program recently completed the training and became certified in this program. The staff fills donated, new and gently used iPods with music suggested by family members for the participant to use during the day. The music is personalized for each person and staff is already seeing results.

To learn more about the Music & Memory program and the effects music has on the brain, visit MusicAndMemory.org.
Related Articles & Free Subscription
How to Slow Down Cognitive Aging
Sleep and Memory: How They Work Together
Tech Items Every Savvy Baby Boomer Needs
Free Subscription to Vermont Maturity Magazine