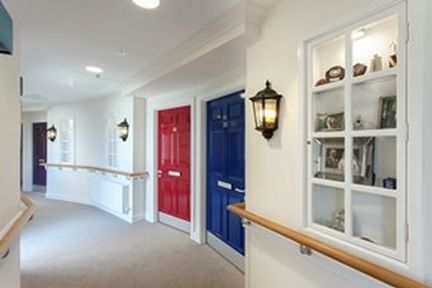 Imagine your cognitive abilities are fading and what's happening in your brain also restricts your eyesight, including the ability to differentiate some objects. Mashed potatoes on a white plate on a white tablecloth might not even register as food, no matter how hungry you feel.
This is the scenario that Rebecca Stearns describes when talking about what can happen to people with Alzheimer's disease or other forms of dementia. "They often lose peripheral vision and depth perception," she explains, "So, color and contrast become very important."
Her mission as a vice-president and director of development of Grand Senior Living, a Charlotte-based company, is to create environments that help compensate for what the degenerative condition takes away.
"Normally, we require only 40-to-45 candlepower (also known as candela) lighting to see well indoors," Stearns notes. "Those with Alzheimer's need double that, 85-to-90 candlepower. And we use bright, contrasting colors everywhere instead of pastels."
By "everywhere," she means inside the innovative assisted living facilities for seniors, referred to as "communities," that her firm develop, advise and/or manage.
In partnership with Mackenzie Architects in Burlington for the last two years, Stearns and her colleagues launched the Grand Memory Care Project, intended to generate alternatives to the traditional assisted living situations and skilled nursing homes where people with Alzheimer's frequently must live.
Nursing homes often have staffs trained in medical procedures, but they may not be particularly adept at coping with dementia patients. Assisted living facilities tend to lack enough security for people who might wander away.
"For many seniors with dementia, the needs are less clinical and more social," explains Janet Stambolian, director of business development at Mackenzie Architects. "We're offering another path that delivers the necessary services in a secure setting. Grand Memory Care broadens the pool of viable options."
The partners are awaiting word on federal funding to support a process in New England that would demonstrate the efficacy of their plans. Their goal is to design and build five "person-centered memory care neighborhoods in a secure setting" that would house 12-to-18 residents in separate apartments, a conversion inside an existing structure with underutilized space.
The premise is that their innovations can keep costs considerably lower and provide compassionate support in a more appealing environment. "This is not just about how pretty a place looks," Stearns says. "It's so residents can be as independent as possible. We can't help them find their memories, but we can teach our staff to help them be more successful on a daily basis."
Vermont is considered the second "grayest" state in the nation; by 2020, an estimated 20 percent of the population will be 65 or older. And Baby Boomers are on the cusp of this healthcare-crisis horizon. "They call it 'the silver tsunami,'" Stearns says.
Experts believe that 11,000 Vermonters older than 60 — or 9 percent of the population — will eventually experience dementia. Of 6,789 nursing home residents here, 47 percent suffer moderate to severe impairment due to dementia.
Grand Memory Living — co-founded by CEO Dan Hassan and under the umbrella of his HMS Windward business — tries to address the daunting issue of sheltering seniors with this condition. The company already handles various tasks for Grand Memory Care communities in a handful of states, though not yet Vermont, and looks forward to starting others from scratch in an ownership capacity.
In the management-only category, "there's one opening in Virginia on May 21 that we've been working on with the developer," Stearns says. "And we just broke ground in Woburn, Massachusetts."
Asked how Grand Memory Care dwellings will differ from other programs in the region, Stearns points out that the idea is to "know who this person was before the disease struck, hire a a highly-trained staff and provide habilitation therapy (not rehabilitation, which currently is not possible with the disease). We can't change the outcome of Alzheimer's yet, but there's a lot that can be done to make their lives better."
Noise reduction, to protect people who are easily startled, is another example of small things that make a difference. "We stay one step ahead to avoid the triggers that might bring on agitation," Stearns says.
Grand Memory Care communities do not adhere to what Stambolian calls "the medical model," which tends to be much more expensive.

For instance, instead of sending an agitated resident to the hospital emergency room in an ambulance, "we hope to already have information about people from their families so we understand why they may be acting that way," Stearns says.
"By knowing who they are, things can be done in advance to prevent extreme measures," adds Stambolian, who works with architect Stephen Mackenzie at their Battery Street offices. "This is a way more holistic approach," she suggests.
Stambolian displays the blueprint of a prototype 13,050-square-foot assisted living community with a sort of elongated oval, open shape that allows the staff to more easily see what's going on throughout the complex. This specific scheme is more likely applicable to future Grand Memory Care efforts undertaken with Stearns and Hassan to fashion new free-standing structures they would develop from the get-go. Or the design could be sold to other healthcare entities.
Meanwhile, they're all anxious to hear whether or not their 70-page application for a $11.4 million, three-year grant — part of a $1 billion federal healthcare initiative — has been approved.
If so, Grand Memory Care will employ a retrofitting approach to offer "a better way to make assisted living more affordable" for Medicaid recipients at five test sites in Vermont, New Hampshire and Massachusetts. The money would not be spent on bricks and mortar. Instead, they'll seek underutilized spaces at existing nursing homes or assisted living facilities.
"We'd take over a wing and design it to our specifications," Stearns explains. "We'll bring in our own teams."
Moreover, the savings might be substantial. The cost for Grand Memory Care, according to Stearns and Stambolian, would average $125 a day per resident versus about $196 a day in the region at the moment.
And the whole country, if not the whole world, will be watching. Nationwide, the number of Medicaid recipients with dementia in skilled nursing homes was 418,945 as of 2011. If just 10 percent of them are transferred to an assisted memory care program, Stearns and Stambolian contend, the annual savings for Medicaid could be more than one billion dollars.
While there'll be no mashed potatoes on white plates on white table cloths, Grand Memory Care seniors can benefit from recreational and cultural activities geared to feed the soul even as the mind fades.
"Meals would focus on a heart- and brain-healthy diet," Stambolian says. "Residents will be able to participate in music, art and even gardening. We emphasize what they can do rather than what they can't do."
Among other things, what they can do is not disappear in the hustle-bustle of contemporary life."Other societies take care of their elders," Stearns acknowledges, stressing that there's a lot more at stake than saving money. "It's important to bring seniors back to the center of our communities, respecting and honoring them."
This article was contributed by Susan Green.
Related Articles & Free Subscription
Is Hearing Loss a Sign of Dementia?
Learning the Language of Dementia
Monitoring Solutions for Loved Ones with Dementia
Free Subscription to Vermont Maturity Magazine