When you think of a beautiful garden, the first thing that comes to mind is the lovely blooms; the reds, yellows, pinks and purples. But let's face it, the growing season in Vermont can be a short and fickle one. Sometimes you need to add a built element to your garden to ensure that it's beautiful even when it consists of nothing but brown stalks. Gardens can include hardscapes like patios and walkways, built elements like fountains, and whimsical artwork to catch the eye, even out of season.
When you look at some of the national trends in garden art, Vermont gardeners and craftspeople seem to be on the cutting edge. Fire pits, repossessed material, small spaces and items with a weathered and aged look are all current trends according to Home and Garden Magazine, and all are reflected in the offerings of local retailers and landscape architects.
Maree Gaetani of Gardener's Supply said the company has several new items in their lawn art division for 2012, many of which fit the trend of working in small spaces. Gaetani stressed that for those working in really small areas, these accents can be placed in containers or mounted to a deck. A whimsical item known as a Psychedelic Snail Stake is particularly suited for containers. Another popular addition is the Poppy Sways — a set of five bright red or copper-coated steel saucers which sway in the wind and collect water for birds and butterflies. Gaetani said movable items including a variety of spinning products have been selling well. Last year, spinners which resembled dahlias were highly sought after, and this year the company has added a spinner which looks like swallows playfully chasing one another. Gaetani is partial to the swaying silver wind stalks which are thin reeds adorned with small silver balls.
Gaetani said customers tend to buy garden accents in the spring while waiting for their gardens to grow and then again in late summer as some of the plants are turning brown and dying back. "People want to add some color to their garden," she said. Gaetani also highlighted the popularity of solar items, which provide color during the day and glow at night. Gardener's Supply sells solar butterflies, dragonflies and mosaic globes, as well as border lights to put around containers or walkways.
At Mr. Twitters in Rutland, owner Becky Rizzi said customers favor practical items like sundials, birdhouses and trellises for climbing plants. In conjunction with Home and Garden's predilection for weathered materials, the trellises have a functional, rather than fancy look and are generally made of rusty metal or wood. The birdhouses range from hollowed out gourds to funky offerings like one that looks like a cat with the opening in the shape of an open mouth. "The birds don't care what it looks like," she said. Rizzi likes birdhouses with a "funky, country look" and prefers those that can be cleaned without being taken apart. Rizzi also recommends the fanciful mobiles that Mr. Twitters has in stock, including one that features a crow wearing a top hat.
Repossessed material is on display in Underhill. Under the name Roaring Brook Artists, Janice Solek Tefft and Kenneth Tefft of Underhill create what they call "classy glass" lawn ornaments out of recycled dishes. "We started making them two years ago," said Janice "as a fluke."
The couple had old dishware that had been passed down for generations and wanted to find a constructive way to use them. "We figured out we could make beautiful lawn ornaments," Janice said. The ornaments can't stay out through the winter, but Kenneth designed them so the dishware can be removed and then re-used for its intended purpose. The Teffts have designed pieces for specific gardens on request from customers, including a construction for a woman who loved blue glass, which sits at her gravesite. Other customers have brought their favorite old plates to be crafted into garden art.
Marie Limoge, a landscape designer for Landshapes in Richmond, said 'hardscapes' or paved areas are very popular. Landshapes often creates patios and walkways out of blue stone giving customers the option of either a natural, irregular look or a pattern, working with small spaces as well as larger ones. Concrete pavers are also popular and slightly less expensive. They come in a variety of shapes and colors including some that are permeable to cut down on garden run-off. Concrete pavers allow the option of creating an inlay pattern within the hardscape.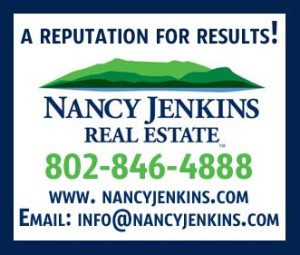 Limoge said water features are also very popular. While waterfalls or ponds can be a bit more expensive, fountains can be built at a low cost with recycled water. The company often incorporates boulders in their design and sometimes creates fountains within the boulders by drilling.
A functional hardscape element favored by many residential customers in Vermont is a fire pit, which can be used year-round.  Limoge disagreed with Home and Garden's contention that fire pits are no longer in style, saying they are popular in Vermont.
Master Gardener Charlie Seigchrist of Barber Farm Landscape Design has one cautionary word about garden art. While Seigchrist often uses natural stones to create walls, patios and walkways, he warns clients not to get too carried away with extraneous pieces. "Art in the garden should be an exclamation point," he said. "Just as in prose there should be only one to the page, there should be only one in the garden."
This article was contributed by Phyl Newbeck.
Related Articles & Free Subscription
Creating an Outdoor Garden Room
Peonies Add Beauty and Fragrance to Early Summer Gardens
Free Subscription to Vermont Maturity Magazine