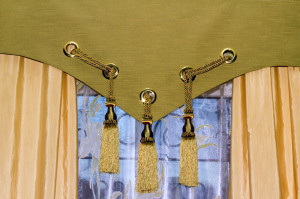 Dressing your windows can dramatically change the look and even the size of a room. There are many ways to dress a window. The most popular style is using side panels. Side panels frame the window opening regardless of size. 
Drapery adds layers, which designers love. Drapes that are extra long and rest on the floor lend drama and can emphasize high ceilings or simply give the impression of high ceilings. Hang the brackets at least 6 inches above the window if there is no interference with any architectural moldings. The bottom of the fabric should rest on the floor and either "sweep" the floor (with 2 or 3 inches extra length) or "puddle" the floor ( with 6 or more inches extra length).
To increase the ideal of verticality, adding trim to the leading edge of the side panel is advisable. Trim needn't always be traditional. Short brush trim, tassel trim, pleated trim, or a patterned or simple grosgrain ribbon or tape could provide a modern look instead.
Decorative Drapes
Side panels can either open and close or be stationary. They soften a window while showing off a bold color or a wildly patterned fabric. Hanging the brackets inside or outside the window frame can give the window more or less width, as desired. Depending on the width of the fabric, the leading edge can either be drawn into the window or outside the window frame to show off the fabric of your drapes.
Traditional Treatments
These treatments are generally tighter to the size of the window. They can be in the form of short side panels or as a Roman shade that gathers at the top. While their primary task is to cover the window for privacy, they can also be stylish and add interest to a plain window.
Brackets should be installed 2 or 3 inches above the window and also on the side of the window.
Roman shades are perfect for adding trim, which brings interest to eye level. This type of trim is easy to install with a hot glue gun. Tassels or pendant trim, brush fringe or even feather trim could be quite fun.

Layers Upon Layers
Designers always advocate adding layers to a room. Adding layers to a window can make your windows pop while controlling your views and giving some privacy. Simple sheers are the easiest way to create the secondary layer, but there are other materials such as solar shades, bamboo or wood rollup blinds that allow some light through yet enhance the room.
Hardware Jewels
Finally, the hardware to hang your curtains can either be simple and functional, or bejeweled and as elaborate as a royal scepter. The choice is yours and, of course, should always complement the overall style of your decor.
Related Articles & Free Subscription
Brighten Your Home with Houseplants that Bloom
Get the Most Out of Foyer Decor
Plants for Every Room of Your Home
Free Subscription to Vermont Maturity Magazine