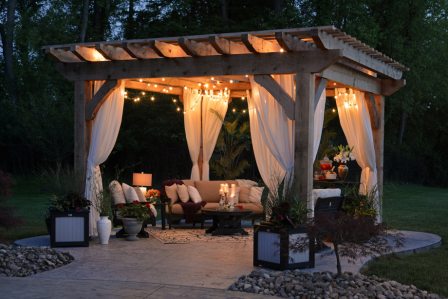 Is your backyard boring? Is it an endless expanse of lawn you have to mow this summer in the hot sun, when you'd rather be splashing around in a pool or having a drink in the shade of a gazebo?
It might not be too late to do so, but you'd better start thinking quickly if you want to make the backyard a summer refuge, and not a summer slave driver.
First, there are a lot of things to consider, ranging from cost, to how much room you have, which improvements fit your needs and whether you need permits and insurance upgrades.
But don't worry. All those considerations can be dispensed with quickly.
Among the first things a homeowner should do is check with his insurance agent to see how much a swimming pool or structure will add to the homeowner's insurance bill.
Swimming pools are especially fraught in that department. According to the website Netquote, before installing a swimming pool, you'd better boost your liability coverage to between $300,000 and $500,000.
Next, check with your city or town to see if permits are needed before construction starts. Most towns require permits for new decks, additions, gazebos and swimming pools, even above ground ones.
For bigger projects, you might have to submit construction plans to town regulators before you begin. Then you can turn your yard into a fun outdoor room.
Decks
From a strictly economical standpoint, a deck is arguably the best investment you can make on your house. Remodeling Magazine found that more than 85 percent of the cost of building a wooden deck would be recouped during resale, a better deal than the 78 percent from a remodeled bathroom or 69 percent from a family room makeover.
However, you have to consider safety when constructing a deck. The Vermont Department of Health recommends homeowners avoid using pressure treated wood for decks and other backyard structures, especially if children are often around. Pressure treated wood can leach dangerous arsenic into surrounding soil, and children who play on decks can get arsenic into their systems.
It has gotten a lot harder to obtain pressure treated wood with arsenic, anyway. Production of the material was phased out a decade ago because of the health dangers, and existing stocks are almost depleted.
The Health Department suggests using redwood or cedar for decks and outdoor structures, since the wood is rot resistant. There are also good wood and plastic composite building materials on the market.
When hiring a contractor to build the deck, make sure they are fully insured, and check with friends and online to ensure the contractor is reputable.
Once decks are installed, be careful, especially if the decks are elevated. Make sure you know what loads a deck can take before adding hot tubs, furniture or plant containers. As tempting as it might be, avoid using barbecue grills on decks attached to houses. In some communities, grills on decks are banned because of fire hazards.
Inspect the deck yearly, looking for missing or damaged nails and fasteners, cracks, rotted wood and other potential hazards.
Decks are the closest thing you can get to an additional room in your house, at least when the weather is good. Most serve as good entertainment centers for small parties or visiting relatives. They can be an extension of the kitchen, with al fresco seating for dinners, herb gardens in deck containers for cooking and even an outdoor bar for evening cocktails.
Gazebos 
For people who would rather establish a gathering space away from the house, gazebos are another option. And they're easy to install.
Livingston Farm in Bristol assembles gazebos on site and trucks them to homeowners who purchase them.
Since most gazebos come pre-assembled, or largely so, installing them in a backyard can go quickly, said Tina Coleman, the office manager at Livingston Farms.
Before the gazebo is placed in a yard, the homeowner needs to establish a firm, level spot for the structure. The area designated for the gazebo should be well drained and a bit higher than the surrounding landscape.
Gazebos such as those from Livingston Farm range in price from about $2,300 to $3,000.
Most people opt for gazebos with screens, so people can enjoy them in the evening, at just the time mosquitoes are most likely to be on the prowl. Coleman said if you do go through a gazebo dealer, make sure the structure is able to withstand northern winters. That means rot-resistant wood, sturdy supports and a strong roof.
Other backyard structures have practical applications such as garden sheds, and even garages for storage. The advantage to these structures, Coleman said, is they are an attractive addition to a property and allow you to store tools and garden equipment in a secure building.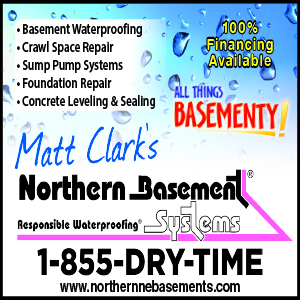 Coleman said many homeowners are abandoning pre-made, metal sheds in favor of more decorative garden sheds, priced from $1,600 to $2,600, that enhance rather than harm the looks of a backyard.
Swimming Pools and Spas
Pam Cook, co-owner of Avalon Pools and Spas in Milton, said her customers fall into two categories.
If they have kids or grandchildren, they're more likely to shop for a swimming pool. If they are getting on in years and have no kids around, the customers opt for spas.
Avalon sells more spas than pools, mostly because they can be used year round, rather than just during Vermont's short summer. "The trend is for small spas for personal use," Cook said.
On the other hand, if children are around, pools are pretty much used daily even if it's just vaguely warm out.
Before getting a pool or spa, look to see if you actually have enough space. "Dimensions are very important," Cook said adding that you don't want a pool to completely overwhelm a yard and make the small amount of remaining space unusable. If you choose a pool that's too small, chances are it won't be used much, and the investment would be wasted. According to P.K. Data, the average cost of a 19-foot diameter above ground pool is $6,243, while the average cost of a 32 by 16 foot in-ground swimming pool is $21,919.
Awnings
If the sun is too bright and too hot on your back deck or patio, another option is an awning.
Awnings can usually be installed in less than an hour and a half, said Cheryl Bodette, the marketing manager for Otter Creek Awnings in Williston.
Most models are retractable, so if you want to enjoy the sun, go for it. If the sun is too hot, it takes less than a minute to create some shade by extending the awning over the deck or patio.
"They're pretty sturdy," Bodette said. While an awning might not be able to withstand a hurricane, they are built to withstand the occasional strong, gusty winds.
Some models even have sensors that detect strong winds and will automatically retract if you're not there to do it during a severe storm, she said.
Awnings vary in cost and generally require a custom quote, Bodette said.
With many models of awnings, if the fabric fades over the years, or you just want to change the color, there's no need to buy an entire new awning system, Bodette said.
Companies like Otter Creek can replace the fabric while leaving the rest of the awning mechanisms intact.
Like many additions to a house, an awning might need a municipal zoning permit. Also, many homeowners' associations have restrictions on the size, color and other features of awnings, so it's best to check first before buying.
Bodette said many awning companies, like hers, will assist buyers in making sure the awnings adhere to local codes before they are installed.
In the summer, your backyard is really another large room for your house. Just like the interior of your house, you want the yard to meet the needs and wants of your family.
This article was contributed by By Matt Sutkoski.
Related Articles & Free Subscription
Join a CSA for Your Health and Wealth
Natural Pain Relief is as Close as Your Garden
The DOs and DON'Ts of Backyard Composting
Free Subscription to Vermont Maturity Magazine