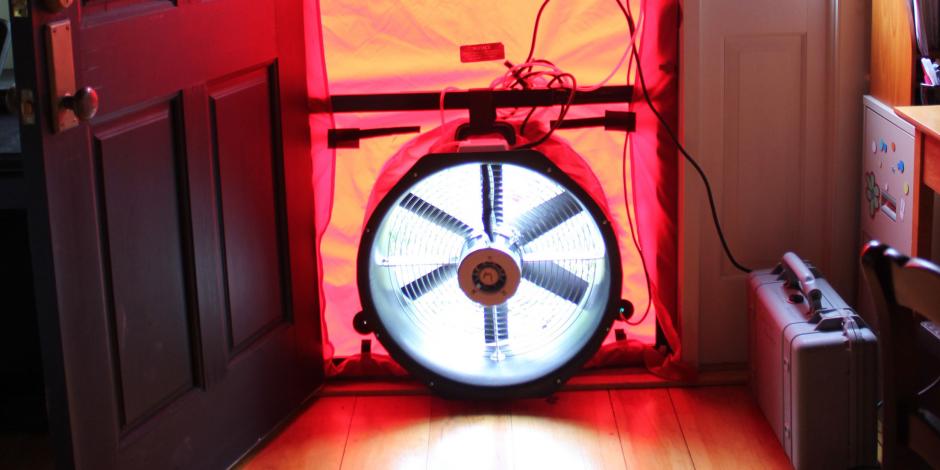 If your winter heating bills have been hard to take this year it might be time to consider ways to increase your home's energy efficiency. Although not as sexy as solar panels or as controversial as wind turbines, one of the best ways to save energy at home is to insulate your house. Many homes, particularly older ones, leak heat in the winter and cold in the summer. If you're interested in finding where the leakage is taking place and how you can correct it, a good option is a blower door test.
James Martelle of Green Mountain Zero Draft said the goal of a blower door test is to create a winter scenario in your home. Homeowners close all doors and windows and tighten up the house as much as possible. The blower is installed in an exterior door to depressurize the house, acting as a calibrated fan which measures how many cubic feet of air come in each minute through the gaps, cracks and holes. One caveat to the blower door test is that if the house is built with vermiculite, a silicate mineral which was used in older houses, the blower door test must be done in reverse to avoid bringing potentially toxic materials into the home. In the case of these homes, the goal is to pressurize, rather than depressurize the house, and measure what goes out, rather than what comes in.
Martelle said most homeowners assume the biggest leakage is from their windows and doors, but that's not necessarily the case. "It's often the places you can't see," he said. "As a general rule, the biggest pressure gradient is at the top." Martelle said older buildings are often leaky from the basement because of their stone foundations.
A full audit takes roughly three hours, starting with a safety assessment to determine whether the blower door will be a depressurized or pressurized test. The blower is then set up in conjunction with a thermal camera which works best when there is a change of temperature in the house. Depending on the season, either hotter or cooler air is pulled in that registers on the camera, showing exactly where the gaps and cracks are located.
There are a variety of ways to fix those gaps and cracks including spray foam, dense pack cellulose or fiberglass, or blown insulation. Blown insulation works better in the attic and spray foam is the weapon of choice on rubble foundations. The goal is to increase the R value of the house — a measure of thermal resistance used by the construction industry.
Roger Putzel of Jericho readily admits he and his wife bought their house for the view. "It was affordable because it was completely impractical and I've been paying for it ever since," he said, noting that the structure had been built with two-by-fours. Last year, Putzel had a blower door test and subsequently had insulation installed in several portions of the ceiling. A follow-up test showed a 28.9 percent improvement in heat retention.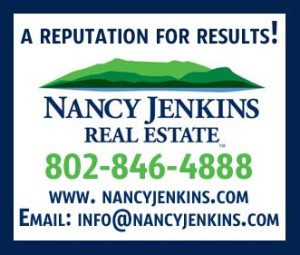 Putzel said he has now become fanatical about insulation. "The state uses 'button up' as a metaphor," he said "which makes people think of jackets. I think a better metaphor is a pair of pants with holes in the pocket. If you put coins in the pocket you'll lose them, so if you have any sense at all, you'll sew up the pocket. We have our pockets open to the air and the money is going through those holes."
Phyl Newbeck contributed this article.
Related Articles & Free Subscription
Maximize Storage and Countertop Space in a Small Kitchen
Free Subscription to Vermont Maturity Magazine