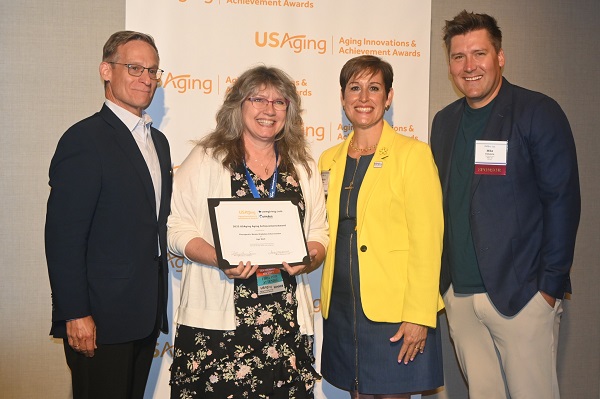 Age Well is thrilled to announce that its Therapeutic Meals and Diabetes Intervention program received a 2023 Aging Innovations Award from USAging, one of the highest honors presented by USAging to its members. Age Well is among 16 aging programs nationally to receive Innovations honors during USAging's 48th Annual Conference and Tradeshow, July 16-19 in Salt Lake City.
The 2023 USAging Aging Innovations & Achievement Awards recognize USAging's Area Agency on Aging and Title VI Native American Aging Program members that have found new and innovative ways to support older adults, individuals with disabilities, and caregivers as they live in their homes and communities.
"The Aging Innovations & Achievement Awards are a timely reminder of the evolving role USAging members play in the planning, development, coordination, and delivery of aging and other home and community-based services in nearly every community in the United States," said USAging CEO, Sandy Markwood. "The AAAs and Title VI programs we honor have set a standard for innovation and creativity in helping vulnerable older adults live with independence and dignity in their homes and communities," Markwood added, "USAging is inspired by the example they have set for others in the Aging Network."
Age Well offers eight different home-delivered meal options to support older Vermonters in managing their chronic health in their homes, including the regular heart-healthy diet, as well as diabetic-friendly, renal-friendly, lactose-free, gluten-free, vegetarian (lacto-ovo) and texture-modified meals. In addition to a home-delivered meal, program participants also receive a snack, and take part in meetings with a registered dietitian to help navigate the best strategies to support the management of their health condition. Studies have demonstrated that medically tailored nutrition intervention can accelerate treatment and recovery for patients with chronic health conditions while lowering healthcare costs by reducing utilization and hospital admissions.
"People with chronic health conditions such as diabetes can see improvements in their health with proper nutrition, physical activity, and following their healthcare team's plan. Nutritional support with Age Well's registered dietitian provides support and guidance on an individual basis that can lead to improved health outcomes. Participants in this program report that they are eating healthier and taking control of their health which is exactly the outcome we wanted!" said Chris Moldovan, RD, CD, FAND, Nutrition & Wellness Director at Age Well.
"Everyone at Age Well is proud of Chris Moldovan for receiving this distinct honor from USAging. Chris works tirelessly to provide opportunities for healthy, nutritious, and delicious meals to support older Vermonters. This award highlights the importance of nutritious food in achieving long-term wellness for food-insecure individuals with a history of chronic illness. We are grateful for her expertise and dedication," said Jane Catton, Age Well's CEO.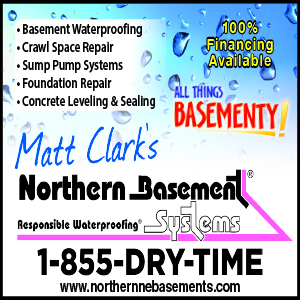 To learn more about Age Well visit Agewellvt.org or call 800-642-5119.
Related Articles & Free Vermont Maturity Magazine Subscription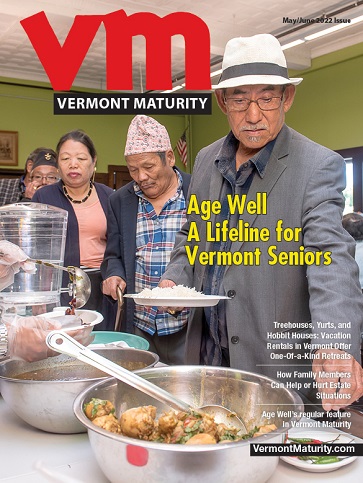 Age Strong Vermont Looks to Improve Housing for Older Vermonters
Daily Check-In Services for Older Adults Living Alone
Exploring the Historic Elizabeth Copper Mine
Free Subscription to Vermont Maturity Magazine