Welcome to Age Well's Fall Feature in Vermont Maturity. Our team is grateful for the privilege of serving older Vermonters and their caregivers in Addison, Chittenden, Franklin, and Grand Isle Counties.
Our services are provided free of charge to the community. Volunteers and donations make our mission possible.
Keep reading for information about how you can prevent falls and some of our nutrition offerings.
With Gratitude,
Jane Catton, CEO
Preventing Falls
Every September we recognize Falls Prevention Awareness Week from September 18th through 22nd. This year's theme is "From Awareness to Action," we know that preventing falls is possible, and we want to empower older adults to take action and reduce their risk of falling.
In honor of Falls Prevention Week, we encourage you to take the National Council on Aging's Falls Free CheckUp to get a personalized overview of your falls risk and find ways to remediate your risk so you can stay healthy and protected. Then help us spread the word to friends and family. Falls are not a normal part of aging and can be prevented!
Falls Free CheckUp: Ncoa.org/age-well-planner/assessment/falls-free-checkup
Research tells us that being active and staying socially connected are crucial to maintaining our health and quality of life. With our wide variety of Wellness Services, we can help you age with confidence and dignity.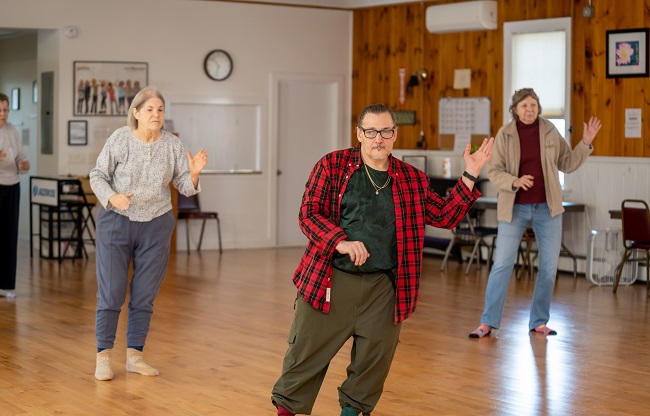 Improve Your Balance and Mobility with Tai Chi
Endorsed by The Arthritis Foundation and the Center for Disease Control and Injury Prevention (CDC), Tai Chi is an evidence-based health program that reduces stiffness and pain, keeping joints mobile. Age Well provides classes for individuals who are 60+ years of age. Taught by certified volunteer trainers, there is no charge for these classes, but donations are gratefully accepted. Learn more about Age Well's Tai Chi classes and other wellness offerings at Agewellvt.org/services/health-wellness/wellness-programs.
A Matter of Balance
Designed to reduce the fear of falling and increase the activity levels of older adults, the Matter of Balance in-person class is based upon research conducted by the Roybal Center for Enhancement of Late-Life Function at Boston University.
Consisting of eight two-hour sessions, which can be held twice a week for 4 weeks or once a week for 8 weeks, the early sessions focus on changing attitudes before attempting changes in actual behavior. The exercise component, which begins in the third session, takes about 30 minutes of the session to complete. Each two-hour session includes a 10-minute break for the opportunity to socialize, move around and have a light refreshment if desired. E-mail Ally McAuslan at amcaslan@agewellvt.org for more information.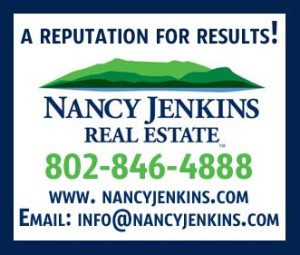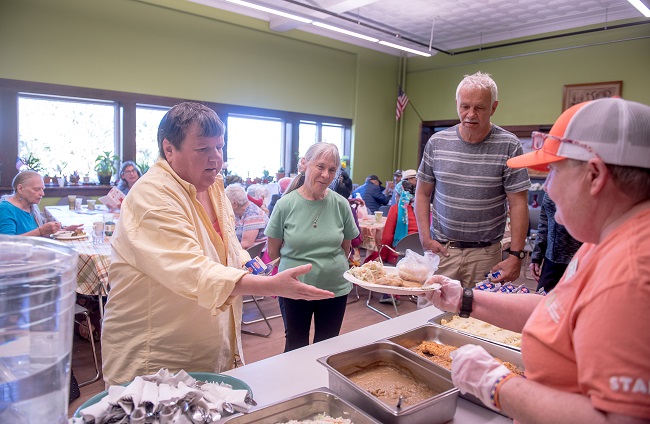 Join us for a Meal
For those able to venture out, we serve meals in gathering places and restaurants throughout Northwestern Vermont, providing an opportunity to stay connected to your community, enjoying time with friends and neighbors.
Meals are created to meet the dietary and food safety guidelines required by the Older Americans Act. A typical meal consists of 2-3 ounces of protein, a complex carbohydrate (such as sweet potato, rice, or pasta), one and a half cups of fruit or vegetables, a grain (preferably whole grain), milk and dessert (often includes fruit). Salt is not added to foods during cooking, though in some foods it may naturally occur.
Find more information about our meal options below or online at Agewellvt.org/services/food-meal-delivery/community-meals.
Community Meals
Age Well hosts community meals at over 70 locations. Programs vary from small rural gatherings to senior centers, local parks, to an ever-growing array of restaurants.
Space is limited. Advanced registration is necessary for each community meal. An annual registration form is required.
Restaurant Ticket Program
Age Well's popular restaurant ticket program allows an opportunity for older adults to enjoy a nutritious meal and an outing at a local restaurant. Older adults can make a $5 donation to receive a ticket to dine at one of the participating establishments.
Participating restaurants include: 3 Squares Café in Vergennes, Ray's Seafood in Essex Junction, The Abbey in Enosburg Falls, iHop in South Burlington, Rosie's in Middlebury, Halfway House in Shoreham, and The Dutch Mill in Shelburne.
Grab and Go Meals
Age Well hosts Grab and Go meals throughout Northwestern Vermont providing an opportunity for older Vermonters to get out and access nutritious meals. Advanced registration is necessary for each Grab and Go meal. An annual registration form is required.
To learn more about Age Well's services, volunteering, and other ways to give back by call 800-642-5119 or visit AgeWellVT.org.
Related Articles & Free Vermont Maturity Magazine Subscription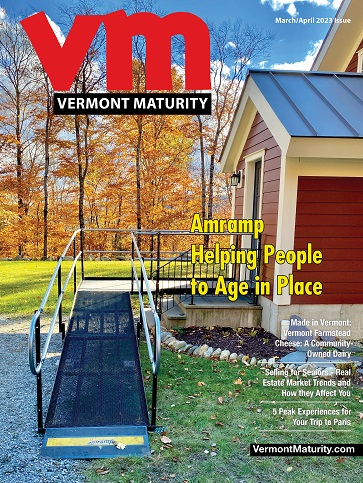 Best Meal Delivery Services for Older Adults Who Don't Cook
How to Recharge Your Retirement on A Budget!
Steps to a Successful Transition to a Senior Living Community
Free Subscription to Vermont Maturity Magazine